Phillies' Harper named National League MVP
Philadelphia Phillies outfielder Bryce Harper has captured the National League Most Valuable Player award for the second time in his career.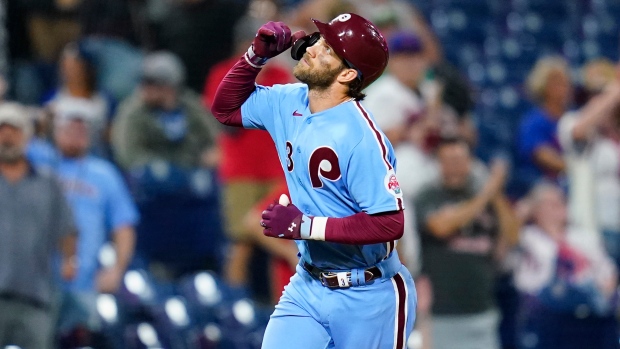 NEW YORK (AP) — Philadelphia Phillies outfielder Bryce Harper earned the National League MVP honor for the second time on Thursday.
Harper received 17 of 30 first-place votes and 348 points. Washington outfielder Juan Soto was second with six firsts and 274 points, and San Diego shortstop Fernando Tatis Jr. was third with two firsts and 244 points.
Harper overcame getting hit in the face with a 97 mph pitch from Génesis Cabrera of the St. Louis Cardinals on April 28 to bat .309 with 35 homers for Philadelphia. The 29-year-old led the major leagues with a .465 slugging percentage and 1.044 OPS, tied for the lead with 42 doubles and had 84 RBIs.
But the Phillies missed the playoffs for the third straight season since he signed a $330 million, 13-year contract. He earned a $500,000 bonus for winning MVP.
Harper was voted a unanimous MVP with Washington in 2015. He became the fifth player to win MVPs for different teams after Jimmie Foxx, Frank Robinson, Barry Bonds and Alex Rodriguez.
Soto, a first-time All-Star at age 23, hit .313 with 29 homers and 95 RBIs. He led the major leagues with 145 walks and a .465 on-base percentage.
Tatis, 22, led the NL with 42 home runs, hitting .282 with 97 RBIs.