Pierce leads Wizards past Raptors in Game 1
Paul Pierce and the Washington Wizards spoiled the party Saturday afternoon. Pierce had 20 points as Washington earned an 93-86 overtime win over the Toronto Raptors at the Air Canada Centre in the opener of their first-round playoff series.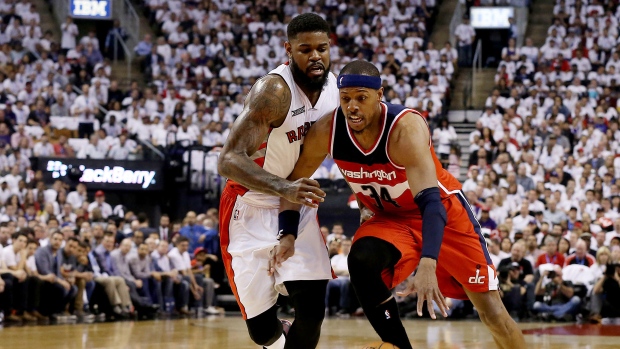 TORONTO - Masai Ujiri cursed him, Toronto Raptors fans jeered him. And Paul Pierce simply soaked it all in and drew strength from it. He loved it.
The Raptors' arch-rival spoiled the party — again — Saturday, scoring 20 points as the Washington Wizards earned an 93-86 overtime win over Toronto in the opener of their first-round playoff series.
"I don't mind playing the role of villain. . . everybody's booing you, nobody likes you," Pierce said. "I embrace it. It fuels me truthfully."
Amir Johnson had 18 points to lead the Raptors, who rallied from a 15-point fourth-quarter deficit before falling apart in the extra period of a series that had drama long before the opening tipoff.
The drama came courtesy of Pierce. The 17-year NBA veteran blocked Kyle Lowry's final shot — and broke Toronto fans' hearts — in Game 7 last season to clinch the playoff series for Brooklyn. Then this week, he was quoted as saying the Raptors don't have "it."
Minutes before tipoff Saturday, Raptors GM Masai Ujiri, who was fined US$25,000 last year for his famous F-bomb about Brooklyn, addressed the thousands of fans outside in Maple Leaf Square, telling them: "People want me to say something about Paul Pierce, but we don't give a (expletive) about it!"
"Typical Ujiri," Pierce said, laughing. "You heard what he said last year when I was in Brooklyn.
"I couldn't really care less. I think I can play the psychological war a little bit better than him."
NBA commissioner Adam Silver, who was in attendance, wasn't thrilled with Ujiri's comments, telling TSN, "I've known Masai for 20 years, he's a very emotional guy but it's not appropriate in the league."
The peripheral drama wasn't matched on the floor in a sloppy game for both teams.
DeMar DeRozan finished with 15 points on 6-of-20 shooting, but had a team-high 11 rebounds. Patrick Patterson, Lou Williams and Greivis Vasquez had 10 apiece. Kyle Lowry finished with just seven points and eight rebounds before fouling out with 2:36 to play.
"For me personally, it's frustrating," Lowry said. "But our guys and our group, we're still fine. It's only one game."
Bradley Beal added 16 points for Washington.
Pierce, who'd averaged a career-low 11.9 points in the regular-season, shot 7-for-10, including 4-for-7 from three-point range, shrugging off the chorus of "Paul Pierce sucks!" that spontaneously erupted at times during the game.
"I've been in a lot of tough environments, this is right up there at the top," Pierce said. "Even last year when we won the series, I didn't want to come back to Toronto to be in this environment.
"But you've got to love these moments, you've got to love these type of buildings, they're excited about their team, it's one of the best crowds I've ever been a part of on the road, and I think it's something that really drives me."
The Raptors are 0-7 in opening first-round games. Last season, coach Dwane Casey blamed it on nerves with his young squad.
On Saturday, the Raptors — who'd beaten Washington in all three regular-season meetings — looked entirely out of sorts, and trailed by as many as 11 before going into the fourth down 65-56.
"There's still a lot of basketball to be played so it's not over, it's not doom and gloom," Casey said.
The Raptors shot 38 per cent on the afternoon, going just 6-for-29 from three-point range. The Wizards won the battle of the boards 61-48.
Washington would stretch its advantage to 15 points, virtually sucking the enthusiasm out of an Air Canada Centre that was a sea of white T-shirts, and included Kentucky coach John Calipari.
The Raptors abruptly woke up, and a three-pointer by Vasquez with six minutes to play that brought Toronto to within six. Consecutive three-point bombs from Williams cut Washington's lead to two points with 2:55 to play.
Then with 26 seconds on the clock, Vasquez drilled a three to tie the game 82-82, shimmying and strutting up the court. His bucket capped a 23-8 run and sent the game into overtime.
The positive vibe was short-lived though, as Toronto went scoreless through four minutes of overtime until a DeRozan dunk with 30 seconds left.
The Raptors led 23-19 after the first but Pierce poured it on with 10 points in the second to give Washington a 46-42 half-time lead.
The Raptors shot a dreadful 28 per cent in a third quarter that saw the Wizards go ahead by 11 on a Wall jumper with 4:40 left in the frame.