Pistons reacquire F Prince from Celtics
The Detroit Pistons have reportedly reacquired forward Tayshaun Prince from the Boston Celtics in exchange for Luigi Datome and Jonas Jerebko, according to Marc Stein of ESPN.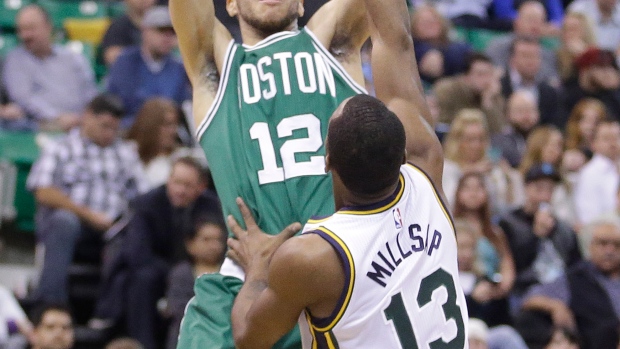 Tayshaun Prince is returning to the Pistons after Detroit acquired the veteran forward in a trade with Boston.
The Pistons confirmed the trade Thursday night. The Celtics received forward Jonas Jerebko and guard Gigi Datome.
"Tayshaun Prince is certainly well known to fans in Detroit and we're pleased to welcome him back," Pistons President Stan Van Gundy said in a statement. "He fills a position of need for us at small forward with his offensive and defensive versatility. We thank both Jonas and Gigi for their hard work and wish them well going forward."
Prince was part of Detroit's championship team in 2004 and remained with the Pistons until 2013, when he was traded to Memphis. The Grizzlies dealt him to Boston last month, and now the 34-year-old returns to the franchise that drafted him in the first round in 2002. Prince is averaging 7.6 points this season.
Detroit made another deal Thursday as well. The Pistons acquired guard Reggie Jackson from Oklahoma City in a three-way trade that also involved Utah. Detroit sent guard DJ Augustin, forward Kyle Singler and a 2019 second-round draft pick to the Thunder. Detroit also sent a 2017 second-rounder to the Jazz.
Prince was one of Detroit's steadiest players for about a decade, averaging double figures in scoring and defending well on a team that made the Eastern Conference finals every year from 2003 to 2008. The Pistons went into decline after that, and they were in full rebuilding mode when Prince was traded two years ago.
The Pistons started 5-23 this season, but after waiving high-priced forward Josh Smith in late December, they surged back into playoff contention. Detroit is two games out of the final playoff spot in the East heading into Friday night's game against Chicago.
Now Detroit's lineup looks quite a bit different from the beginning of the season. Greg Monroe and Andre Drummond are still mainstays inside, but Smith is gone, and the Pistons lost point guard Brandon Jennings last month to an Achilles injury. Augustin played well in Jennings' absence, and now it's Jackson and Prince who will try to contribute to a playoff push.
Prince started 76 games for the Grizzlies last season, and although he's been primarily a reserve for Memphis and Boston in 2014-15, he's still averaging 23.6 minutes.