'Playoff Torts' leads Blue Jackets into uncharted territory
Bombastic coach ready to deliver another memorable Game 1 pep talk as his Blue Jackets return from an eight-day layoff to face the Bruins, Frank Seravalli writes.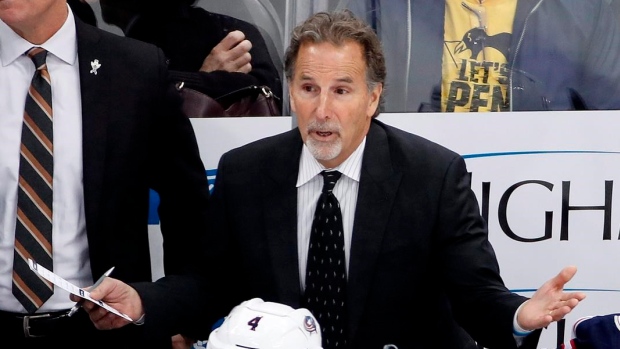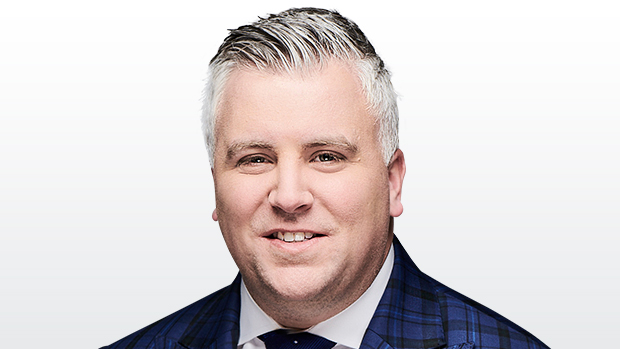 BOSTON — Measured on the Bruce Boudreau Profanity Scale, John Tortorella registered a 9.1 out of 10 with his pre-Game 1 pep talk in Round 1.
It was Boudreau who set the bar in an epic 15-swear rant to his Capitals during an episode of HBO's 24/7 documentary series a few years back.
But Torts rang up an impressive 10 F-bombs in just 27 seconds before his Blue Jackets stepped onto the ice against the Lightning.
"Forget about skills. Forget about X's and O's. It's a [bleeping] mindset," Tortorella told his troops, as captured by Fox Sports Ohio. "Do we [bleeping] believe it? It's amazing what can [bleeping] happen. So you [bleeping] stand in there. You stand in there and you don't take a [bleeping] backwards step. Not for a [bleeping] second.
"It's a great [bleeping] opportunity to stand right [bleeping] face-to-face to them and go right [bleeping] to them. There is no one taking a [bleeping] back step here. All right?"
If the Hurricanes said they would run through hot coals for coach Rod Brind'Amour, Columbus ran through the Presidents' Trophy winners in four straight for their bench boss.
So what does Tortorella have prepared for Game 1 on Thursday night?
All things considered, it might his most important pre-game speech of the series. The Boston Bruins are running on adrenaline and the Blue Jackets have enjoyed an eight-day layoff between games.
"I'm not going to give you my message," Tortorella said. "I'll give it to you in general terms."
The gist: Columbus' colossal upset of the Lightning in Round 1, the one that delivered the first series win in franchise history, is out the window. It will be little more than a footnote in history if the Blue Jackets can't make good against the Bruins.
"I do think we can't look back," Tortorella said. "We have to be looking this way [pointing forward] at our next round. I think we're facing a different situation with this team versus the Tampa team, and I'm not going to expound on that."
The difference is the 62-win Lightning were almost considered world beaters. The Bruins may now be favoured by Vegas to win the Stanley Cup ­– for whatever that's worth, since all eight betting favourites lost in the first round – but Boston and Columbus are more on level ground. Just nine points separated the Bruins and Blue Jackets in the regular season.
The challenge then is to get that amped up again, to have "more mental readiness" in Torts speak, to go into battle.
"It's like Game 8 for them and for us, this is almost like Game 1 of the playoffs," forward Matt Duchene said.
"That's where they have the advantage going into [Game 1] because we're not in that state of mind," Tortorella said. "You simply can't be when you have eight days off. We're not there. It's up for us as a group to somehow get it there before the puck is dropped."
That is where Tortorella and his larger-than-life personality come into play.
"He's a motivator," captain Nick Foligno said. "He's a guy that loves the behavioural side of hockey and what really pushes the buttons of guys. It's good to have a guy like that in your corner that's been down this road before."
Duchene said Tortorella is "right up there" with Patrick Roy in terms of coaches he's had that are able to fire up the boys before the game.
"Torts has a really great sense of the room and really knows how to get the best out of the group," said former Blue Jacket Scott Hartnell, now an analyst with NHL Network. "He knows how to motivate and challenge everyone individually - and therefore the team is dialled in and ready to play."
His players say there is a difference between Playoff Torts and Regular Season Torts. Somehow, a switch gets flipped in early April.
"I think in the regular season he can push and experiment more, whereas now he's just kind of with us," Foligno explained. "He's riding with us, whereas before he's steering us and pushing us in different directions. I think he's enjoying it. We've all worked really hard to get to this point, so now it's about coming together."
This is uncharted territory for Columbus, a team that seems to fully recognize the opportunity in front of them. The Stanley Cup is anyone's trophy now.
"It's up for grabs," Duchene said of the stunning results in Round 1. "This team seems to play well when we're looking forward as opposed to the rear-view. You want to be hunting instead of the hunted. I feel like we're the hunters and we're going to feel like that for the whole playoffs."
Tortorella has no question that his team will get to that feeling again in the second round. His concern is: How quickly?
"We can't wait. The team is too good we're playing against," Tortorella said. "So that's the part I'm anxious to see if we went about it the right way and we're ready to go do that."
If it involves a swear or 14, then so be it.
Contact Frank Seravalli on Twitter: @frank_seravalli