Price earns win No. 42, Pacioretty hurt
Carey Price earned his league-leading 42nd win of the season, tying the Canadiens' record shared by Ken Dryden and Jacques Plante as the Montreal Canadiens beat the Florida Panthers 4-1 on Sunday. Leading scorer Max Pacioretty left the game in the first period after crashing heavily into the boards.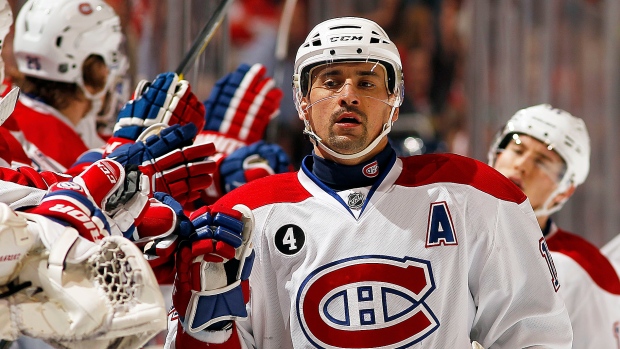 SUNRISE, Fla. -- Carey Price and Tomas Plekanec helped the Montreal Canadiens regain the top spot in the Atlantic Division.
Price stopped 24 shots to pick up his league-leading 42nd win, Plekanec scored his 200th career goal, and the Canadiens beat the Florida Panthers 4-1 Sunday.
The Canadiens (48-22-10) moved two points ahead of Tampa Bay for first place in the Atlantic Division with two games remaining for both teams. Montreal trails the Metropolitan Division-leading New York Rangers by one point for first in the Eastern Conference.
Brendan Gallagher, P.A. Parenteau and Devante Smith-Pelly also scored for Montreal.
"Good team win," Montreal coach Michel Therrien said. "I thought we played a really solid game against a team, by the way, who played last night and we knew that they probably were disappointed.
"I thought it was important for us to set the tone right from the start and this is what we did. I thought our first period dictated the game and we went from there."
Plekanec opened the scoring with Montreal on a 5-on-3 power play following penalties by Florida's Dmitry Kulikov and Erik Gudbranson just 3 seconds apart.
Positioned on the goal line almost parallel to Ellis, Plekanec scored his 24th goal by sweeping in a wrist shot that slid between the backup goalie's legs at 6:36 following a pass from Andrei Markov.
"I tried to shoot it," Plekanec said. "The first one I tried to pass, it was blocked. And then I?had a chance, so I?tried to put it through his feet and got a lucky bounce."

The teams traded goals just 46 seconds apart in the second period. Florida's Aaron Ekblad tied it on a power play at 6:20 for his 12th goal by beating Price low on the glove side. Gallagher regained Montreal's lead for good by finishing a 2-on-1 off a pass from Subban.
Parenteau split three Florida defenders and put in his own rebound for his eighth goal with 8:33 left in the second.
"I took my time. I was patient with the puck all the way up the ice. It kind of opened up for me in the neutral zone and I took advantage of it," said Parenteau, who had the game-winning shootout goal against Florida in a 2-1 win on Dec. 30.
Smith-Pelly capped the scoring with his first goal with Montreal, taking a pass from Parenteau after a turnover by Florida's Willie Mitchell.
Price tied a club record with his 42nd win, matching the 1955-56 and 1961-62 seasons of Jacques Plante and 1975-76 campaign of Ken Dryden.
"It's been a lot of fun this year. That pretty much sums it up. We've had excellent success as a group this year and (the record) definitely reflects it," Price said.
Montreal forward Max Pacioretty left the ice after being interfered with by Kulikov then falling backwards into the boards after his skate made contact with Alex Petrovic's. Pacioretty, who leads Montreal in both goals and total points, did not return.
There was no update on Pacioretty's condition after the game.
The Panthers (36-29-15) were eliminated from playoff contention on Saturday in a 4-0 home loss to Tampa Bay.
Florida's lacklustre performance did not sit well with coach Gerard Gallant.
"We weren't very good tonight. We checked out. I wasn't happy with the performance," said Gallant, whose club's penalties led to seven power plays.
"Montreal got an early lead and a lot of power plays. When we're taking that many penalties, we're not going to beat anybody. I didn't like our effort."
Added Panthers captain Willie Mitchell: "I think everyone saw it wasn't a good enough effort from us, first of all me. It's hard to describe.
"Our goal was to make the playoffs, and after last game when we officially got eliminated. Your mind is in a different place."
NOTES: Subban took a puck to the face after a chip by Florida's Vincent Trocheck early in the second period and had to leave the ice, but the defenceman quickly returned after a stoppage in play. ... Therrien earned his 200th win in his 400th game coaching for the organization. ... Montreal finished 4-0-1 against Florida, only dropping a 3-2 decision at home on a shootout goal by Dave Bolland on Feb. 19. ... Smith-Pelly's goal was his first for Montreal in 18 games since being acquired in a trade for Jiri Sekac on Feb. 24. "It felt good. It's a big relief so hopefully it snowballs in the right direction," Smith-Pelly said. ... Florida finishes its season-ending five-game homestand with contests Thursday against Boston and Saturday against New Jersey.