Poolman unfazed by playoff pressure after unlikely path to NHL
Winnipeg Jets defenceman almost quit hockey entirely six years ago, Frank Seravalli writes. Now he finds himself competing for the Stanley Cup.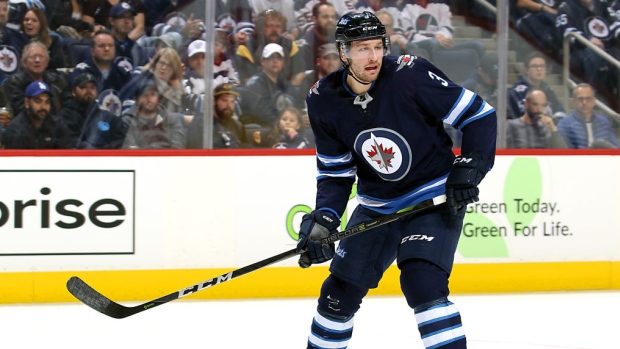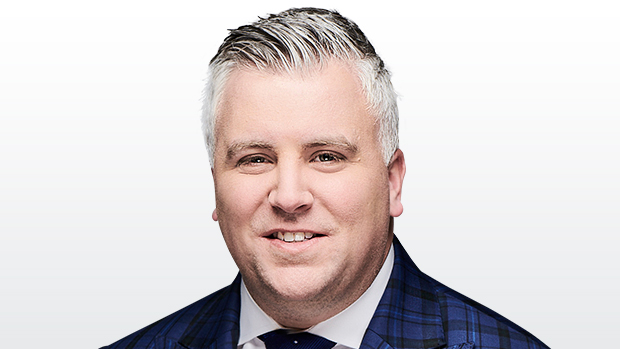 WINNIPEG — With Tyler Myers drawing back into the lineup for Game 5 and Toby Enstrom skating again, Jets defenceman Tucker Poolman was bumped from his stall for the morning skate on Friday.
Poolman got dressed on a folding chair near the whiteboard. That setup worked out pretty well for Frederick Gaudreau last spring in Nashville.
Besides, little seems to faze Poolman, a low-maintenance blueliner. It's not cliché to say that he's just happy to be here.
Poolman probably needed to pinch himself when he made his Stanley Cup playoff debut on Tuesday night in Game 4. He almost quit hockey entirely six years ago to enroll as a normal student at the University of North Dakota.
"If you told me or any of my friends when I was 18, I would've laughed pretty hard," Poolman said of his NHL playoff debut. "I definitely wouldn't have bet on it."
Poolman, 24, took a road all to himself to get to the NHL, where he now puts on his gear alongside prized draft picks, league scoring leaders and a Hart Trophy candidate from the Jets.
After graduating from East Grand Forks Senior High, Poolman searched desperately for a place to continue his hockey career. There were no Tier I junior opportunities for him. One Tier II junior team told his family he shouldn't waste his time trying out.
He finally landed with the NAHL's Wichita Falls (Texas) Wildcats in 2011-12 and made the most of it. Poolman, who sprouted from 5-foot-4 as a 15-year-old to a 6-foot-2 specimen, moved up to the USHL's Omaha Lancers the following season.
That's where he caught the eye of the Winnipeg Jets, who took a flier on him in the fifth round (127th overall) in 2013, and North Dakota ¬– where his father, Mark, is employed as the hockey team's strength and conditioning coach.
You never know. Three years after he was set to be just any other student on campus, Poolman became a scholarship athlete for the storied North Dakota program.
Even as a defenceman, he finished within a couple points of Vancouver's Brock Boeser and Colorado's Tyson Jost at North Dakota last season as a junior.
"The whole progression just kind of blows both of us away," Mark Poolman told the Grand Forks Herald. "From basically a week or two from, 'I can go to school?' to 'Can I keep playing?' to 'Can I get some money to go to school?' to 'Can I go to UND?' to 'Can I get drafted?'"
Poolman will play his second straight playoff game on Friday night as the Jets look to close out their first-ever series win against the Wild at Bell MTS Place.
He was steady on a pair with Ben Chiarot in Game 4, maybe even one of the Jets' better pairs in just a little over eight minutes of action. The pairs will be jumbled for Game 5, with one defenceman forced to play his off-hand side.
"He doesn't get rattled," Chiarot said. "A little bit of that is just his personality. He's pretty laid back, calm, easy-going guy. Not much bothers him. Jump into your first NHL playoff game? No big deal. When you play lower minutes, it makes it a little tougher, but I thought he did a great job."
Poolman said a couple early shots on goal and passes allowed him to settle in quickly, despite the relatively light workload.
"I wasn't ever really super nervous," Poolman said. "That's why you play, to get a shot like that. It was fun for me." I thought the game was a little simpler almost. The time and space was a little less, but you know that you couldn't do anything fancy."
A betting man would figure that Jets coach Paul Maurice would rely heavily on his top-four defencemen in Game 5 to close it out and earn a few extra days rest for a banged-up blueline.
That might happen, depending on the situation, but Maurice wouldn't bet against Poolman. He hinted that rolling all six defencemen might be the play.
After all, the Jets haven't had their full complement of six healthy defencemen since Jan. 23.
"We're so used to this," Maurice said. "It doesn't cause a ripple in there when a guy goes down. [How we respond] won't be dependent on [Morrissey], it will be dependent on the guys that we have. We expect them to be good. We have no problem playing those other guys."
Contact Frank Seravalli on Twitter: @frank_seravalli