Popovich unsure on coaching past this season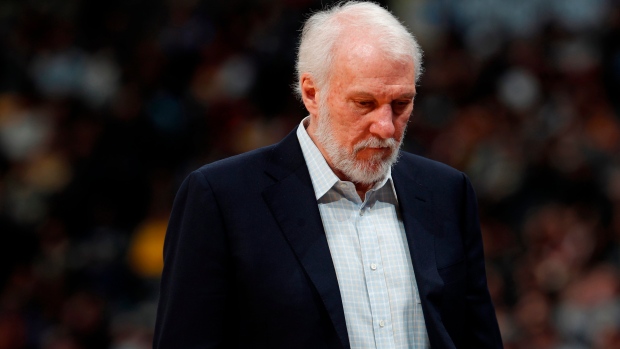 Gregg Popovich will turn 70 on Jan. 28 and become only the fourth coach in the history of the NBA to be active as a septuagenarian.
But this could be the San Antonio Spurs icon's last season on the bench as he's in the final year of a five-year contract.
"I don't know the answer," Popovich said of his future in an interview with Marc Stein of the New York Times.
For his part, general manager R.C. Buford says the ball is in Popovich's court.
"He'll coach as long as he wants to coach," Buford said.
Popovich stepped away from the team last spring upon the death of his wife, Erin, at the age of 67.
This is the East Chicago, Ind., native's 23rd season behind the bench and his Spurs are looking for a 22nd consecutive postseason appearance. At 26-20, the Spurs currently occupy the sixth seed in the Western Conference. Under Popovich the Spurs have won NBA Championships in 1999, 2003, 2005, 2007 and 2014.
The Coach of the Year on three occasions, Popovich's 1,223 wins are third most all-time behind only Don Nelson (1,335) and Lenny Wilkens (1,332).
Popovich is committed to coaching the United States at both the 2019 FIBA World Cup in China, as well as the 2020 Summer Olympics in Tokyo.