Powell instrumental in Raptors' comeback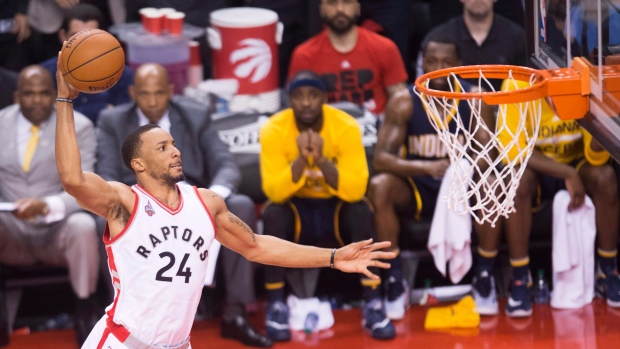 TORONTO - For a player that played a big role in saving a playoff game that might have saved his team's season, Norman Powell has had to endure a lot of criticism from the Toronto Raptors.
First, there was the final play, a would-be game-tying three-pointer from Solomon Hill that was released a few tenths of a second too late. Head coach Dwane Casey said Powell was supposed to foul Paul George, who received the inbound pass with 2.7 seconds remaining in the fourth quarter, if he dribbled. George dribbled, and Powell did not foul. A rookie mistake, even if Cory Joseph accepted some of the blame for rushing to George and away from Hill in the dying seconds.
Minutes before, Powell had one of the signature plays of the Raptors' improbable 102-99 comeback win, a steal of a Monta Ellis pass to George, capped by a vicious one-handed jam. Teammate Patrick Patterson figured Powell had meant to do a little more with the dunk. He was right.
"In my mind, I didn't think he knew what he was going to do," Patterson said. "I was expecting the windmill, but I will take that."
Powell, who said the ball slipped out of his hands, was trying to energize Raptors fans at Air Canada Centre.
"When you're in a fast break like that you have a lot of time and a lot of things are going through your head about what play, what style of dunk you want to do," Powell said. "I just tried to finish it and throw it down with authority to get the crowd going."
Moments after his media scrum ended, Powell confirmed to Courtney Charles, the Raptors' director of basketball operations/player development that a windmill dunk was his plan. He could smile about it because other than that, this was a huge night for the Raptors rookie.
Powell finished with 10 points, but those were virtually beside the point. He finished with a team-high plus-16, and helped the Raptors shut down Paul George in the decisive fourth quarter. The Pacers star had 37 points on just 16 field-goal attempts through three quarters; he managed just two points in his nearly nine minutes in the fourth quarter, part of the Pacers' total team collapse.
"Paul George is an all-star. He has been in this league for a long time, he averages high numbers and does so much for his team," Patterson said. "He is a tough matchup and I thought Norm did a great job. Stayed physical, battled strong, played hard without fouling. Got a couple of steals, and pushed the ball in transition, hit some shots. Norm never gave up, not one single possession."
Casey did not go back to DeMarre Carroll, the designated George stopper. Carroll was effective in slowing George down in Game 3, but was not nearly as sharp Tuesday night. Casey emphasized that the entire Toronto lineup was a part of slowing down George, with Bismack Biyombo's interior defence playing a big part. However, he eventually gave Powell credit for his overall game.
"It means a lot that they're trusting in me to get the job done," Powell said. "They're not looking at my experience. They're looking at guys making plays and they're feeling who is going to have them the best chance to do that."