Predators end scoring drought, beat Sabres
Mike Fisher ended Nashville's franchise-record scoring drought in the first period and the Predators beat the Buffalo Sabres 3-2 on Wednesday night to snap a three-game losing streak.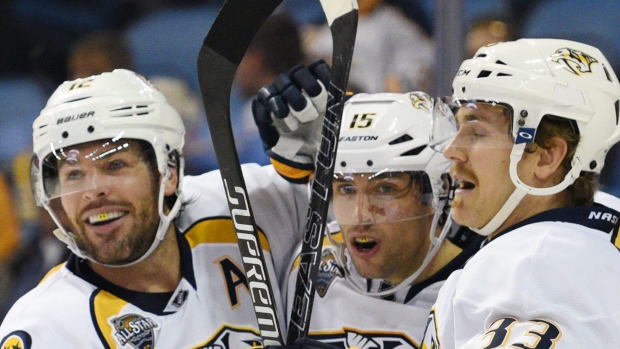 BUFFALO, N.Y. - Mike Fisher and the Nashville Predators were in the midst of a franchise-record scoring drought but felt probability was in their favour.
Fisher ended the Predators' goalless skid at 227:39 and Nashville scored three times in 13 minutes during a 3-2 win over the Buffalo Sabres on Wednesday night.
"We were due for bounces and we got a few," Fisher said. "Luckily it was enough 'cause they were coming pretty hard at the end."
Craig Smith and Cody Hodgson also scored, while Carter Hutton made 30 saves to help Nashville snap a three-game losing streak.
"We weren't going to get shut out the rest of the year," coach Peter Laviolette said. "That would be impossible, right? They do the right things, they put the puck at the net. It's going to go in."
The Predators were outscored 11-0 over the first three games of this five-game trip, which ends Friday in Philadelphia. They hadn't scored since the second period of a 3-2 win over the Anaheim Ducks on Nov. 17.
"We had a lot of confidence in this room," Hutton said. "We're not too far removed from scoring seven in a couple games. So at the same time we knew if we stuck to what worked, it would come."
Evander Kane and Jack Eichel scored for the Sabres.
The loss was Buffalo's sixth straight, and they've only scored seven goals and collected two points in that time.
Over the first two periods, Buffalo outshot Nashville 25-11 but trailed 3-0.
"There's a lot in the game that's good," Sabres coach Dan Bylsma said. "There's nothing good about getting down 3-0 and not winning the hockey game, but some pretty good stuff from our lines."
Linus Ullmark allowed three goals on eight shots for Buffalo and was then replaced by Chad Johnson. Johnson stopped all 12 shots he faced.
The Predators scored on their first true spell of possession in the Sabres' end. Fisher's busy work off the puck got him to a rebound ahead of Jack McCabe and he scored with 6:08 left in the period.
It took just 55 seconds of second-period play for Smith to build Nashville's lead, taking advantage of a poorly-positioned Ullmark with a high wrister.
The third goal started when Calle Jarnkrok lunged to corral a Sabres clearing attempt at the blue line and fired a wild shot toward the net. Gabriel Bourque controlled the rebound and found former Sabres forward Hodgson streaking across the slot for an easy goal.
"Bourque made a great play, a really sharp pass," Hodgson said. "I just had to tap it in."
Brian Gionta collected an ambitious pass up the right boards from Cody Franson and forced Hutton into an early blocker save as Buffalo recorded up the first eight shots on goal.
Hutton dodged trouble when Jack Eichel's long shot through traffic beat him five-hole but trickled off the left post.
Kane pulled the Sabres to within two late in the second. Nashville allowed the left wing to gain the zone and move into the centre of the ice, where he beat Hutton with a glove-side wrist shot.
Marcus Foligno was called for two penalties early in the third period, the second for interfering with Hutton on a 1-on-1 opportunity that went wide. When Foligno emerged from the box, he found himself in a race with Hutton for a loose puck, and his dive flipped the goaltender in the air.
"I just tried to elevate it and he caught my legs and sent me for the old flip-a-rooskie," Hutton said. "I've got to work on my landing, that's for sure."
Eichel then fired a cross-crease pass from Ryan O'Reilly off Hutton and into the goal with 1:19 left, but Buffalo couldn't find the equalizer with the extra attacker.
NOTES: Longtime Sabres defenceman and current Predators assistant Phil Housley received an ovation from the fans after a video was played detailing his recent induction into the Hockey Hall of Fame. ... Sabres centre Tyler Ennis was a late scratch with an upper-body injury. ... Predators centre Paul Gaustad left the game with a lower-body injury.