Preds find their way after concerning start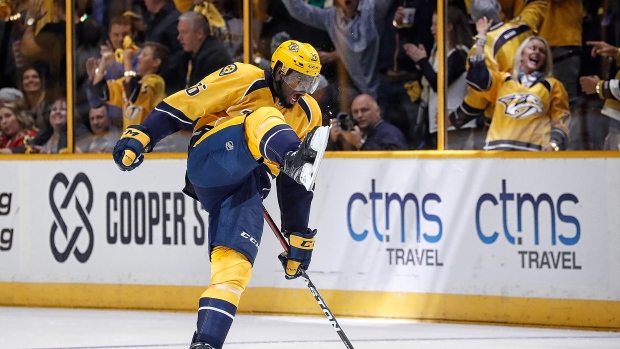 Nashville is down only 1-0 after 20 minutes during a recent home game against St. Louis, but general manager David Poile is already nervous. Given the Predators tenuous start to the season, that feeling is understandable.
"We haven't got off to the start that we hoped we would," Poile said in a recent interview. "It's early, but we need to start playing at a higher level and start getting more wins."
The only GM in team history has seen more of what he was looking for of late: Nashville came back to beat the Blues that night and has now rolled off three straight wins while picking up points in six consecutive games (4-0-2).
Poile was expecting something like that in the season's opening month.
The 66-year-old dramatically reshaped the franchise last off-season, sending long-time captain Shea Weber to Montreal for P.K. Subban, his more excitable counterpart on the back-end. The addition of Subban along with continued progression from emerging talents like 22-year-old Filip Forsberg and 24-year-old Ryan Johansen, was supposed to catapult the Predators into the Western Conference elite.
Only it didn't happen in October.
The Preds started the year with losses in six of their first eight games (2-5-1), failing to score back-to-back victories until just last week. Poile didn't think the group was meshing very well on the ice and perhaps off it as well. He believed a new leadership dynamic was still being established following the exit of not only Weber, the team's captain since 2010, but fellow veteran leaders Paul Gaustad, Barret Jackman and Eric Nystrom.
Subban, too, is still finding his place in Music City. It's been a nice start for the 27-year-old, if not a home run just yet.
"I think he's been very good," Poile said. "I also think on the leadership role, he's just fitting into his new team. But I certainly expect that as time goes on his impact on the team, both on the ice and off the ice, will be even greater."
On pace for 18 goals and 47 points while averaging almost 25 minutes per-game, the Toronto area native has been fairly solid on the puck possession side (about 49 per cent) and the Preds have outchanced their opponents reliably when he's been on the ice. He's an entirely different type of defenceman than Weber though (more prone to making things happen) and the club has had to adjust their construction with him in the mix.
Subban has played mostly with Mattias Ekholm, who spent nearly all of last season with Ryan Ellis, the 25-year-old now standing in for Weber alongside Roman Josi.
Poile wondered if the shuffling was partly to blame for the sluggish start.
The Preds have also mixed things around up front, still trying to find a reliable mix with their top scorers mostly scuffling.
Forsberg, who had a career-high 33 goals and 64 points last year, didn't score his first goal of the season until Saturday night (though he does have 10 assists) and Johansen, Nashville's return in the Seth Jones trade, has just one goal all season and only seven points. James Neal, a 31-goal-scorer last year, has surged recently (goals in four straight) after scoring only once in the first 10 games.
"We can't play at a playoff-rate without our big offensive players producing at a significant rate," Poile said.
Nashville has to be most encouraged by the early play of Pekka Rinne, the Finn starring with a .930 save percentage after a below-average campaign last year. The club's power play is also hovering near the top of the league and once droopy puck possession numbers are trending upward.
It took some time, but the Preds seem to be finding their way.
"You make changes in the off-season (and) everybody has certain levels of expectations, but nobody really knows (how it will turn out) until you drop the puck and you start playing the games," Poile said. "For sure, to me we've been inconsistent and on an individual basis I think there's individuals that can produce more than they've produced to this point.
"Hopefully that'll happen sooner than later."