Price humbled by record award haul
Carey Price swallowed hard. He was grasping for words - frantically combing his brain for some way to put his night and record-breaking season into perspective. As TSN senior hockey reporter Frank Seravalli writes, all the NHL MVP could do is stay humble in the spotlight.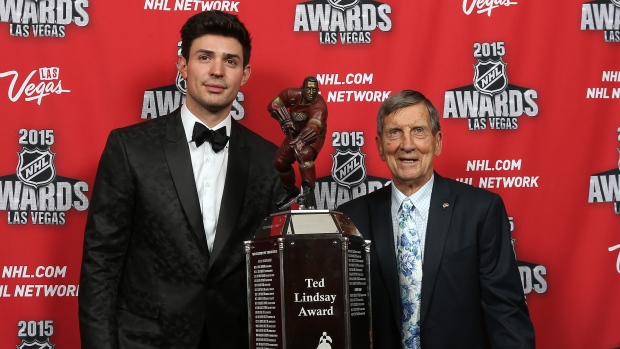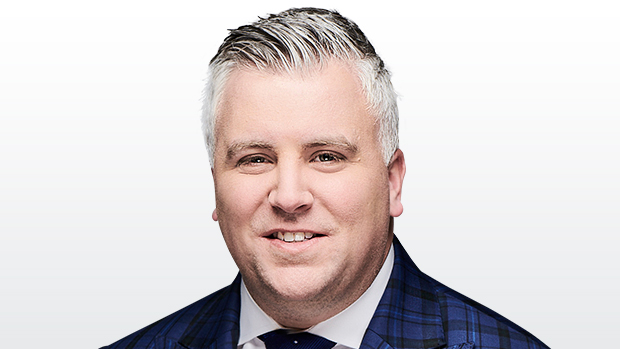 LAS VEGAS — Carey Price swallowed hard. He was grasping for words - frantically combing his brain for some way to put his night and record-breaking season into perspective.
There was a gaggle of reporters and a hoard of trophies on the dais in front of him.
If not for his crisp tuxedo, he could've passed for an award salesman. The selection was vast. Hart Trophy. Jennings Trophy. Vezina Trophy. Ted Lindsay Award.
Minutes earlier, he was awestruck during a private moment with Lindsay backstage at the MGM Grand Garden Arena. Lindsay, who turns 90 in a few weeks, looks forward every summer to presenting one of only two NHL awards named after a living legend.
Price, Jamie Benn and Alex Ovechkin - the other two finalists - met with Lindsay in a hotel suite earlier on Wednesday. Later, after the ceremony, Price and Lindsay chatted for a minute.
Lindsay asked Price about his First Nations heritage - something Price also mentioned in his speech. That drew a smile out Price's mom, Lynda, who served as chief of their Ulkatcho First Nation Tribe in Anahim Lake, B.C. from across the room.
The shutters clicked in camera lenses as Price and Lindsay posed for photos. Then Price pulled the Hart, Vezina and Jennings off the table so all that remained was the Lindsay Award for a keepsake with the award's namesake.
Price, 27, was recognized as tops in the sport simultaneously by three different groups of voters: general managers, the Professional Hockey Writers Association, and his fellow players. One referendum really tugged at his emotions.
"I have to thank everybody for (voting for me)," Price said. "I'm very humbled by it - especially the players. No offence to anybody else, but I'm very humbled by that because I compete against these guys.
"We go to war out there and for them to vote for me is really special."
It was an unprecedented run. Only one other Montreal Canadien, Guy Lafleur, swept four awards like Price did on Wednesday. Heck, only two other goaltenders - Mike Liut (1981) and Dominik Hasek (1997, 98) - have ever been voted as Lindsay Award winners by their peers since its inception in 1970.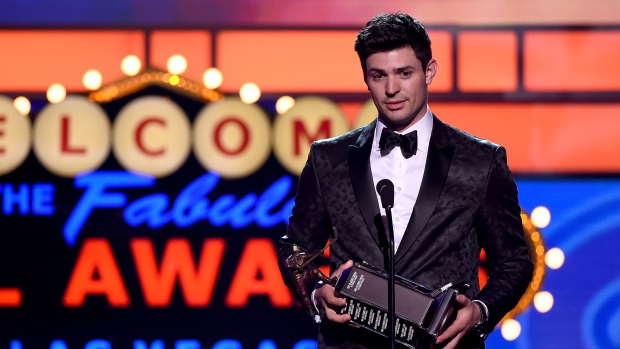 The voting wasn't even close. He earned 27 out of 30 first place votes for the Vezina, decided by the general managers. Price nabbed 139 out of 157 first place votes for the Hart, chosen by the Professional Hockey Writers Association. Voting tabulations for the Lindsay Award isn't made public.
"I guess for whoever didn't vote for me, I'll try harder next year," Price quipped.
All he did was re-write the record books of a 105-year-old franchise. Consider this: Price allowed two goals or fewer in 44 of his 67 starts (66 per cent) last season.
There were times when he doubted himself. There were times he wondered whether he could make it in Montreal. His development, like any other goaltender, took time. Price thanked the Canadiens for not giving up on him, for "recognizing he had the personality to get through it."
"It's been a crazy ride," Price said of the last 17 months, which began with a gold medal in Sochi. "Everything has just fallen into place for some reason. The team has been playing well. Things are just awesome at home. My family is doing great. I'm just truly grateful to be here.
"You try and prepare something to say and it never really comes out the way the way you had in mind. I'm just immeasurably blessed to do what I do."
Price looked down at his hardware, taking one last glance at the Lindsay, and smiled.
"That's my ultimate goal," Price said of the Stanley Cup. "I'd trade all four of these in for that one."
Frank Seravalli joins TSN.ca from the Philadelphia Daily News, where he covered the Flyers for six seasons. He can be reached on Twitter at @frank_seravalli.