Prospect G O'Connor inks with Senators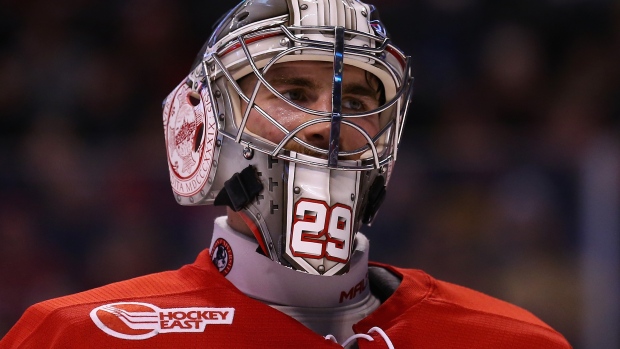 Highly-touted free-agent goaltender Matt O'Connor has come to terms with the Ottawa Senators.
O'Connor helped Boston University reach the NCAA national championship game and had offers from several NHL teams.
The deal with the Senators is for two years with the maximum bonuses allowed on an entry-level contract.
O'Connor, a Toronto native, was reportedly down to the Senators, Edmonton Oilers, Vancouver Canucks and New York Rangers.
Scouts had flocked to see O'Connor, projected No. 2 draft pick Jack Eichel and fellow free agent Evan Rodrigues (who signed with the Buffalo Sabres) at BU.
O'Connor went 25-4-4 with a 2.18 goals-against average and .927 save percentage this season. Leading 3-2 late in the national title game, he allowed a back-breaking goal from the red line on a puck he dropped and went in, and BU lost to Providence 4-3.
But O'Connor's spectacular season made him a wanted man as undrafted free agent.
Scouts said O'Connor progressed significantly during his three years with the Terriers after playing two seasons in the United States Hockey League.
"He's really done a good job at improving his rebound control, his stance overall," ISS Hockey scout and former NHL goaltender Phil Myre said in a recent interview. "Sometimes big guys have a tendency to have some holes because they're so big, they have long limbs.
"He's been able to gain more control in his positioning and in his stance, rebounds and movement.
By adding the 23-year-old, the Senators made this an even more interesting off-season with goaltending.
Veterans Craig Anderson and Robin Lehner are under contract for the next three and two years, respectively, and second-half star Andrew Hammond is an unrestricted free agent.
If Hammond is re-signed, general manager Bryan Murray said he'd trade either Anderson or Lehner. There's no shortage of teams that need a veteran goalie, including the Oilers.
According to TSN Hockey Insider Pierre LeBrun, the Sens are still interested in signing the fan favourite Hammond to a new contract and spoke to the goalie's agent a few weeks ago. The two sides are still just in "general talks."
As sought-after as O'Connor was, scouts believe he could use a year in the minors before stepping up to the NHL.
"He has a history of longer adjustment to things," Myre said. "Obviously he's more mature than a goalie coming out of juniors.
"But I think he's going to have to test the waters in the minors and see what the pro game is all about."
- With files from TSN.ca