Protesters want apology from Stoner for killing grizzly bear
A British Columbia group against trophy hunting is hoping the case of Anaheim Ducks defenceman Clayton Stoner charged with killing a grizzly bear becomes a rallying cry to protect the animals.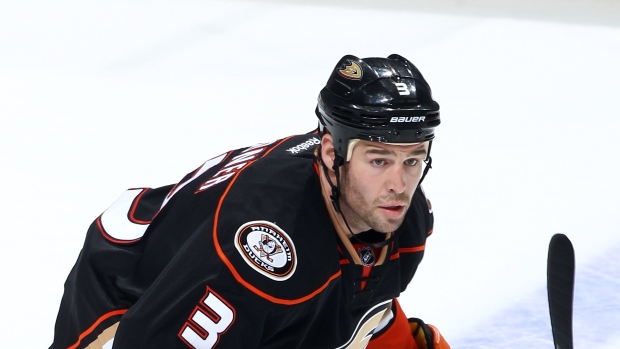 VANCOUVER - The case of an NHL player charged in the death of a grizzly bear has become a rallying cry for a British Columbia group against trophy hunting.
About a dozen members of Bears Matter gathered outside provincial court in Vancouver on Friday before a court date for Anaheim Ducks defenceman Clayton Stoner.
Stoner is charged with five counts under the provincial Wildlife Act, including two counts of knowingly making a false statement to obtain a hunting licence, hunting out of season, hunting without a licence and unlawfully possessing dead wildlife.
The bear, which local residents had named Cheeky, was killed in the Great Bear Rainforest on B.C.'s central coast in 2013.
Bear Matters member Barb Murray said a growing number of people are against trophy hunting and that Stoner's case should draw attention to the practice.
"We really need to make this case stand out above the others so that Premier (Christy) Clark cannot ignore our petitions, cannot ignore our letters and cannot ignore our voices," she said.
Records from the Environment Ministry show dozens of charges in 2014 related to hunting without a licence and unlawfully possessing dead wildlife.
However, few other cases have been in the spotlight.
"Clayton Stoner, he's recognized internationally, he's an NHL hockey player, he makes millions of dollars," Murray said. "He's supposed to be an example of what a sportsman (embodies). And he's not."
Stoner has never denied the hunt, which sparked debate two years ago when pictures published in a Vancouver newspaper showed him holding a grizzly's severed head.
Stoner, who is from Port McNeill on Vancouver Island, defended his hunting trip with his father, an uncle and a friend after the photos were publicized.
"I grew up hunting and fishing in British Columbia and continue to enjoy spending time with my family outdoors," he said in a September 2013 written statement, adding he would continue those activities in the province.
Stoner should apologize for hunting bears, said Murray, her voice choked with emotion.
"I'm hoping they slap a very big fine, and he could also contribute to conservation in this province, big time."
Stoner was not in court Friday. Ricky Bal, a lawyer who appeared on his behalf, said he does not know how the hockey player intends to plead.
The case was put over until Nov. 13.
The Anaheim Ducks begin their regular season Saturday in San Jose against the Sharks.