Puljujarvi drops one spot to Oilers at No. 4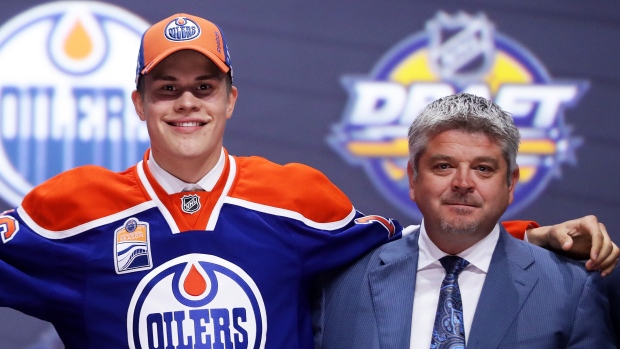 BUFFALO, N.Y. — The Edmonton Oilers didn't win the draft lottery this year, but they may have hit the jackpot with Jesse Puljujarvi at the NHL draft.
Touted by many as a top three prospect, Edmonton snagged the dynamic Finnish right winger at fourth overall on Friday after the Columbus Blue Jackets stunned the sold-out gathering at First Niagara Center when they selected Cape Breton left winger Pierre-Luc Dubois at No. 3.
Despite having a glaring need to improve his blue line, Edmonton GM Peter Chiarelli said he felt fortunate to get a shot at the talented forward.
"We're down four picks so it doesn't take a lot of rocket science to figure out who may be available at four," Chiarelli said. "What we started doing was at one point we started to look to move down.
"While that was happening, we got the sense that maybe Puljujarvi will drop so we kind of backed off. You just kind of know what other teams needs might be, and we started speculating that he might be available."
Puljujarvi opened a lot of eyes in December when he led Finland to gold at the world junior championship, scoring five goals and 12 assists in seven games while being named the tournament's most valuable player and best forward.
Puljujarvi had 13 goals and 15 assists in 50 games for Karpat in the Finnish Elite League last season.
"I like his big, strong stride. He shoots the puck very well, is good in traffic and he can make plays too," Chiarelli said. "Maybe he's more of a playmaker than a shooter. He's got a real good wrist shot and sees the ice well."
"You don't accomplish what he's accomplished at the men's level and international level without being a real good player. He does all this stuff and he's a big, strong body."
Using limited English, the six-foot-four Puljujarvi said he wasn't slighted by dropping one spot lower than many had projected.
"That's not important. I like Edmonton. I'm real excited to go there and I'm very happy now," he said.
Growing up in Finland, Puljujarvi is very familiar with the Oilers thanks to the legacy of Edmonton great Jari Kurri. Puljujarvi called Edmonton "a real hockey town," and expressed excitement about playing with the new breed of young Oilers and their budding superstar, Connor McDavid.
"I want to play with him," Puljujarvi said of McDavid. "They have a very young team and that's good."
Puljujarvi suffered a knee injury in early March during a Finnish league game, and underwent minor surgery following the under-18 world championship. He had already let NHL teams know that he wouldn't be able to attend any summer development camps, but said Friday that his knee is "good" and the rehabilitation process is on schedule.
Chiarelli believes that Puljujarvi will be ready to play in the NHL next season, and the confident Finn didn't mince words when asked if he has the same expectations.
"Yes, of course."