QMJHL: Alexeyev scores winner, Drakkar beat Mooseheads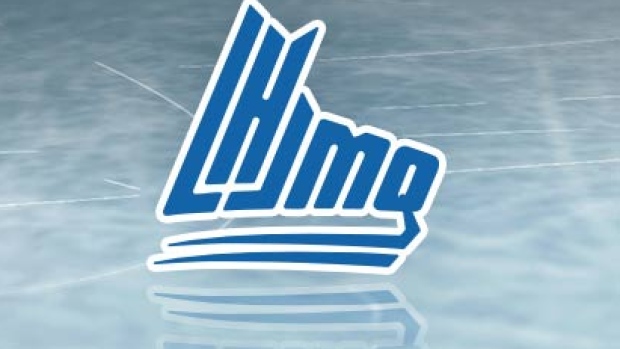 BAIE-COMEAU, Que. — Yaroslav Alexeyev broke a 2-2 deadlock at 18:07 of the third period as the Baie-Comeau Drakkar downed the Halifax Mooseheads 3-2 on Saturday in Quebec Major Junior Hockey League action.
Samuel L'Italien and D'Artagnan Joly also scored for the Drakkar (7-0-1), who have picked up 15 of 16 points to begin the season.
Raphael Lavoie and Xavier Parent found the back of the net for the Mooseheads (5-2-0).
Kyle Jessiman made 27 saves for the win as Alexis Gravel turned aside 37 of 40 shots in defeat.
Baie-Comeau went 1 for 3 on the power play while Halifax failed to score on its two chances with the man advantage.
---
ISLANDERS 3 SAGUENEENS 2 (SO)
CHICOUTIMI, Que. — Lukas Cormier scored the only goal of the shootout and Matthew Welsh made 19 saves as the Sagueneens edged Charlottetown.
Vladislav Kotkov and Mathieu Desgagnes scored in regulation for Chicoutimi (3-2-2), which has picked up at least a point in five straight games.
Liam Peyton and Keith Getson replied for the Islanders (3-4-1). Alexis Shank turned away 20 shots in a losing cause.
---
PHOENIX 3 CATARACTES 2
SHERBROOKE, Que. — Edouard St-Laurent scored the eventual winner at 12:53 of the second period as the Phoenix handed Shawinigan its fifth loss in a row.
Nathael Roy and Taro Jentzsch also scored for Sherbrooke (3-3-1) as Brendan Cregan stopped 26 shots for the victory.
Jan Drozg and Jeremy Martin responded for the Cataractes (1-5-0) after falling behind 3-0. Lucas Fitzpatrick made 26 saves in defeat.
---
WILDCATS 3 ARMADA 1
MONCTON, N.B. — Jakob Pelletier broke a 1-1 tie at 19:02 of the third period as the Wildcats topped Blainville-Boisbriand.
Jeremy McKenna and Dylan Seitz also scored while Francis Leclerc made 23 saves for Moncton (3-3-0).
Alexander Katerinakis kept the Armada (3-2-0) from being blanked. Emile Samson stopped 33 of 35 shots in defeat.
---
FOREURS 5 TIGRES 3
VAL-D'OR, Que. — Mathieu Marquis kicked out 35 shots as the Foreurs beat Victoriaville for their second straight win after six losses in a row.
Nicolas Ouellet, Daniil Berestnev, Benjamin Dion, Maxence Guenette and Emile Lauzon supplied the offence for Val-d'Or (2-5-1).
Simon Lafrance, Conor Frenette and Egor Serdyuk struck for the Tigres (2-4-1). Tristan Cote-Cazenave blocked 26-of-30 shots in defeat.
---
OLYMPIQUES 7 SCREAMING EAGLES 4
SYDNEY, N.S. — Maxim Trepanier and Charles-Antoine Roy had a pair of goals apiece as Gatineau downed Cape Breton for its third straight victory.
David Aebischer, Gabriel Bilodeau and Giordano Finoro also scored for the Olympiques (5-2-0). Tristan Berube made 35 saves for the win.
Egor Sokolov, Isiah Campbell, Shaun Miller and Felix Lafrance scored for the Screaming Eagles (3-4-0), who got 17 saves from William Grimard.
---
HUSKIES 6 REMPARTS 4
ROUYN-NORANDA, Que. — Patrik Hrehorcak scored twice and Samuel Harvey turned away 41 shots as the Huskies beat Quebec for their sixth win in a row.
Jakub Lauko, Alex Beaucage, William Dufour and Rafael Harvey-Pinard rounded out the offence for Rouyn-Noranda (7-1-0).
Louis-Filip Cote, Andrew Coxhead, Christian Huntley and Philipp Kurashev scored for the Remparts (4-3-1). Anthony Morrone stopped 26 of 31 shots in defeat.
---