Tatti & Louie B.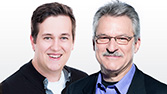 Jim Tatti and Louie B. break down the latest in Sports from 4pm - 7pm every week day.
The Toronto Sun's Steve Simmons joins TSN 1150's Tatti and Louie B to discuss Marcus Stroman's outburst after his start this week, why it's nothing new for Stroman, and his thoughts on the Blue Jays at the all-star break

Hogan: Calgary has a lot to prove

Toronto Argonauts play-by-play voice Mike Hogan joins Tatti and Louie B to discuss Ricky Ray's progress in returning from injury, where the Argo's stand in the East division and also touch on the consistency of the Calgary Stampeders.

Lefko: I expect a hungry Ticats team

CFLPA.com's Perry Lefko joins Tatti and Louie B to discuss where the Hamilton Tiger-Cats stand coming out of their bye week, they also touch on the Calgary Stampeders success year in and year out.

TSN CFL Insider Chris Schultz joins Tatti and Louie B to preview Hamilton's rematch this Thursday against the Saskatchewan Roughriders.

Ticats Today - July 16

Today's episode of Ticats Today features conversations with Marshall Ferguson and Drew Edwards as well as sound from wide receiver Jalen Saunders and Head Coach June Jones.

Matheson: Jays second half should be better

TSN 1150 Blue Jays Insider Keegan Matheson joins Tatti and Louie B to breakdown the disappointing first half of the season for the Jays and what to expect from them moving forward.

TSN Reporter Matthew Scianitti joins Tatti and Louie B to discuss the sudden death of former NHL goaltender Ray Emery.