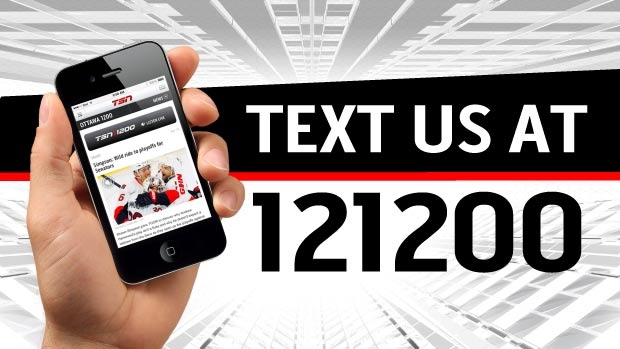 TSN1200 is Ottawa's Most Interactive Radio Station! And now we have made it even easier to get in contact with your favorite radio station instantly!
Using 121200, you can chat with your favourite TSN1200 personality, win great prizes and more...all without ever getting a busy signal.
Tell us what's on your mind & give us your best take!
All you have to do is Text : 121200
Standard rates apply to text inquiries
How to send a text message to TSN 1200:
1. On your cell phone, start a new text message
2. Enter the destination number: 121200
3. Send message
4. You will receive a confirmation message to let you know we received your message!
5. It doesn't cost you more than to text a friend!
Example
121200 [continue]
Hi JR and Steve, your show is very cool!
Upon reception of your text, you will receive something that could read like this:
Thanks for texting TSN1200! Send us a txt anytime, and keep listening to TSN 1200 to text and win!
Please email mobile@bellmedia.ca for any mobile services questions and customer service.
FAQ
What is text message or SMS?
SMS or text message is an alphanumeric message that you can send or receive on your cellular phone. Text messaging is a fast and efficient way to inform someone without disturbing her/him. On average, Canadians send 100 Million SMS / day.
How can I learn to send SMS?
Each phone has a different process to open the text messaging and write a message, don't hesitate to check your handset user guide, or visit your wireless carrier's web site.
What is a shortcode?
It is a 5-6 digits number used by companies instead of the regular 10 digits number. They are easier to remember, and works with all wireless carriers. To send a message to TSN1200, you have to use the short code 121200 as destination telephone number.
Will the hosts see my messages?
The hosts will see all the messages on their computer in the studio. They will read your message, and possibly respond directly by text message, or read it live on-air (assuming it doesn't suck).
How often can I send text message?
There is no limitation, you can chat as often as you want with the hosts, participate to vote and play along.
Which communication companies offer the service?
All the major wireless carriers in Canada offer the service through common short code initiative.
How much does it cost to send a text message?
Standard rates apply to text inquiries sent to 121200 which are invoiced by your wireless carrier directly on your phone bill. It doesn't cost more than to text a friend!
What do you do with the collected information?
By participating in TSN1200 mobile services, you accept to receive information about TSN1200 and its partners.
How can I contact you if I need help?
Please email mobile@bellmedia.ca for any mobile services questions and customer service