Dorion credits assistant GMs with reviving Duchene deal
Avalanche assistant general manager Chris McFarlane and Predators assistant general manager Paul Fenton helped their bosses find enough common ground to get the blockbuster trade done.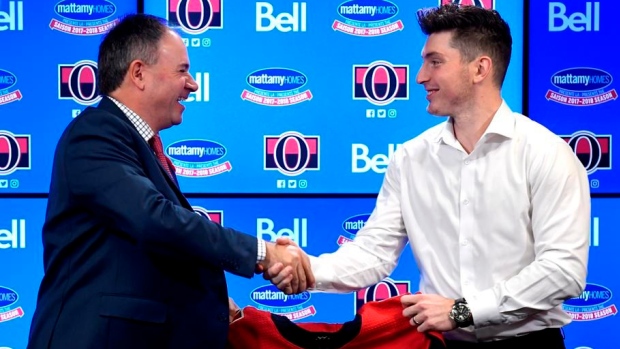 On Friday night, Pierre Dorion thought he had successfully engineered a three-way deal with the Nashville Predators and the Colorado Avalanche that would see him finally land Matt Duchene.
The Senators were so certain of the deal, they had arranged a plane from Philadelphia to bring Duchene to Ottawa in time for Saturday's matinee game against the Vegas Golden Knights.
But the deal was nixed when Avs GM Joe Sakic and Predators GM David Poile couldn't hammer out the final details to make the trade official from their perspectives. So Dorion – who was in Belleville to watch his AHL team play – returned to Ottawa empty-handed.
"Friday driving back from Belleville, I think I broke a few speed records because I was so mad," Dorion said about his disappointing two-hour drive back to Ottawa.
Almost a month of hard work had completely vanished and the Senators general manager was fearful that he was back to square one in his pursuit of Duchene.
Since the middle of October, Dorion, Sakic and Poile had phone conversations on almost a daily basis trying to work on this deal. At some point – about 10 days ago – Dorion and Sakic agreed on the terms to send Duchene to Ottawa. Sakic had desperately coveted a young defenceman, but Dorion wasn't willing to budge on his refusal to deal either Thomas Chabot or Cody Ceci.
"Joe and I talked about it. I told him, 'I'm not going to give you a good young defenceman, but maybe you can get one.'"
Dorion knew that Poile and the Predators had a keen interest in Kyle Turris. The two clubs were in contact throughout the month of September, talking about possible scenarios that could see Turris wind up in Nashville.
Dorion figured the Predators could flip a young defenceman to the Avalanche and all parties could walk away from the table satisfied. And thus, the framework for a three-way deal was born.
But that turned out to be easier said than done, as the Avalanche and Predators couldn't easily find common ground on a deal. By Friday evening, it looked like the blockbuster deal may never come to fruition.
"That was the biggest stumbling block – getting those two parties to agree to it," admitted Dorion.
But as luck would have it, Avalanche assistant general manager Chris McFarlane and Predators assistant general manager Paul Fenton just happened to be at the same NCAA game on Friday night.
After that collegiate game wrapped up, the two assistant general managers got together to see if they could help their bosses move this deal along. Sure enough, they found enough common ground to go back to Poile and Sakic and by late Saturday night, all of the pieces were starting to fall into place.
"Sometimes, that's where good assistant GMs come in. It was a crazy Friday night for a few people," Dorion said in going out of his way to credit McFarlane and Fenton for their help in paving the way for this trade.
The deal was finally agreed to just past 6 p.m. ET on Sunday evening – just as Dorion was starting a family dinner to celebrate his son's 12th birthday. He rushed away from the table – only eating his wonton soup – and wrapped up the final details of the trade that had been several weeks in the making.
Dorion was also in constant communication with Senators owner Eugene Melnyk about the state of negotiations and phoned him once the deal was completed. Dorion said the message from Melnyk over the past month was always, "Pierre – do what you need to do to make this hockey team better."
The Avalanche received prospects Samuel Girard, Vladislav Kamenev and a 2018 second-round draft pick from Nashville along with forward Shane Bowers, goaltender Andrew Hammond, a 2018 first-round pick and 2019 third-round selection from Ottawa.
The Senators landed Duchene, while the Predators wound up with Kyle Turris – and then immediately announced a six-year, $36-million contract extension with their new forward.
"Three-way trades are complicated, but at the same time, when everyone comes out of there with what they wanted, then everyone can be a winner," explained Dorion.
On Monday, Dorion was asked why he wasn't able to sign Turris at that same price as Nashville, which seemed like a completely reasonable deal to most observers. It was the Senators inability to get a contract done with Turris that opened to the door to this three-way deal.
"It's confusing to some fans and it's confusing to me too, because that was never brought on the table," Dorion said of Turris' new six-year contract with Nashville. "Only seven and eight-year deals were discussed with the Ottawa Senators."
The Senators and the Turris camp had their first significant conversation on or around July 12, at which point the Turris camp stated their desire for a seven or eight-year contract. According to Dorion, they never budged from that request in the four months since and, as a result, the Senators felt like they had a case of irreconcilable differences with Turris.
"We felt like we weren't going to get a contract done with Kyle, so we thought why not use that asset to make our team better. And that's exactly what we did here."
Now the Senators have Duchene locked up for this season and next, providing a bit more contractual security than they had with Turris. The Senators made a bold statement that they plan on contending for the Stanley Cup this season and next – while they have both Duchene and Erik Karlsson under contract.
"We have arguably one of the best players in the league in Erik Karlsson," Dorion said. I think while we have him here, we have to show him and the other guys that we're willing to do whatever it takes in order to take that next step."
Duchene and Karlsson are both set to become unrestricted free agents in the summer of 2019. Dorion and the Senators cannot officially start contract negotiations until July 1, 2018 with either party.
On Monday, Dorion was asked if he felt confident about keeping Duchene in Ottawa – after such a tough round of negotiations with the Turris camp. And he believes Duchene will fit in nicely with head coach Guy Boucher and his system.
"All I can tell you is that Pat Brisson [Duchene's agent] and myself have a very good relationship and when the time comes for that to come about, we'll see how Matt fits in here," said Dorion. "But that doesn't really worry me and I don't think that really worries our coach. Matt was pretty happy when I talked to him yesterday, Mr. Melnyk was pretty happy, but the happiest person I think was coach Boucher."