TSN Hockey Analytics
Presented by: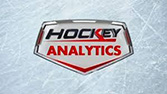 The first weekly hockey analytics program in North America, TSN Hockey Analytics, hosted by Andy McNamara, features regular appearances by a wide range of guests from the TSN Hockey team, including TSN's resident stats analyst Scott Cullen, Travis Yost and editor-in-chief of The Athletic Toronto, James Mirtle. Saturdays at 12pm.
The show presents a larger picture of the power of hockey analytics by looking at multiple game trends in an entertaining style that is both accessible to the casual hockey fan, but also comprehensive enough for the dedicated analytics enthusiast.