Canucks most realistic landing spot for Ryan White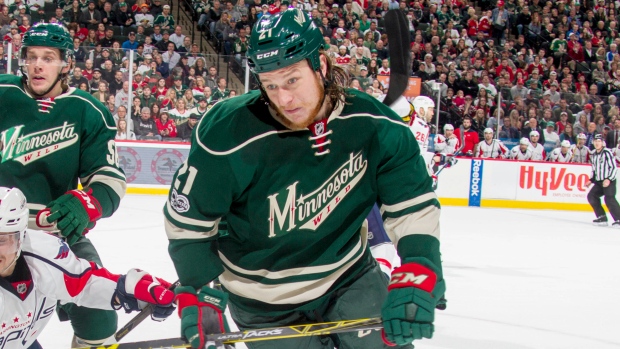 With his long hair flowing out the back of his helmet, Ryan White was easily identifiable as he joined a group of Vancouver Canucks for an informal end of summer skate at Britannia Arena on Wednesday. White hopes to stand out for a different reason once Canucks training camp begins next week. Here on a professional tryout, the 29-year-old Brandon, MB native knows he has no safety net when it comes to living the good life associated with full-time work in the National Hockey League. He's now playing to extend a career that has seen him suit up in 313 games with Montreal, Philadelphia and he split last season between Arizona and Minnesota being acquired at the trade deadline by the Wild in a deal that also involved Martin Hanzal.
White says he had other options in hockey, but felt the chance to come to camp with the Canucks was the best fit for him and offers the most-realistic possibility of parlaying the opportunity into a contract for the upcoming season.
"First and foremost, when you're getting a PTO there's not a lot of people knocking down your door and Vancouver's giving me an opportunity to come into camp and show what I can do," he told TSN 1040. "I just have to come in here and earn a job. I know Vancouver struggled a bit last year and for a guy like me, that's the kind of team you're looking for to get back in the league and hopefully make the roster."
White's game is a simple one of disruption. He tries to be physical whenever possible and finish as many checks as he can. While he scored 11 goals in 73 games for the Flyers just two seasons ago, he isn't coming to camp looking to impress with his puck skills. At 6 feet and 201 pounds, White knows what got him to the NHL after four seasons with the Western Hockey League's Calgary Hitmen. And at this stage of his career, he figures he knows what he needs to do to stay in the best league on the planet.
So, don't look for him on the highlight reels during camp and the preseason. But expect to see plenty of him in the corners and battling to the front of the net. And with plenty of questions still lingering about Derek Dorsett's health and ability to play a physical game after neck surgery last season, Ryan White senses the door is open here for someone who's willing to grind.
"Over the years, I've learned to be myself, work hard and play my game," White says of his game plan for camp. "I'm not going to be someone else. I'm not going to be the third Sedin brother. Playing my game has served me well throughout my career so far."
White was welcomed to the Canucks fold by fellow newcomers Michael Del Zotto and Sam Gagner – the trio played together in Philadelphia. White also knows Thomas Vanek from their time together in Montreal and says he's spent some off-season time with Jacob Markstrom, too. As a result, he isn't walking blindly into the Canucks locker room.
He also comes to camp armed with the knowledge that Jack Skille made the hockey club after a professional tryout just a year ago. White says that was taken into account when he made his decision to sign the PTO here. He wanted to make sure that he wasn't merely a warm body for training camp and feels the Skille example shows the Canucks organization is willing to give a guy an honest chance to make the hockey club.
"Once I saw that, it's a bit of an extra feather in their cap that they're willing to give out a contract to a guy like that," he says. "I think they're hungry here to be back in the playoffs and be better than they were last year. I'm just trying to come in here and push for a job. Either way, it's good for them because they're going to have some competition in camp."
If all goes well for White, he'll earn the opportunity to wear a Canucks uniform this season. There's a long way to go before that happens, but after spending 46 games in the Pacific Division with Arizona to start last season, he's well aware of what the Canucks will face as they run the gauntlet through Alberta and down the West Coast.
"In this division, you'd be pretty naïve if you didn't think you needed some physicality," he explains. "Edmonton's a big strong team. They probably play one of the biggest games in the league and you're playing them five times. You've got the Flames who are a big strong team and the whole California side of the division that plays that way too. I started in Phoenix last season and I know you need to have some size in the division and it makes life easier for the guys that put the puck in the net."
Ryan White won't have to wait much longer to begin his quest for a roster spot with the Canucks. The team opens camp next week in Vancouver and begins the preseason on Saturday September 16th in Los Angeles.