Griffen Molino: The Forgotten Prospect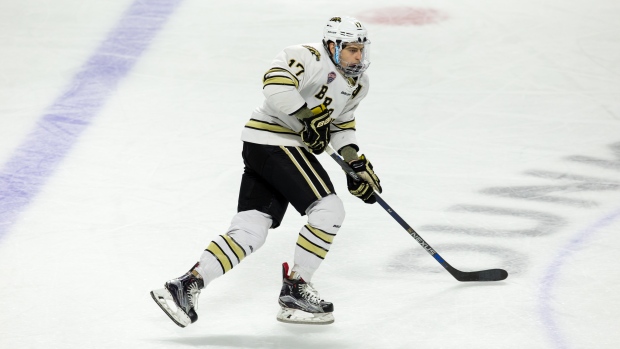 PENTICTON -- When it comes to the hierarchy of Vancouver Canucks prospects in Penticton for this weekend's Young Stars tournament, there are the big three – Brock Boeser, Olli Juolevi and Thatcher Demko – and everyone else falls into place behind them. Griffen Molino plans to do everything in his power to expand that group to four by the time Monday evening rolls around and the Canucks move on to main camp.
The speedy winger got into five National Hockey League games late last season after signing with the Canucks as a free agent following his second season at Western Michigan University. Like Boeser, he joins a select group that has skated in the NHL before making his Young Stars debut. At 23, Molino is the oldest skater on the Canucks Young Stars roster (only goalie Michael Garteig is older) and the Trenton, Michigan native hopes that experience combined with his above-average mobility helps set him apart from the crowd in a tournament like this one.
"I know it's going to be competitive, but I worked hard in the summer to come in here to be one of the best players in this room and in this showcase," the personable Molino said after Thursday's first on-ice session. "It's something I've been looking forward to. As far as expectations go, I don't think it's anything specific but I want to leave every game and leave the weekend knowing that I put my best foot forward going into training camp."
The six footer who weighed in at 185 pounds prior to camp gets his first chance to shine tonight against Winnipeg's prospects. The Canuck hopefuls play Calgary on Sunday afternoon and finish the event with a matinee Monday against Edmonton.
But when speed is your calling card, what better way to test yourself than by opening against a team called the Jets?
"It's easy to get caught up and try to do things that aren't part of your game and I think sticking to what I'm best at and what got me there in the first place is probably going to be my best route to success," Molino says of playing an up tempo game. "I know the season was winding down by the time I got there (to the NHL), but I think it was evident that the intensity and the speed and the pace of play was something I can handle and something I can keep up with. It was great to get a little taste because I know that I can make it. And that was a big thing for me."
It was also important for the Canucks organization to see Molino test himself in the NHL after scoring 15 goals and registering 33 points in 40 NCAA games last season. Ryan Johnson, the Canucks Director of Player Development who added the title of General Manager of the American Hockey League's Utica Comets to hit job description in July, believes strongly that Molino has a great chance to shine this weekend.
With more than 700 NHL games on his resume, Johnson has been around the game long enough to recognize when he sees something exceptional. He believes Molino's skating falls into that category.
"With his speed, it's a game changer," Johnson said after Thursday's practice. "He not only can skate, he's at another level. I think for Griffen, it's the little details – the stops and starting – that you can maybe get away with at college. And the down low compete that is such a part of the NHL. It's not that he's not willing to compete; these are just things that through experience you have to learn as defensemen and players are bigger and stronger. He's such a smart kid and a dialed-in kid, he's going to get it quick. He's got the north-south figured out, now it's just about learning those small-area skills."
Johnson wants to see Molino challenge defensemen with his speed this weekend. In full flight, he has the ability to back defenders off which should create space for him to create plays offensively. He also wants to see Molino get involved physically.
"I'd rather a guy be over-aggressive and make mistakes and learn from it than what you see from a lot of players who struggle in this tournament and that's they start thinking and stop moving their feet and then they go through three games just coasting around watching things around them," he explains. "I've encouraged all of our players to be aggressive, to put themselves in battle situations and I know Griffen is going to do that. I've seen a lot of very, very good hockey players come to this tournament and be average. We want players to learn from Game 1 to Game 3 here and improve as they go on and figure out some of the little things at this level that they'll carry on through main camp."
So the hockey season begins tonight for Molino and this weekend's tournament is the first step along the path to his first full campaign as a professional. He's had a glimpse of the good life in the NHL and wants more of that, but also must realize with the depth moves the Canucks made over the summer, that he'll be in tough to earn a roster spot.
It doesn't change his focus at Young Stars or beyond, but he's also realistic about where this season is likely to start.
"I put a lot of work in this summer with one goal in mind and that was to make the big club," he says. "Obviously there are other options on the table for me and it's not every time that someone jumps right from NCAA to the big league, but that's what I've had my mind on. If I need to spend some time in the minors or get some seasoning under my belt, that's what has to happen and I'm going to make the most of that opportunity to get back on the big club."
That may take a while to happen. Then again, Griffen Molino is all about speed so perhaps it shouldn't come as a surprise he believes he'll back with the Canucks sooner than some might anticipate.