JPat Gameday Report: Vancouver at Anaheim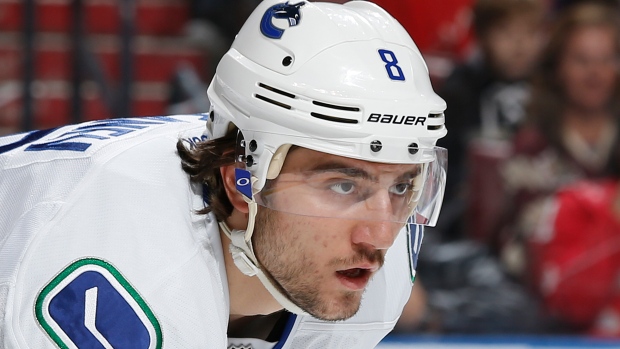 A busy day at Honda Center in Anaheim where the Canucks have announced Chris Tanev has left the team due to an upper body injury sustained in Calgary on Tuesday night. He has flown back to Vancouver and is out the remainder of this road trip (so at least 3 more games).
Alex Edler returns to the line-up after missing a dozen games with a knee sprain suffered in a collision with Winnipeg's Mark Schiefele in the third game of the season (Oct12th). With Edler back, the Canucks will have 4 LHD and 2 RHD (Gudbranson & Biega). So a lefty will have to slide over to play the right side. We'll have to wait for warm-up for more details.
Also, Markus Granlund has rejoined the team after missing Monday's game with an upper body injury. He skated this morning, received treatment afterward and wasn't willing to reveal his status for tonight. It's possible he plays AND Brendan Gaunce stays in the line-up after a successful season debut against the Flames. If that's the case, another forward will have to come out of the line-up. So there is a decision to be made tonight and again it will require some detective work during warm-up.
Jacob Markstrom returns to the net and makes his 6th straight start (2-2-1). Anders Nilsson is set to rejoin the Canucks in San Jose tomorrow after the birth of his child yesterday.
The Canucks are 5-1 on the road this season and huge part of their success is the 3.33 goals they are averaging away from home. Tuesday was the most goals they have scored in a road game this season, but they have also scored 4 in Detroit and Buffalo and three in Ottawa and Boston. Only once (in a 1-0 win in Minnesota) have they been held under three goals on the road. Last season, the Canucks averaged 2.22 road games/game.
The Ducks are 6-6-3 and but have lost 4 straight (0-2-2) and are coming off an overtime loss at home to Los Angeles on Tuesday.
Ryan Miller makes his third straight start after missing the first month with a wrist injury.
Without top two centres Ryan Getzlaf (face) and Ryan Kesler (hip), the Ducks have the 30th ranked PP in the NHL (10.6%) and are just 1 for their last 14 over the past five games.
Rickard Rakell leads Anaheim in scoring with 6+5=11.