Five Takeaways: Canucks vs Avalanche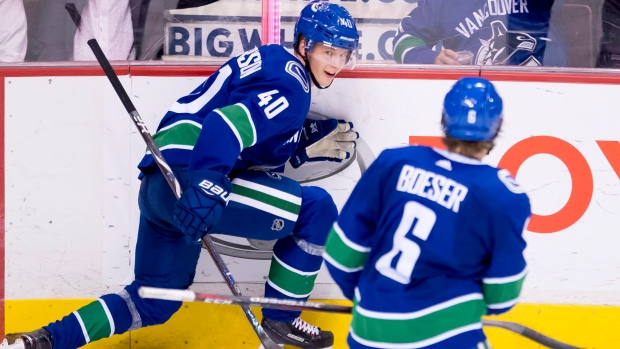 1) It's a night hockey fans in Vancouver won't soon forget. Goals, lead changes, drama and incredible star power. No one can say they didn't get their money's worth. Elias Pettersson became the youngest Canuck to ever record a five-point night with two goals and three helpers. He drew the penalty in overtime that led to Derrick Pouliot's power play winner. Pettersson also pulled the trigger with 36 seconds remaining in regulation 61 seconds after Nathan MacKinnon looked like he might have plunged the dagger into the heart of the Canucks giving Colorado a 6-5 lead with 1:37 remaining. But great work by Brock Boeser and Bo Horvat on the forecheck to find Pettersson in the slot and the wonder teen made no mistake ripping a shot past Philipp Grubauer. He is a special talent who now has 15 points on the season and at the end of the night Friday was behind only Evegni Malkin and Mikko Rantanen in the entire NHL with 1.67 points per game.
2) Brock Boeser needed a breakout game and he had one on Friday. Boeser opened the scoring 58 seconds into the game and scored his second of the night five minutes into the second period. That doubled his goal total on the season. He then added assists on the final two goals of the game. He led the game with eight shots on goal and had 11 total attempts and appeared to be more mobile than in recent games as he's played through a nagging groin injury. He and Pettersson appeared to have chemistry right from the opening face-off and it gives Canucks fans reason to dream about many more nights like this in the months and years ahead. While Boeser's goal total had lagged in the first month, with a four point performance on Friday he now has 11 points in 13 games which moves him into a tie for second in team scoring. That's not bad for a guy who hasn't been 100% for the past few weeks.
3) Bo Horvat worked on Friday night. In the absence of injured centres Brandon Sutter and Jay Beagle, Horvat was tasked with the hard match against Nathan MacKinnon's line. While MacKinnon was flying and finished the night with 2+1, Horvat didn't back down. He eclipsed his season high in ice time by a full three minutes logging 25:01 and would have played more had he not taken a late third period penalty. Horvat went 23 & 12 in the face-off circle posting more than half of the Canucks 41 victories on the night. There were 68 total face-offs and Horvat took 35 of them for Vancouver. He had a glorious chance in tight to win the game in overtime and while he didn't figure in the scoring play on the winner he was part of the Canucks four-man crew on the ice for the deciding goal.
4) Fans are buying in to what this team is selling. There were roars heard on Friday that seldom existed in the building the past few seasons. When Pettersson looked like he might break away for the overtime winner, fans rose to their feet in anticipation. Had he scored it would have been deafening. The crowd can sense there is something special about this player and it seems like fans now fully appreciate it. He will sell tickets to the next homestand on his own. Fans in this market have wanted the Canucks to go with young players and in overtime on Friday, no player over 25 hit the ice in O/T (Pettersson, Boeser, Horvat, Granlund, Goldobin, Virtanen, Hutton and Pouliot). That's going with the youngsters and they responded. The Canucks are now 4-0 in games beyond regulation time this season and Horvat and Boeser have been on the ice for all three of the O/T winners (at PIT, vs BOS and vs COL) while the team also won its lone shootout in Vegas on a Granlund goal.
5) With so much attention on the road heavy schedule to start the season, the Canucks have quietly turned in an impressive 5-2 start on home ice. Friday's win put a cap on a tidy 3-1 homestand in which the team scored four or more goals in each of the victories. They only losses so far at Rogers Arena this season have come against Washington and Pittsburgh when Alex Ovechkin, Sidney Crosby and Evgeni Malkin all had big outings. There is no shame in that. People will buy in if they are entertained and the Canucks have certainly done that in the first 15 games going 9-6 while battling through injuries. In recent seasons, the Canucks didn't win much on home ice, didn't score much on home ice and as a result didn't entertain much when at home. Now they're finding ways to do all three. The harsh road schedule continues as the team heads out east for six games starting Tuesday in Detroit. After that they come home for a pair of games against Montreal and Winnipeg before heading to California on a three game trek. So nine of the next 11 games are on the road which will certainly present challenges. However, starting on November 27th and up until Christmas, the Canucks will play 10 of 13 at home.