Five Takeaways: Canucks vs Coyotes
Canucks fell to the Coyotes 4-3 in overtime to open a six game home stand. Jeff Paterson gives you his five takeaways from the OT loss.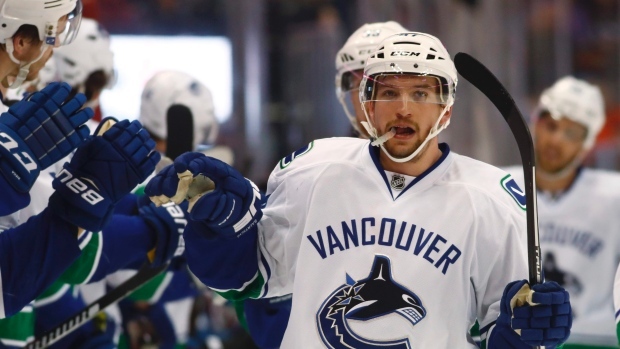 1) The Canucks felt they deserved a better fate than a 4-3 overtime loss on Thursday night against Arizona. I'm not so sure. Yes, they carried the play for much of the final 40 minutes but they were always playing catch-up. And without a Jacob Markstrom stop on Derek Stepan on the doorstep with six minutes remaining and the Coyotes leading 3-2, the Canucks wouldn't have been in position to salvage the single point they collected. For days leading into the game the two main talking points surrounding the hockey club were being refreshed from a four-day layoff and doing the things needed to score goals. Instead of pouncing on their visitors, the Canucks quietly and cautiously dipped their toes into the hockey game and required 15:27 to register their first shot on goal in a dreadful first period. They did not impose their will in any way on one of the few teams below them in the Western Conference standings. Scoring three goals after getting shutout in back to back games represents a small measure of progress, but scoring three goals and losing again doesn't mean much in the big picture.
2) Sven Baertschi has authored one of the few good news stories on the Canucks in the past week. He opened the scoring in Ottawa last Wednesday night by battling for a puck in the blue paint on a power play. On Thursday against Arizona, he scored two of the Canucks three goals and now has three goals in his past four games. His first goal was a beautiful solo effort as he took a pass in full flight, skillfully maneuvered around Coyotes defenseman Jacob Chychrun and fired a puck past Darcy Kuemper to even the score at 1-1 less than a minute after Arizona had opened the scoring early in the second period. Baertschi's second of the night was a rebound with under five minutes to play in the third period. On the night, Baertschi tied for the team lead with six shots on goal in 19:41 of ice time. His past three games have seen him log more than 19 minutes of ice. He looks like he wants the puck and he's looked dangerous at times when he's had it. Understandably, it took Baertschi a few games to find his hands and his timing after returning from a serious concussion on December 29th in Calgary. He's up to six goals in 16 games on the season which is a 30-goal pace over a full 82-game schedule (obviously he won't come close to playing that many games this season). But his return from injury gives the Canucks another goal-scoring weapon and right now he's the only player in the line-up feeling it offensively.
3) The Canucks were uncharacteristically sloppy with the puck in the third period against the Coyotes. They are team that frequently struggles with defensive zone coverage, but they're not one that turns it over under pressure as often as they did against Arizona. Give the Coyotes credit for aggressive puck pursuit and dogged determination that seemed to force the Canucks into making plays they didn't want to make. On one such sequence, the Canucks had ample opportunities to clear the zone, but couldn't, before Brandon Sutter was forced into a tripping penalty -- just his second trip to the box this season. Later in the period, Adam Gaudette was hurried along the boards and was unable to clear the puck to neutral territory. The 'Yotes held the line, turned the puck back into Canucks territory and Alex Galchenyuk was able to find Conor Garland for the 3-2 goal. The Canucks will face much better competition than the Coyotes over the final three months of the season and sloppy play like they demonstrated on Thursday will surely come back to haunt them again -- unless they tidy up their play in their own zone.
4) I understand Travis Green's hands are tied to some degree when it comes to finding offensive game-breakers to use in overtime. But playing it safe with Brandon Sutter and Markus Granlund seems less than ideal. Neither player was on the ice for the Coyotes game-winning goal, so it's unfair to suggest the Canucks lost because Green made conservative choices in the extra session. But when the team loses as the Canucks did, it opens the coach to second-guessing about not using players that might have been able to win the game for his hockey club. Sutter has been out of the line-up for two months, but he hasn't scored since October 20th and has gone eight games without a goal and has just one in the last 10 games he's been involved in. Granlund has now gone 11 games without a goal -- and that was an empty netter. He has not scored on a goalie since November 27th against the Los Angeles Kings. Green said after the game that reliability was one of the reasons Granlund got a pair of overtime shifts. The thinking there seems to be that the coach can rely on Granlund to keep the puck out of his own net. The trouble is, he can also be relied on to keep the puck out of the opposition net, too. But it's not like Green is blessed with an abundance of scoring -- especially these days. Loui Eriksson, Nikolay Goldobin and Antoine Roussel aren't exactly lighting it up and I'm not sure any represents a better chance to score right now than Sutter or Granlund. Perhaps Adam Gaudette deserved a look based on the kind of night he was having, yet he had turned a puck over in the third period that led directly to an Arizona goal. That probably didn't make him a consideration for an OT shift on this night. A week ago in Ottawa, Elias Pettersson had one of the most electric overtime shifts in Canucks history before he won the game with his third goal of the night. Had Pettersson been playing, none of the above would likely have been an issue.
5) It's time to split Ben Hutton and Erik Gudbranson. They struggled in Toronto on Saturday night and weren't particularly strong against Arizona either. I'd suggest the Canucks re-unite Hutton and Troy Stecher and drop Gudbranson down to the third pairing with either Derrick Pouliot or Michael Del Zotto. Gudbranson was on for two of the first three Coyotes goals on Thursday and at that point had been on the ice for seven of the last eight goals against the Canucks. Neither Gudbranson nor Hutton saw a shift in overtime, so there is no fault to be laid at their feet on the winning goal. Hutton got off to a terrific start this season and his redemption after a summer of hard work was one of the feel good stories around the hockey club in the first 20 games. When Alex Edler went down with a knee injury in late October, Hutton stepped up and played his best hockey in a couple of seasons. Since Edler's return, however, Hutton's game has gone quiet and cold. While he had an assist on Adam Gaudette's goal on Thursday, that was his first point since December 16th and just his second point in the past dozen games. He has now gone 29 games without scoring since a November 8th game in Boston that capped a stretch of three goals in a five game span. Neither he nor Gudbranson is bringing anything in the way of offense and they have struggled to defend as a duo on too many nights. There is no reason to keep them together especially with the team battling to gain traction again after a solid run in December.