Five Takeaways: Canucks vs Sabres
Canucks let a late two-goal lead get away and shuffle out of Buffalo with a 4-3 shootout loss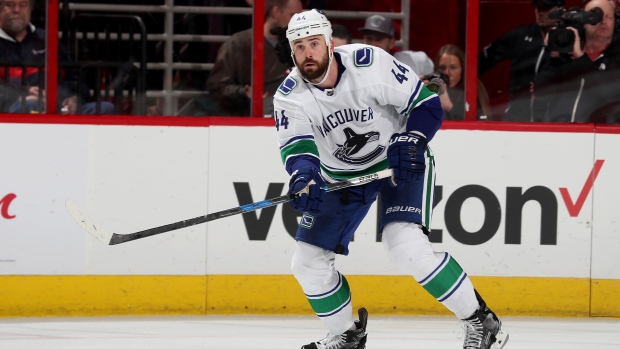 1) Some losses beyond regulation time can be described as a point gained. The single point the Canucks take with them from Buffalo was a case of a point lost. There can be no debate on that. Up 3-1 with under two and a half minutes to play in regulation should have been enough to secure a victory. It wasn't. But more than that, the Canucks had not one but two power plays in overtime and still couldn't grab the bonus point. It's the second time in three outings the Canucks have squandered a two-goal lead. It happened much earlier in the game in Detroit to start the road trip and it happened in shocking fashion on Saturday afternoon in Buffalo. The Canucks have been a good news story this season much in part for the way they have found to win hockey games that maybe they did not deserve to. On Saturday, the shoe was squarely on the other foot and they found a way to lose. But give the Sabres some credit too for pushing to the very end.
2) The outcome in Buffalo overshadowed some strong individual efforts. Jake Virtanen has now scored in back to back games and has five goals in his last six games. Loui Eriksson scored on Saturday and has three goals in his last two and four goals in his past four games. After missing training camp and the preseason, Antoine Roussel looks like he has found another gear to start this road trip. He two assists on Saturday after scoring in Boston on Thursday. And Markus Granlund -- like everything he does -- has quietly put together a strong run of games in the absence of Brandon Sutter. Granlund made a terrific play to set up Eriksson for the Canucks first goal on Saturday and now has 2+4=6 in his past six games.
3) Who knows what has got into Erik Gudbranson but he has the longest active point streak on the team after scoring for a second straight game. The big defenseman not known for his offensive prowess has 2+4=6 on a five game run. His seeing-eye shot from the right point early in the third period eluded Carter Hutton and found the back of the net. At the time it looked like insurance as it extended the Canucks lead to 3-1. Earlier in the game Gudbranson took a centering feed from Elias Pettersson off the rush and beat Hutton but rang a quick snap shot off the post. Through 18 games, Gudbranson stands alone as the Canucks leading scorer among blueliners with 2+5=7 on the season. The seven points in a season is the most Gudbranson has posted in his three years with the Canucks. He had 1+5=6 in 30 games in his first season and last year had 2+3=5 in 52 games. His career high for goals and points in a single season is 4+9=13 with Florida in 2014-15.
4) The Canucks could use some help in the shootout. Markus Granlund scored the lone goal in the skills competition and is now two for two on the season after netting the deciding goal in Vegas last month. However, the Finn is the only Canuck to score in a shootout this season. Canucks shooters are now collectively 2/10 in shootouts and after a loss in Detroit to open the road trip, the team is 1-2 in games settled beyond overtime. Nikolay Goldobin's goal-scoring issue isn't limited to run of play. Goldobin, who hasn't scored a goal since opening night, has failed to score in all three shootouts his team has been involved in. Surprisingly for a guy with the nickname Dekey Pete, Elias Pettersson has not scored on either of his attempts. Same goes for Bo Horvat. Brendan Leipsic is the only other shooter to have an attempt this season and he did not find the back of the net. On Saturday, Pettersson, Granlund and Goldobin were the Canuck shooters. Next time, maybe they ought to give some others a try.
5) Jacob Markstrom is 4-1-2 since Anders Nilsson fractured a finger on his blocker hand during the morning skate on October 27th. It's hard to argue with at least a point in six of those seven games. But scratch the surface a little and you'll find Markstrom has allowed 25 goals in those seven games and has held the opponents to two or fewer in just three of them. On Saturday, it looked like the Canucks netminder had made a signature game-saving stop when he stared down Evan Rodrigues on a short-handed breakaway with the Canucks up 3-1 midway through the third period. Of the two late goals, Markstrom had to find a way to control Rasmus Ristolainen's centering pass that was deflected onto the stick of Sam Reinhart for the tying goal with 1:47 to play. While shootout statistics don't count against a goalie's individual numbers, Markstrom was beaten on two of three Buffalo attempts. Updated after the Sabres game, Markstrom now has a 3.45 GAA and an 88.8% in the seven game run without Nilsson as a back-up. I'd expect he gets the start on Monday against the Rangers, but that Tuesday game in Brooklyn may be time to give Markstrom a night off.