Five Takeaways: Canucks vs Senators
Canucks beat the Senators 5-2 on Tuesday night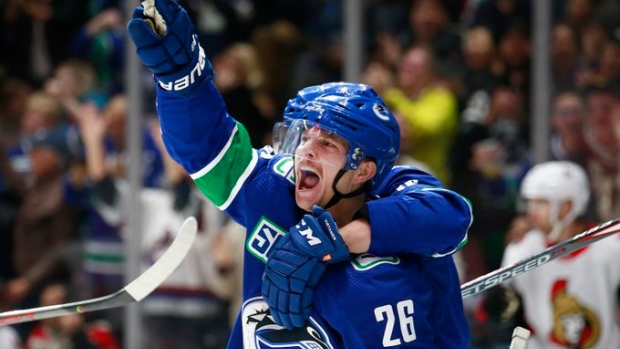 TAKEAWAYS
1) The Vancouver Canucks needed a win on Tuesday night. It's far too early in the season to call any game in December a 'must win' game, but after dropping a game on Sunday and with just one win in their past four, the Canucks simply had to take care of business against a struggling Senators team. And, to their credit, they did. After a moving Alex Burrows Ring of Honour induction ceremony, the Canucks jumped all over the Sens and built their first 3-0 -- and then 4-0 -- lead since November 2nd in San Jose. They did it with spread scoring and a willingness to get to the front of the Ottawa net. Antoine Roussel could not have scripted his return to the line-up any better after eight months of rehabilitation following knee surgery last spring. Roussel took a centering feed from Adam Gaudette and made no mistake on the backhand beating former teammate Anders Nilsson to open the scoring just 1:50 into the hockey game. That seemed to provide a spark throughout the Canucks line-up and they piled on with goals from Tanner Pearson at 4:28, Elias Pettersson on the power play at 13:58 and Zack MacEwen with his first NHL goal at 17:23 of the opening period.
2) Pettersson's goal was the Canucks league-leading 30th power play goal of the season. The team continues on a crazy pace of more than one power play goal per game through 29 games this season. Edmonton is second in that category with 26 so far. Last season, the Canucks scored 43 times with the man-advantage. Aided by all of that power play production, the Canucks finished Tuesday night as the fourth highest scoring team in the league with 94 goals -- behind only Washington (106), Boston (101) and Colorado (94). The team slips a little when ranked by goals per game where it sits ninth overall (3.24). All of this marks notable change from last season when the Canucks scored the fewest goals in the league after Christmas. And further evidence of how things have changed in Vancouver is the fact that Tuesday was the 12th time this season the Canucks scored five or more goals in a game. They accomplished that feat 11 times in 82 games last season.
3) Tuesday was far from a perfect game for the Canucks. They gave up 42 to shots and appeared to sit back on their 4-0 lead through most of the second period when they relied on Thatcher Demko a little too much. As Travis Green pointed out in his post-game remarks, it's tough to keep the intensity level up with a four goal lead. Of course, this is a team that let a three-goal cushion get away less than a week ago albeit against a better opponent in Pittsburgh. Still, the Canucks needed Demko in the middle frame and he rose to the occasion on a breakaway stop off Connor Brown and moments later a point-blank chance from the slot off the stick of J-G Pageau. Demko came into the game winless in three (0-2-1) and it was good to see him provide timely saves for his hockey club to protect the sizeable lead. With Jacob Markstrom back home in Sweden -- he's set to return by the weekend -- Demko's performance on Tuesday may very well earn him a second straight start when Buffalo comes calling on Saturday afternoon.
4) Adam Gaudette had a strong game on a line with Antoine Roussel and Jake Virtanen. The young centre picked up a pair of assists in 14:04 of ice time and held his own in shot shares at even strength with a 50% individual corsi and also in the face-off circle winning five of 12 draws. Face-offs had been a concern of late for Gaudette, but he finished second behind Bo Horvat in wins on the night. With his two helpers, Gaudette now has a career-high 13 points in 19 games. Tuesday was the 80th game of Gaudette's NHL career. He now has 11+14=25 points over parts of three seasons. Those numbers won't blow anyone away, but after a sluggish start to his career in terms of production, he is finding onto the scoresheet with regularity. The hope, of course, is that he's still developing and that those numbers will only grow for a player that was an offensive driver during his college days at Northeastern. With Brandon Sutter nearing a return from injury, the Canucks will have a decision to make about who will centre the team's third line. Gaudette has 6+7=13 in 19 games while Sutter has 5+3=8 in the same number of outings. Sutter can do all the things he does for the hockey club from the wing. Gaudette is showing signs of hitting his stride in the NHL and it seems like deserves the chance to stay and grow his game in the middle.
5) It was a very good night for the Canuck organization. The club -- as it so often does -- crushed it with the pregame ceremony to honour Alex Burrows. The video narrated by Daniel and Henrik Sedin was a fitting tribute. And Burrows, himself, absolutely nailed his speech to the appreciative crowd. Speaking from the heart and without any kind of notes, Burrows thanked many of the people that helped him become the player he did. And then he took his rightful spot in the Ring of Honour at Rogers Arena. The Canucks seemed to channel the pregame energy in the building for their home opener night when they jumped all over the Los Angeles Kings. Tuesday had a similar feeling as if the team didn't want to let Alex Burrows down. Travis Green revealed post-game that he had Burrows address the players in the locker room after team meetings and before warm-up. Whatever Burrows had to say, it seemed the current version of the Vancouver Canucks took it to heart.