Lulay back; Lions trying to avoid another no-hitter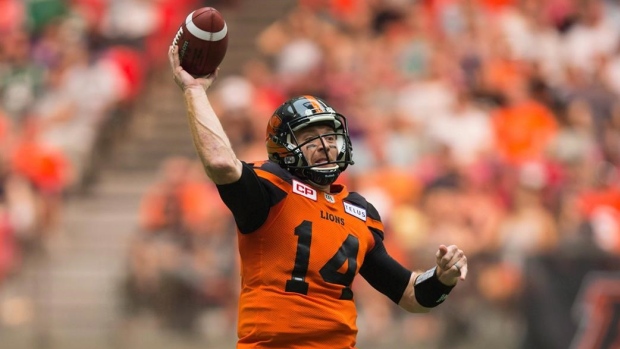 It may not fit the pure definition of a perfect game but it was the football equivalent of a no-hitter. In another era and a different team, what happened to the defence of the B.C. Lions last week would have sent some into a fire-breathing, expletive-laden rage. A bit of embarrassment too.
The CFL recently stopped tracking quarterback pressures statistically but Winnipeg Blue Bombers quarterback Matt Nichols inadvertently did it for them after their 41-19 laugh-fest of a victory last week.
In lauding the work of his offensive line in the prelude to their rematch Saturday at B.C. Place Stadium (7 p.m., TSN, 6 p.m., pre-game TSN 1040), Nichols shone a spotlight directly on the Lions defence when he pointed out he wasn't touched once.
Sack-free games are common of course, but it's likely that a game in which an opposing quarterback didn't even require a post-game shower are rare. It wasn't worthy of attention when the Lions defensive front didn't record a sack two weeks ago in Edmonton. It is something else when a quarterback could throw a pass and read a book almost at the same time.
You can have the other storylines about a team that didn't know for half the week whether Jon Jennings or Travis Lulay would be behind centre, or if anyone was even slightly perturbed it was Adam Bighill and his two interceptions which did in the Lions, raising the prospects of a repeat in the stadium he called home for six seasons.
By any measure, the lack of defensive pressure by the Lions could have long-term effects that are equal to their offensive shortcomings if the secondary is forced to cover because of what isn't being accomplished up front.
The regular season had just begun when the league, responding to pressure from coaches, stopped tracking quarterback pressures. However, TSN is still creating a heat index and reports B.C. doesn't have a single defensive lineman in the top 10 in pressures.
To a defensive lineman, not hitting a quarterback should be the equivalent of a starting running back without any rushing yardage, or a quarterback without a completion.
But it's not resulting in sleepless nights at the moment. It may be a byproduct of a different age but also a reasoned approach by the Lions, who say they weren't able to get to Nichols fast enough because he had made his read and got the ball to a receiver.
Stats can be misleading too. In Edmonton, Odell Willis hit Mike Reilly into next week but a split second after the rugged Eskimos quarterback had found an open teammate. Reilly felt the hit. The Lions felt the result.
"You just say 'good job'," said Willis with a nod to the Bombers, when asked this week if the Lions were embarrassed by the fact Nichols could have had a teammate shine his cleats while he was at work.
"At the same time they know they had a game plan for him not to get to hit. I don't care. If we didn't touch himand we'd won, what would you be saying then? People are just talking to boost their confidence."
Lions coach Wally Buono, on the other hand, is talking like someone who knows his team needs something – anything – to jumpstart their season after two losses where only special teams played well. On his weekly appearance on 3 Down Radio, Buono tried stirring the pot for the good of his own team.
"I don't know if I'm too concerned," said Buono, who watched the game back with a stopwatch to determine the majority of Nichols' throws came less than two seconds after a snap, which is not enough time for a defence to be effective.
"But if I was Matt Nichols I would be careful about what I said about the opponent." Of course, Nichols didn'tactually say anything about the opponent. All Nichols did was acknowledge the work of his hoggies and remind them there's a steak dinner coming their way for their work on the line of scrimmage.
Later in the week, however, Buono was more realistic.
"My thing is, why should the truth bother you?" Buono said.
Lions defensive line coach Randy Melvin may have been more perturbed about the no-hitter than any of his players when he declined to comment, which may be a comment unto its own. Willis says people should take a chill pill instead of expecting players to start slamming helmets into locker stalls after the no-touch job last week.
"Nobody's head is down. It's the fourth week and we're a game behind (in the West Division standings).What is there to be panicked about?" Willis said. "If you worry about it now, you might as well go and cancel the whole season."
It is, however, a season in which the Lions thought they had improved their defensive push but instead have given up consecutive 100-yard rushing games and 82 points in their last two outings.
"Of course we feel embarrassed," said defensive lineman Davon Coleman. "That's just fuel to the fire. Let's just say our coverage has to be tighter and we have to rush faster. We're going to get after him this time."
Fuel for the fire. It's a cliché, but a cliché means there's still a pulse. Not a frothy, Joe Montford or Deacon Jones kind of rage after a different kind of touch football, but a pulse nonetheless.
LIONS TALES: Buono told Jennings he was going to make a change as expected following practice Thursday and hopes the return of Lulay will have the same effect on the Lions as Nichols did in Winnipeg last week. "I hope Travis gets hit early so that he realizes he's OK," deadpanned Buono. "Matt Nichols must not think he's OK because he didn't get hit, so I think Travis is going to be at a huge advantage. Lulay says he doesn't see himself as a saviour but a quarterback who is healthy at a time when the Lions need a change "I've been around long enough that you don't put a plan ahead for when your team needs you. It's funny with the timeline the way it worked out." Lulay said he feels 100 per-cent healthy and isn't rushing back prematurely... Winston Rose replaces Marcell Young at cornerback. OL Hunter Steward will miss his third straight game with a back issue.... The game marks the B.C. stop on the league-wide stop hunger tour conducted by the league and Purolator.