Jets vs. Blues Game 4 Preview
The Winnipeg Jets are in St. Louis tonight looking to get even, The Blues lead the best-of-seven series 2-1.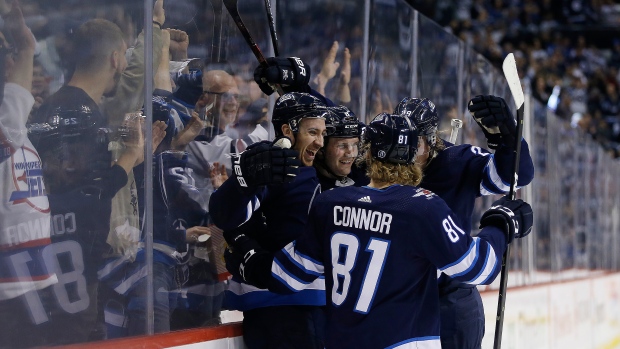 The Winnipeg Jets are in St. Louis tonight looking to get even, the Blues lead the best-of-seven series 2-1.
After dropping their first two games at home to the Blues, the Jets came in flying to Missouri's Enterprise Center on Sunday evening.
Winnipeg finally solved Jordan Binnington, the Blues rookie netminder who has yet to lose back-to-back games this year.
The Jets put six pucks past Binnington during the final two periods of play, including two goals from Kyle Connor.
Connor said the passion they showed in game three is what his team needs to bring again tonight.
"We just got to bring the same intensity and the same desperation each shift," said Connor. "We expect their best in every game we're going into so that doesn't change… They're a good team as well; we have to be well prepared."
The Jets will field the same lineup as they did on Sunday night. St. Louis will be dressing Robby Fabri for the first time this series, Zach Sanford will sit out.
Puck drop is from Enterprise Centre at 8:30 p.m. You can also listen on TSN 1290, with pregame coverage beginning at 7 p.m.
Game five of the series is scheduled for Thursday evening in Winnipeg.
JETS LEANING ON BYFUGLIEN FOR PLAYOFF DRIVE
The team says they're also relying on the experience of veteran defenseman Dustin Byfuglien to help guide them through the first round of playoffs — and potentially the rounds to come after it.
"Obviously having a guy like that, who went through the wringers of getting all the way to the cup final, he's a guy that we definitely rely on heavily," Jets centre Mark Scheifele said. "We're going to rely a lot on him tonight and going forward, he's definitely a big part of this team.
Byfuglien had a memorable goal in game three, banking a shot off the back of Binnington's head and into the Blues' net.
Currently, Byfuglien is the only Stanley Cup champion on Winnipeg's roster. Scoring or not, Jets head coach Paul Maurice says it's Byfuglien's personality that's also key in high-pressure situations.
"Cup winner or not, his personality is important in our room. We got three different captains and they're all completely different personalities. Dustin could have eight minutes left to go in a very tight hockey game, the camera is on his face and you've seen it, he's laughing," Maurice said. "He's not walking out on the ice tight, he's not nervous, he's excited. That's an important of his personality that he brings to our room.
Projected Lines
Jets
Connor-Scheifele-Wheeler
Ehlers-Little-Laine
Copp-Lowry-Tanev
Perreault-Hayes-Roslovic
Morrissey-Trouba
Chiarot-Byfuglien
Kulikov-Myers
Hellebuyck
Brossoit
Blues
Schenn-O'Reilly-Tarasenko
Schwartz-Sundqvist-Perron
Maroon-Bozak-Thomas
Fabbri-Barbashev-Steen
Dunn-Pietrangelo
Bouwmeester-Parayko
Edmundson-Bortuzzo
Binnington
Allen