The Afternoon Ride with Hustler & Rick Ralph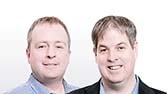 Join Andrew "Hustler" Paterson and Rick Ralph during the ride home to talk about the latest stories from around the sporting world, including interviews with players, reporters and sports personalities.
Today's guests were Bruce Arthur, Jeff Hamilton, Mike Zeisberger, Mark Long, Trevor Kidd, Jim Jackson and Brendan Lemeiux

Dreger: He's just that important to that team

TSN Hockey Insider Darren Dreger joins the show for his weekly visit, talking the Corey Crawford situation in Chicago, the upcoming NHL Trade Deadline including potential Winnipeg Jets moves, as well as Mark Stone and Erik Karlsson's situations in Ottawa.

McLean: I started skating at age two

Winnipeg born Olympic speed skater Heather McLean joins the show to discuss the upcoming Winter Olympics in Pyeongchang, her inspiration and growing up in the sport, competing overseas, opportunities to come back to Winnipeg and talks skate sharpening.

Wiebe: Jets best chances for a deep run are this year and next

Ken Wiebe of the Winnipeg Sun joins Andrew Paterson and Rick Ralph on the Afternoon Ride. They discuss the Vikings miracle win vs. New Orleans, players the Jets should target at the trade deadline, if Jack Roslovic has earned a permanent spot, the possibility of Blake Wheeler staying at centre and the Jets championship window.

TSN senior hockey reporter Frank Seravalli joins the Afternoon Ride and discusses the Winnipeg Jets needs leading up to the trade deadline.

Rubenstein: Players aren't hitting mid and long irons anymore

Lorne Rubenstein joins Andrew Paterson and Rick Ralph and discusses being named as this year's recipient of the PGA Tour Lifetime Achievement Award in Journalism. They also touch on the expectations for Tiger Woods this season and how players on the tour are using fewer long and midirons.

Taylor: Glenn a great fit in Edmonton

TSN's Derek Taylor joins the Afternoon Ride and discusses the CFL off-season. Topics include: Kevin Glenn signing with Edmonton, potential landing spots for Darian Durant, the effectiveness of the negotiation list and the future of Johnny Manziel in the CFL.

Ates: Jets have a unique number of value contracts

Murat Ates of The Athletic joins Andrew Paterson and Rick Ralph on the Afternoon Ride. They discuss the number of value contracts currently on the Winnipeg Jets roster, how the team should approach the trade deadline and why the window to go for a Stanley Cup is sooner than later.