Winnipeg Jets Games
Presented by: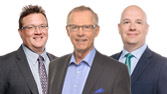 Catch every Winnipeg Jets game exclusively on TSN 1290, with play-by-play from veteran hockey broadcasters Dennis Beyak and Paul Edmonds and colour commentary from Brian Munz. Sponsored by Jacuzzi Maitoba.
JETS VS STARS - JAN 19th 2019

The Jets end their pre-player break schedule with a tilt with divisional rivals the Dallas Stars tonight. The Jets fell last time out in Texas and will look to take a 2-1 series lead with the Stars.

JETS VS PREDS - JAN 17th 2019

The Jets head down to music town to take on the Nashville Predators. The Jets fell to the Preds in their first meeting of the season 3-0 so revenge is on the menu tonight.

The Jets meet up with the team that knocked them out of the playoffs last year for the first time this season. The Jets will look to avenge a 4-1 series loss to the newest franchise in the NHL the Vegas Golden Knights tonight from downtown Winnipeg.

JETS VS DUCKS - JAN 13th 2019

The Jets take on the Ducks tonight just when the Ducks are in the midst of their franchise longest losing streak. The Ducks have fallen in their last 10 games and the Jets will look to continue that trend tonight in downtown Winnipeg tonight.

The Jets wrap up their season series against the Red Wings tonight. The Jets won their first game in a hotly contested matchup in Detroit and look to sweep the series with a win at home tonight.