Winnipeg Jets Games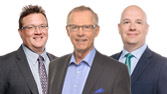 Catch every Winnipeg Jets game exclusively on TSN 1290, with play-by-play from veteran hockey broadcasters Dennis Beyak and Paul Edmonds and colour commentary from Brian Munz.
JETS VS BLUES GAME 6 - APR 20th 2019

The Jets look to stave off elimination tonight in downtown St Louis tonight. After a disappointing loss at home last game the Jets are going to try to take the series back to Winnipeg.

JETS VS BLUES GAME 5 - APR 18

The Jets host the Blues in their hotly contested 7 game series tonight in what is a pivotal game to sway the power of the series one way or another.

JETS VS BLUES GAME 3 - APR 14th 2019

The Jets head into St. Louis tonight a desperate team trailing the best of seven series two games to nothing. No home team has won a game in this series so the Jets are hoping to continue that trend tonight.

JETS VS BLUES - GAME 2 APRIL 12th 2019

The Jets host game two of their first round matchup with the St Louis Blues tonight. The Blues took game one in a tightly contested game so a win for the Jets is imperative.

JETS VS BLUES - GAME 1

The Jets start off their post-season with a home game against the St. Louis Blues tonight at Bell MTS Place.