Winnipeg Jets Games
Presented by: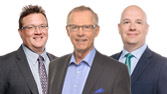 Catch every Winnipeg Jets game exclusively on TSN 1290, with play-by-play from veteran hockey broadcasters Dennis Beyak and Paul Edmonds and colour commentary from Brian Munz. Sponsored by Jacuzzi Maitoba.
Kevin Olszewski and Trevor Kidd break down the Jets fifth preseason game as they face the Flames in Calgary

The Winnipeg Jets continue their preseason action with a tilt at home against the Calgary Flames.

JETS VS OILERS - SEPT 20th 2018

In the Winnipeg Jets second pre-season game of the year they head out west to take on Connor McDavid and the Edmonton Oilers.

The Winnipeg jets open up their pre-season with a tune up game against the Minnesota Wild.