Winnipeg Jets Games
Presented by: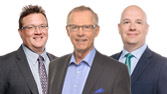 Catch every Winnipeg Jets game exclusively on TSN 1290, with play-by-play from veteran hockey broadcasters Dennis Beyak and Paul Edmonds and colour commentary from Brian Munz. Sponsored by Roadsport Auto.
Host Kevin Olszewski and Ezra Ginsburg break down the Winnipeg Jets 4-3 home loss to the LA Kings.

JETS VS PANTHERS - FEB 18, 2018

The Winnipeg Jets host the Florida Panthers for game number nine of the ten-game homestand, the lone meeting between the two teams at Bell MTS Place this season.

Host Kevin Olszewski breaks down the Winnipeg Jets 6-1 home win over the Colorado Avalanche.

JETS VS AVALANCHE - FEB 16, 2018

The Jets look to continue the win streak after their comeback win against the Capitals, with the Avalanche coming into Peg City!

JETS VS CAPITALS FEB 13, 2018

The Winnipeg Jets continue their 10 game home stand, looking to halt a 2 game losing streak as they host the Washington Capitals

The Jets look to get back on track with a daytime game against the visiting New York Rangers!