Radulov eyes Stanley Cup with Canadiens
Alexander Radulov donned his No. 47 Montreal Canadiens jersey for the first time Monday and said he's looking forward to challenging for a Stanley Cup with his new team.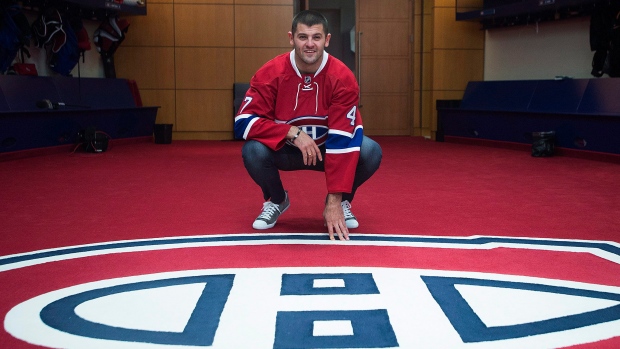 BROSSARD, Que. — Before Alexander Radulov donned his No. 47 Canadiens jersey and spoke to the Montreal media for the first time Monday, he had a more important first meeting with head coach Michel Therrien.
How the Canadiens' defence-first coach takes to the 30-year-old former Nashville Predator will have much to do with how their main off-season signing performs this season.
A year ago another Russian, Alex Semin, signed a one-year free-agent deal but was let go after playing himself into Therrien's doghouse with one listless goal in 15 games.
Radulov signed a one year, US$5.75-million contract July 1.
"We talked about a lot of things, everything went well," said Radulov. "He asked me where I like to play, left (wing) or right.
"I can play both. But I don't care. I just want the team to win a make everybody happy."
Semin and Radulov are both highly skilled but they are almost opposites as players and individuals. With Semin, the question was whether he'd give an honest effort on the ice. With Radulov, the concern was about off-ice behaviour.
Canadiens general manager Marc Bergevin banked on the notion that an older, more mature Radulov, now a married father of one, was no longer a risk.
Some other clubs wanted Radulov, but Bergevin flew to New York to meet him and came up with the right pitch to get the big, talented winger to sign. Radulov spoke of getting a chance to contend for a Stanley Cup.
"I'm excited to be back in the NHL," said Radulov. "To be part of Montreal is huge.
"It's a hockey town and they always want to go on a run for the Cup and that's the main reason I chose Montreal. This is a chance for me to play in the best league and finally get a chance to win the Cup. That's the main thing."
Radulov's previous NHL experience wasn't a shining example of commitment.
After starring in junior hockey for the Quebec Remparts, he had two promising seasons with Nashville but then bolted the final year of his entry-level contract to play for Ufa in the KHL.
He returned to Nashville for the last nine games of the 2011-12 campaign, but was suspended by the club when he was seen at a bar at 5 a.m. with linemate Andrei Kostitsyn the night before a playoff game. His contract was not extended and he signed with CSKA Moscow.
Now he's looking to start over.
"It's in the past," he said. "I did what I did and there's no point in looking back.
"Now I'm older and I have a family and my family's really excited that we're moving to Montreal. I'll try to show my best, to work every minute on the ice and off the ice. Be a leader and help the team."
After the trade of star defenceman P.K. Subban for veteran Shea Webber, Radulov's former Nashville teammate, the Canadiens shuffled their dressing room stalls and put the Russian next to two of the team's top leaders — captain Max Pacioretty and winger Brendan Gallagher.
Bergevin had mentioned that CSKA general manager Sergei Fedorov considered Radulov, the second-leading scorer in KHL history, one of his leaders.
"I was there playing on a pretty good team and I had that thing that I was a leader, playing a lot of minutes and trying to lead by example and in the locker room," said Radulov. "It helped me a lot.
"It changed my vision of how I have to work and how I have to be."
It is believed that one of the reasons Patrick Roy resigned as coach in Colorado was that the Avalanche didn't make a play for Radulov, who was the Remparts star under Roy when they won the Memorial Cup in 2006.
"He taught me a lot," said Radulov. "He's an emotional guy and so am I, but we get along good.
"He was my billet the second year. I lived in his house in Lac Beauport. It was a lot of fun. I don't know what happened (in Colorado), but the best situation for me was Montreal. I'm here now and I'm happy."