Ramirez homers as Red Sox top Jays
Hanley Ramirez hit a two-run homer and David Price snapped a three-start losing skid as the Boston Red Sox defeated the Toronto Blue Jays 5-2 on Saturday. Justin Smoak hit a solo homer and Anthony Alford picked up his first career RBI for the Blue Jays (21-19), who have dropped seven of their last 11 games.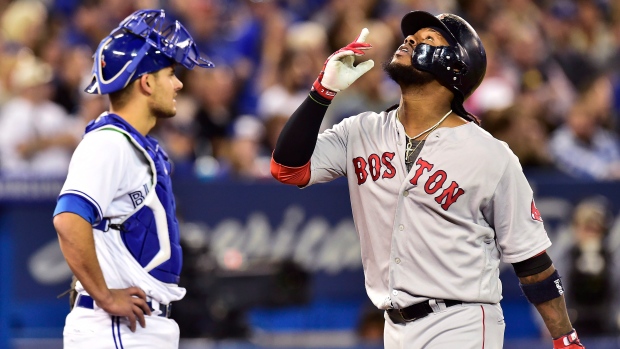 TORONTO — Marco Estrada has felt like one bad pitch has done him in over most of his starts this season.
Saturday was more of the same story.
Hanley Ramirez hit a two-run homer off Estrada in the third inning, leading the Boston Red Sox to a 5-2 win over the Blue Jays at Rogers Centre.
"It feels like it's usually a home run that kinda kills it for me," Estrada said. "Things are usually going OK and the next thing you know I get two guys on (base), the next guy hits the ball well and it just kinda ruins everything. Today, same thing. If it wasn't for that homer, who knows?"
Estrada (2-3) allowed four runs and seven hits over six innings. The right-hander also walked a batter and struck out five.
The home run from Ramirez, giving Boston a 3-0 lead in the third, was the 10th allowed by Estrada in eight starts. Cleveland's Josh Tomlin leads the American League with 13.
But despite the loss, Estrada said he was content with his pitching.
"I thought I threw the ball pretty well," the 34-year-old said.
"I just gotta keep working hard and trying to get better, try to locate my pitches a little more, that's all I can really do. I'm sure I'll start figuring things out and pitch like I know I can."
Manager John Gibbons shared a similar sentiment.
"I thought he was pretty solid," he said. "The home run ball to Ramirez was a bit over the plate... but overall he gave us six innings. We just couldn't do a whole lot. We didn't get much going off David (Price, the Red Sox starter), but we'll take that any day."
Price (3-4), in his first start since being diagnosed with a mild case of carpal tunnel syndrome earlier this week, allowed two runs and five hits, walked two and struck out six over 5 2/3 innings.
The former Blue Jay, who helped Toronto reach the American League Championship Series in 2015, had his last start pushed back and was coming off one of his worst outings of his career, allowing a season-high nine runs against Texas on May 3.
"It was good to get back out there," Price said. "The more I threw, the better I felt. To me, that's always a good sign."
Andrew Benintendi drove in two runs and Rafael Devers plated another for the Red Sox (27-12), who climbed back into a tie for first place with the Yankees in the AL East. Craig Kimbrel earned his 11th save.
Justin Smoak hit a solo homer and Anthony Alford picked up his first career RBI for the Blue Jays (21-19), who have dropped seven of their last 11 games overall and 12 of their last 15 home games against Boston.
The Red Sox scored their first run on back-to-back doubles from Mookie Betts and Benintendi in the third inning and Ramirez followed with his two-run shot.
Estrada walked the next batter, then retired nine straight before giving up a one-out double to Xander Bogaerts in the sixth. Bogaerts scored on Devers's RBI single for a 4-1 edge.
Alford had trimmed Boston's lead to 3-1 with a run-scoring single in the fourth. The 23-year-old outfielder started the season in triple-A Buffalo and was recalled by Toronto on May 5 when Steve Pearce went on the disabled list.
"Hopefully it's the first of many," Alford said of his first RBI. "It was my first hit in the dome. I told (first base coach Tim) Leiper I didn't think my first hit was going to ever come here.
"I'm just glad to get it out of the way."
Smoak led off the sixth with a solo shot off Price to make it 4-2.
Benintendi hit his second RBI single off reliever Ryan Tepera in the ninth.
Infielder Gio Urshela singled in the third inning in his first at-bat as a Blue Jay. He was acquired from Cleveland in a trade last week and started at shortstop.
Catcher Luke Maile, the walk-off hero in a 12-inning win over the Red Sox Friday night, had four strikeouts Saturday.
NOTES: Attendance was 37,588. ... Right-hander Joe Biagini is expected to pitch for Toronto in the last game of the three-game series Sunday. He takes the place of injured starter Marcus Stroman, who went on the disabled list Friday with right shoulder fatigue.