Raonic withdraws vs. Federer due to injury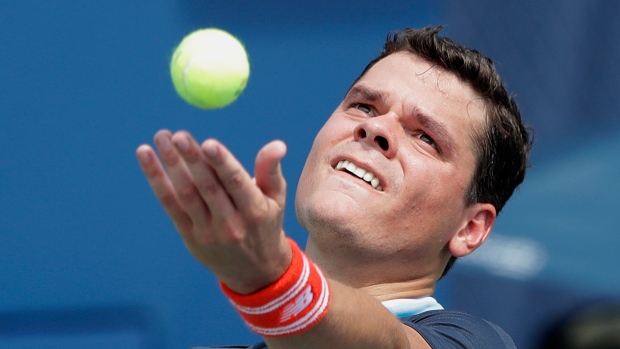 PARIS — Canadian tennis player Milos Raonic has withdrawn from the Paris Masters with a right elbow injury.
Raonic was scheduled to face Roger Federer in a second-round match on Wednesday. Instead, Federer received a walk-over into the third round, where he will face Fabio Fognini on Thursday.
"I'm very sorry to have to withdraw from my match this evening at the @RolexPMasters" Raonic tweeted Wednesday. "This is not how I wanted to end my season, but I will be healthy soon to get in shape and be ready for the new year. Thank you all for your continued support this year. Hope to see you soon."
Raonic, from Thornhill, Ont., was coming off a tough 6-7 (4), 7-6 (5), 7-6 (5) first-round win over France's Jo-Wilfried Tsonga on Tuesday.
This tennis season has been hard on Raonic, who is ranked 21st in the world. He withdrew from the Monte Carlo Masters with a right-knee injury in April and missed most of the clay-court season, including the French Open.
He had issues with the same leg in the Wimbledon quarterfinals in a loss to American John Isner, and needed treatment on his back during his Round of 16 loss to Isner at the U.S. Open.
The former world No. 3 also had an injury-riddled 2017 campaign, including a seven-week absence due to wrist surgery that cost him a chance to play at that season's U.S. Open.