Raps stage huge rally to edge Pacers in Game 5
DeMar DeRozan finally produced the kind of performance that earned him NBA all-star honours - the result was a crucial Game 5 victory for the Toronto Raptors. DeRozan poured in 34 points to lift the Raptors 102-99 over the Indiana Pacers, giving Toronto a 3-2 lead in their best-of-seven series.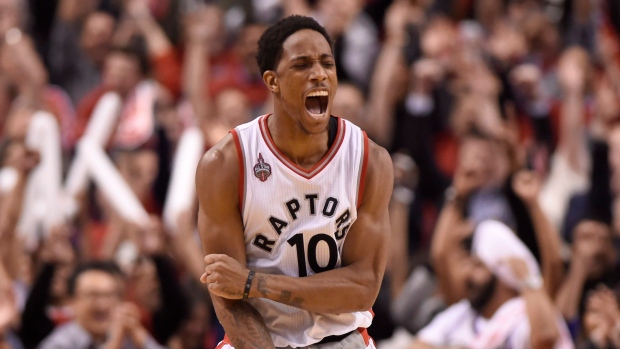 TORONTO - Dwane Casey and the Toronto Raptors vowed to "ride or die" with DeMar DeRozan.
On Tuesday, the Raptors rode the all-star to a thrilling come-from-behind Game 5 victory over the Indiana Pacers that put them within one win of clinching the series.
And moments after the victory, with his tiny daughter Diar perched on his lap, DeRozan said he felt like his "normal self."
Finally.
DeRozan, who'd struggled for three of the four previous games in the series, poured in 34 points to lift the Raptors 102-99 over the Pacers, giving Toronto a 3-2 lead in their best-of-seven series.
"Me and this guy (Kyle Lowry, seated beside him at the post-game podium) work extremely hard to not have them come," DeRozan said. "It's all about patience, you can't get flustered, you can't frustrated, you have to stay the course, and that's what we're going to continue to do, whatever it takes to win."
Lowry had 14 points, while Bismack Biyombo had 11 points and grabbed seven of his 16 rebounds in the fourth quarter. Jonas Valanciunas chipped in with 11 points, while Norman Powell had 10.
Paul George led Indiana with 39 points.
DeRozan was superb, hitting 10-for-22 shots and 12-for-13 from the free-throw line, in a nailbiter that saw Toronto trail through three quarters, including an early 17-point deficit.
"A confident player," Casey said. "People made fun of me because I said we're going to ride with the guys that brought us here, that won us 56 games in the regular-season. DeMar is an all-star for a reason, guys don't forget how to score. I thought he played his game, within the rhythm of the offence."
Trailing 90-77 heading into the fourth, the Raptors — with the unusual lineup of Lowry, DeRozan, Joseph, Biyombo and Powell — buckled down on defence and finally found that rhythm on the offensive end. And when Powell pounced on a Pacers turnover and finished with a thunderous dunk to even it up at 92-92 with 6:31 to play, the Air Canada Centre crowd went nuts.
The Raptors would outscore Indiana 25-9 in the fourth, prompting Magic Johnson to tweet: "That's why I love the NBA Playoffs because anything can happen, like the Raptors miraculous comeback to beat the Pacers!"
A Cory Joseph three-pointer put Toronto up by six with 3:26 to play, but the Pacers battled back and a Solomon Hill three with 16 seconds left made it just a one-point game. DeRozan's two free throws with 12 seconds to play would seal Toronto's victory after a Hill three-pointer at the buzzer left his hands just a split-second too late for Indiana.
"We were playing free," Joseph said of the fourth-quarter comeback. "When you're down like that, you tend to play a little bit more free. There's less on your mind. You just try to lock in and come back, playing fast. We were playing uptempo. We were playing good defence. . . .We were just fighting hard. It's simple."
Casey also praised his fourth-quarter players, a lineup that had played together zero seconds in the regular-season.
"That group that was in there had the toughness, the want-to, the inner 'Okay, I'm tired of getting my butt kicked and we're going to war,'" Casey said.
The Raptors shot 40 per cent on the night, while the Pacers shot 45. The Pacers hit 13 threes to the Raptors' six. The teams were even on the boards, with 41 rebounds apiece.
"I swear to you, I sat on the bench and said to myself from the beginning of the game, 'I don't know how, I know we're going to come up with this win,'" Biyombo said. "I don't know how, but I know somehow we're going to get back into this game."
The sold-out ACC crowd was a sea of red and white, and included Drake — who stood on his feet, hollering at opposing players for the final few minutes — plus Toronto FC players Jozy Altidore and Jonathan Osorio, and two-time Olympic bobslepd champ Kaillie Humphries.
Game 6 goes Friday in Indianapolis.
Toronto won Games 2 and 3, while Indy took Games 1 and 4.
For all the pre-game talk about coming out aggressive, it was the Pacers who grabbed control, pouring in seven three-pointers to take an early 17-point lead, prompting boos from the crowd. Indiana led 35-20 heading into the second.
With George on the bench to start the second, the Raptors went on a 9-0 run to pull to within three. But the Pacers replied, and a three-point play by George Hill to end the frame sent the Raptors into halftime trailing 61-52.