Raptors embark on daunting holiday road trip
Toronto will bounce back and forth between three different time zones in 12 days on the season-long road trip.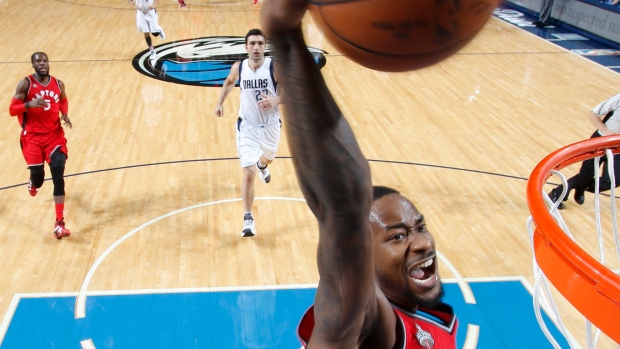 TSN's Toronto Raptors beat reporter Josh Lewenberg checks in with news and notes from practices and game-day shootarounds.
- Outside of Terrence Ross — and maybe a few other players who plan to celebrate Christmas on the West Coast — the NBA's schedule makers didn't do the Raptors any favours over the holiday season. Following Thursday afternoon's practice they'll head out on the road for one of their toughest stretches in recent memory. It's also one of the strangest. Toronto will first travel to Utah for Friday night's tilt against the Jazz. After the game they'll go their separate ways for Christmas before reconvening in Portland — their second of six stops on a season-long road trip. All in all, they'll bounce back and forth between three different time zones in 12 days, which doesn't even include a fourth time zone many of them will be in for less than 48 hours to celebrate with their families. "It's very difficult," said head coach Dwane Casey. "It's kind of disjointed, but it is what it is. They give you the schedule and we have to deal with it. That's part of the NBA. But it is disjointed where guys have to go where they are going for Christmas and then start up again. It's almost like an all-star break. You start it and you stop it."
- The schedule couldn't have worked out much better for Ross, an Oregon native, who will fly straight from Utah to his hometown of Portland. Although it's not quite the homecoming it used to be — he says most of his family and friends have moved elsewhere — Ross is looking forward to spending Christmas in a familiar setting. "I was actually shocked," he said. "I was like, 'Wow, I get to go see the family for a little bit the one year before everyone gets out of there.' It's kind of a miracle for me, I guess. It's going to be fun."
- Even when you look past the travel aspect of the trip, the level of competition they'll face will surely challenge a Raptors team that has won 12 of its last 14 contests. Their six opponents — the Jazz, Trail Blazers, Warriors, Suns, Lakers and Spurs — enter Thursday's games with a combined record of 98-80. Four of them rank in the top-10 in offensive efficiency (Utah: eighth, Portland: seventh, Golden State: second, San Antonio: sixth) so, more than anything else, their defence will be tested. "This is a trip where we have to make sure we are continuing to improve defensively," said Casey. "I don't know if we will become a defensive juggernaut over these next two weeks but we have to continue to take steps. I think we have made steps, some good steps, but we can't let it slip."
- With a few exceptions (the fourth-quarter let up in Philadelphia and last week's loss against Atlanta), the Raptors' defence has been better of late. They're back up to 16th in defensive efficiency after falling as low as 25th coming off of last month's five-game West Coast road trip. Toronto has fared well away from the Air Canada Centre this season. They're 9-3, which leads the Eastern Conference, and finished that last big trip 3-2 — the first time they've gone over .500 in a West Coast road trip of five games or more since 2012. However, they allowed an average of 107.4 points in those five contests. Offensively, they continue to perform at a historic rate but their defence has been up and down. "It's going to be a great [test]," DeMar DeRozan said. "Going against high-calibre offensive teams to really test how good we have to be defensively to be the team we see ourselves [as]. It's going to be a great challenge for us and it's always good to be on the road... Once we go on the road, we get in the element where we feel it's us against everybody else. We carry that over to the floor, having that sense of urgency throughout the whole game, having the crowd against us, being on the opponent's home floor and that seems to [make] us more mentally engaged in everything we need to do."
- DeRozan, the reigning Eastern Conference Player of the Week, needs just 60 points to pass his former teammate and mentor Chris Bosh for first on the Raptors' all-time scoring list, something he should accomplish in either Portland or Golden State, at his current pace. Although he already holds a number of franchise records, including most wins and games played, this is an important one for the eight-year veteran. "Just to be in the record book for something like that is incredible," he said. "When I see it sometimes, it's unbelievable that somebody's going to try to beat that someday in the record books." Six active players currently have the distinction of being a franchise scoring leader - Dirk Nowitzki (Dallas), LeBron James (Cleveland), Mike Conley (Memphis), Dwayne Wade (Miami), David West (New Orleans) and Dwight Howard (Orlando) - and only three of them (Nowitzki, James, Conley) are playing on the team they set that record for.
- Jared Sullinger, who has been out since undergoing surgery on his left foot in training camp, is about a month away from returning to the lineup, according to Casey. The first-year Raptor and presumed starting power forward is making good progress. No longer wearing a walking boot, Sullinger has been able to put more pressure on his injured foot, also taking set shots and free throws before games and after practice. "He has been great with his insights. I tell him I would rather have him as the player Sully than the coach Sully, but he has a great basketball IQ and some great advice," said Casey. "You know when guys are pulling your tail and giving you bullcrap, but his stuff is real, really intelligent insight into who we are playing and how to play certain guys and certain situations. That has been very helpful. And it's like I told him, this can help him when he goes on the floor so now he can think through situations so he has no excuse before he makes a mistake."