Raptors' Gasol neutralizing Magic all-star Vucevic
Veteran centre Marc Gasol helped transform the Raptors offence almost immediately after he was acquired at the trade deadline, but his finest work so far in the playoffs has been on the defensive end against Nikola Vucevic, Orlando's best player, Josh Lewenberg writes.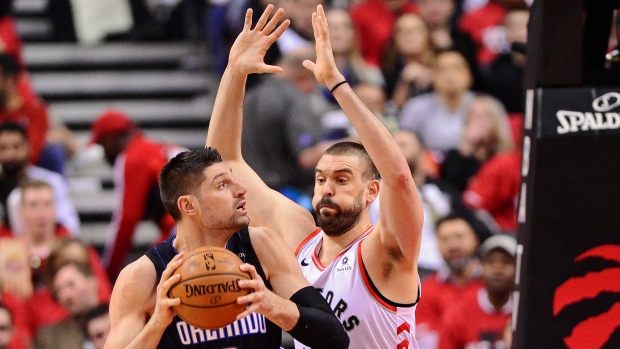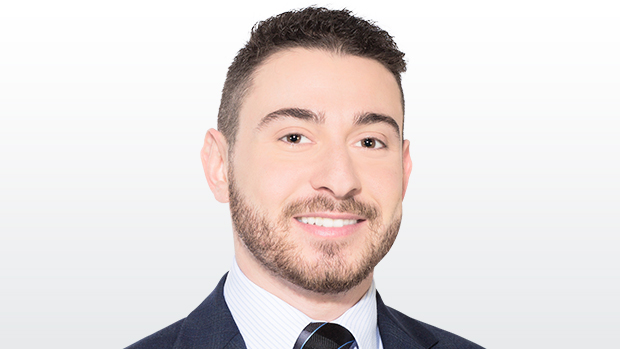 TORONTO – Going into the playoffs there was some question as to whether or not the Raptors had won the Marc Gasol trade.
There's little doubt that the pass-first veteran centre helped transform Toronto's offence almost immediately after he was acquired from the Memphis Grizzlies at the February NBA trade deadline.
From Feb. 9 – the day Gasol played his first game with the Raptors – to the end of the regular season, Toronto ranked fourth in the NBA in passes per contest (315.3) and third in assists (27.7), up from 20th (290.8) and 16th (24.4) respectively.
They also went from 23rd (34.5 per cent) to first (41 per cent) in three-point percentage. While that's a result of several factors – including Kyle Lowry and Fred VanVleet getting healthier, as well as Danny Green's hot shooting – it was also a function of the increase in ball movement and Gasol's efficiency from long range.
However, the deal cost the Raptors three rotation players – Jonas Valanciunas, Delon Wright and C.J. Miles – who all thrived in Memphis.
In over 30 minutes per game, 12 more than he was playing in Toronto, Wright flashed his all-around skill set, even recording back-to-back triple-doubles. Meanwhile, finally unleashed and featured offensively, Valanciunas was looking like an all-star before an ankle injury cut his season short.
For what it's worth, the Raptors were not surprised by or unhappy with the success of their former players. They knew what those guys were capable of in expanded roles, but they weren't in a position to offer the increased playing time or extra touches themselves. Still, they certainly missed the depth they gave up, as their bench continued to underwhelm and even cost them games down the stretch.
However, president Masai Ujiri and general manager Bobby Webster did not pull the trigger on that deal with the final two months of the regular season in mind. First and foremost, Gasol was brought in because they believed his experience and talent level would give them a better shot at making a deep playoff run this spring.
The 26-game sample size gave us – and the team – some interesting and useful data, an idea of how Gasol fit in with what they already had in place, but it's mostly a moot point now. His impact in the postseason will ultimately determine whether or not the trade was worth it.
So far so good in that regard. Toronto evened up its first-round series against the Orlando Magic with Tuesday's dominant 111-82 win, and outside of Kawhi Leonard and maybe Pascal Siakam, no Raptors player has been more valuable than Gasol through two games.
As usual, Gasol's contributions won't jump off the stat sheet. He's been solid offensively, averaging 11.0 points and shooting a modest but efficient 8-for-14, including 5-for-9 from three-point range. He's recorded nine assists in two games. To put that into perspective, Valanciunas had 12 assists in 10 playoff games last year. But Gasol's finest work has come on the defensive end, where he's played a crucial role in neutralizing Orlando's best player, Nikola Vucevic.
The Magic centre is coming off a breakout regular season. At 28 and in his eighth NBA campaign, Vucevic averaged 20.8 points and 12.0 rebounds, and deservedly became a first-time all-star.
In four meetings with Toronto, he averaged 20.0 points and 15.5 rebounds on 55 per cent shooting. Through two playoff games, he's totalled just 17 points and 14 rebounds on 6-for-21 (29 per cent) shooting.
Gasol has served as the primary defender on Vucevic, with Serge Ibaka subbing in and Toronto sending frequent double teams at him in the post. Vucevic is typically an excellent passer – not quite at Gasol's level, but he's one of the league's premier passing big men. However, Gasol's positioning and physicality has literally forced him out of his comfort zone.
"A lot of that starts with Marc's physicality and his IQ," said head coach Nick Nurse, moments after his team held Vucevic to six points and six rebounds in Game 2. "The biggest thing you've got to do – not just with Vucevic, but with any really good post player – is try to push the catches out so they're starting from a point farther away. They're less comfortable and the percentages obviously go down the further away you can keep them. I just think [Gasol] played him real physical, played him real smart, didn't give him anything easy. He did a great job on him."
"They did a good job of taking away a lot of my strengths," Vucevic said. "I've just gotta figure it out and find a way to be more aggressive and be more efficient offensively. I didn't take many shots either tonight. So I've just gotta find a way to get going. I expected this. I expected them to have a big focus on me. So I've just gotta look at the tape and see what I can do better."
Winning the centre matchup is crucial for the Raptors early in this series. As great as the Magic's defence has been through most of this season, and in their Game 1 win, they simply don't have enough offensive fire power to remain competitive without their leading scorer contributing.
Despite Vucevic's 536 games of NBA experience, he came into this series having only appeared in one playoff contest – a three-minute cameo with Philadelphia back in 2012. So, you can expect there to be a learning curve as he adjusts to the way Gasol and the Raptors are game planning for him.
Meanwhile, Gasol is a seasoned vet and proven defender. At 34, the Spaniard isn't going to beat you with his lateral quickness or block many shots, but that was never his game. Even in his prime, when he won the NBA's Defensive Player of the Year award in 2012-13, he was more of a cerebral stopper. He knows who he's guarding and where they want to go, and he's big enough, strong enough and smart enough to keep them from getting there.
In many ways, he's like a seven-foot Kyle Lowry. Gasol was third in the league in drawing charges this season with 28, behind only Ersan Ilyasova (50) and Blake Griffin (31). He was the oldest player in the top-12 and also the only seven-footer. (Lowry ranked sixth with 23 drawn charges, despite only playing 65 games).
"Marc is a really good defender," Nurse said. "I think he's a combination of big, tough, smart and he's got some desire to want to stop you. All of those things are pretty good ingredients for a defensive center."
"It's understanding the sets of the other team, that they run," said Gasol. "The counters that they have and watching a lot of film on their team and their tendencies, their game plan as a team. It's a matter of executing that game plan. If it doesn't work a couple times, you have to be disciplined enough to continue to do it."
The Raptors are outscoring Orlando by 18.2 points per 100 possessions with Gasol on the floor in the series, the third-best mark on the team behind all-stars Lowry and Leonard.
Historically, Gasol has had Vucevic's number. Gasol's team has won 11 of 14 career matchups against Vucevic (regular season and now playoffs), with the Montenegrin centre averaging 12.0 points and 8.9 rebounds on 43 per cent shooting in those games. They also faced each other at the 2017 FIBA EuroBasket tournament in Romania, with Gasol and the Spanish national team defeating Montenegro 99-60 (Vucevic finished with 16 points and seven rebounds).
It's an ideal matchup for the Raptors centre because of the similarities in their games. They can both do a bit of everything offensively – shoot, pass, handle the ball and finish around the rim – but neither is especially quick or athletic.
The big test for Gasol, assuming Toronto does go deep into the playoffs, will be how he matches up with different types of big men. If the Raptors see Philadelphia in Round 2, can he handle the league's most dominant centre in Joel Embiid? If they face Milwaukee, can he keep with the fast-paced Bucks and close out on Brook Lopez and their many shooters? In the unlikely scenario they cross paths with Boston, the more mobile Al Horford could present the greatest challenge.
They have Ibaka as a fullback, and could even use Siakam at the five, but for the Raptors to reach their lofty ceiling they need Gasol to be the player they traded for, the impact player he's been early in this series.