Raptors hoping championship pedigree of Spurs vets will rub off
If they're finally going to get over the hump, make it out of the East and compete for a title, the Toronto Raptors will certainly need former San Antonio Spurs veterans Kawhi Leonard and Danny Green to help them do it – both on and off the court, TSN Raptors Reporter Josh Lewenberg writes.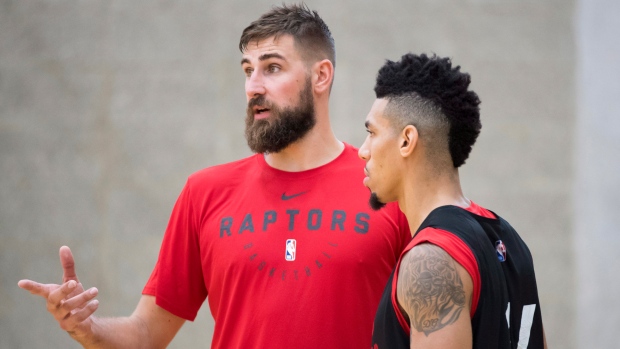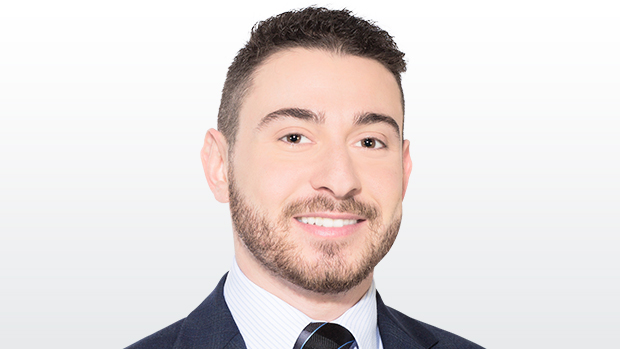 BURNABY, B.C. – If you're looking for differences between this Toronto Raptors team and iterations of the recent past, look no further than where they've set their internal expectations.
On Monday morning, as the team held its annual media day, each player was asked what the goal was for this coming season. One by one they answered with a single word, a word the Raptors probably used more in that four-hour span than they had over some entire seasons that preceded it. The word: Championship.
"It's always championship," Fred VanVleet told TSN's Kate Beirness. "It's always [championship]. And that should be the goal going into it."
"First off, 60 wins," Delon Wright said. "We fell a game short last year. And in the playoffs, win a championship. I feel like each year I've been here that's been our goal, but I think it's more realistic now."
"Sixty [wins]? I'm talking about championship," said Norman Powell.
"Just for us to win the NBA championship," OG Anunoby echoed.
"Go out there and play basketball, win as many games as possible, and at the end of the year hold up that trophy," Kyle Lowry said.
Regardless of how attainable you feel that goal may be for any team not named the Warriors, you have to commend their bravado. Outside of Lowry and maybe one or two others, that's not a word you would have heard from them before. It's bold, especially for a team that has historically aimed to temper external expectations. It was always about "growing" or taking that next step in the ever-present "process."
There's no beating around the bush now. They've set their sights as high as it gets in professional sports, and why shouldn't they?
The Raptors have been knocking on the door in the East for years. The dude that's been standing in their – and everyone else's – way, LeBron James, has left the conference. While all of that should inspire confidence, Toronto also has a pair of incoming players that know a thing or two about what it takes to win at the highest level. If they're finally going to get over the hump, make it out of the East and compete for a title, they will certainly need Kawhi Leonard and Danny Green to help them do it, both on and off the court.
From a tangible, basketball standpoint we know what the two former Spurs can bring. Leonard, when healthy, is a legitimate superstar. He's a top-5 calibre NBA player, perennial MVP candidate, and one of the best perimeter defenders the league has ever seen. Green is a career 40 per cent three-point shooter and is one year removed from being named to the NBA All-Defensive second team.
However, between the two of them, they also come to Toronto with a couple of championship rings and several seasons of playing under legendary coach Gregg Popovich and alongside three future hall-of-famers – Tim Duncan, Tony Parker and Manu Ginobili – in San Antonio. That experience and the winning pedigree those guys bring could be every bit as valuable to the Raptors – one of the league's youngest teams last year.
"I think there's something to going through some deeper playoff runs in this league to be a successful player," said Raptors head coach Nick Nurse, following the second day of training camp at Fortius Sport & Health just outside of Vancouver. "It's a challenge at that time of year and we've now got a veteran team, not necessarily years played or age, but a bunch of guys who have been through a lot of stuff."
"It helps in a lot of ways. First, from a standpoint of they teach [the young guys] what it takes, the workday, the professional workday in this league and what it takes. They pick up on that. The second thing is there's something to understanding what playoff prep is like, playoff pressure is like, going on the road to certain arenas is like and when you have guys that have been through it, they can ease the nerves a little bit."
It's no secret that the Raptors are playing for April, May and – if everything goes according to plan – for June. It's also no secret that they've had a tendency to come apart at that time of the year, getting swept out of the playoffs in three of the last four seasons. In trading for Leonard and Green, they upgraded their level of talent, which should go a long way, of course. But their hope is they've also added a couple of guys that can lead them to where they want to go.
Training camp is only two days old, but Nurse is already noticing the impact of his new veterans. Of the two, Green has been more vocal, to no surprise, but Leonard has a presence about him and has elevated the level of competition in practice, even winning the toy WWE championship belt Toronto's revamped coaching staff has been awarding to the best player in various drills.
They bring a different perspective, coming from one of the truly elite franchises in pro sports. Toronto, like just about every other team in the NBA, has great admiration for what the Spurs have accomplished over the last two decades. So, as you can imagine, Raptors players – especially the younger ones – have been eager to pick the brains of their new teammates.
"We've been talking to Danny since mid-July when we been doing the L.A. trip," VanVleet said. "He was around a lot of time. So, as a fan of the game, you just want to learn what those years were like, what those Finals were like, what's the time like, what is San Antonio like? You want to ask and learn and we got a good feeling of what Kawhi was going to be like from Danny before he got here, and those two guys have been great."
"I'm very lucky with my career," said the 31-year-old Green, who is going into his 10th NBA season after spending the last eight in San Antonio and breaking into the league with the James-led Cavaliers. "I've been on winning teams most of my career and played with some great guys and for some great coaches. I learned a lot. I was a sponge my rookie year with LeBron and Shaq and from there on [with] Timmy, Tony, Manu and coach Pop and all the guys who have come through there. Even the vets we had that didn't stay long. I learned from everybody, the good and the bad in all organizations, so I've been very blessed to be able to be a part of those situations."
The biggest thing he learned from the Duncan-Parker-Ginobili trio in San Antonio was the important of staying level-headed over the course of a long season – not getting too high or too low. He learned how to be disciplined and what it meant to be a professional. Perhaps most importantly, he learned how to stick together as a team and help his teammates grow, occasionally through constructive criticism, without making waves – a.k.a the Spurs way.
Those are the things Green wants to impart on his new teammates. He's not going to force it on them, understanding that many of the Raptors players are vets in their own right, but even if it means leading by example these are small details that could make a big difference when they start to rub off.
"It's big," VanVleet said. "That's what you want; you want champions in your organization. We have championship character guys already and we have guys who have actually won championships. So it's a good group. Those guys can help mentor, lead, give advice and have little things here and there that can make marginal differences. And come playoff time that's all it is, marginal differences that matter. That's what you look for."