Raptors need more from struggling bench
In roughly the same amount of playing time, the Philadelphia 76ers' bench has outscored the Toronto Raptors' primary bench players 45-15 overall in the first two games of their second-round playoff series, Josh Lewenberg writes.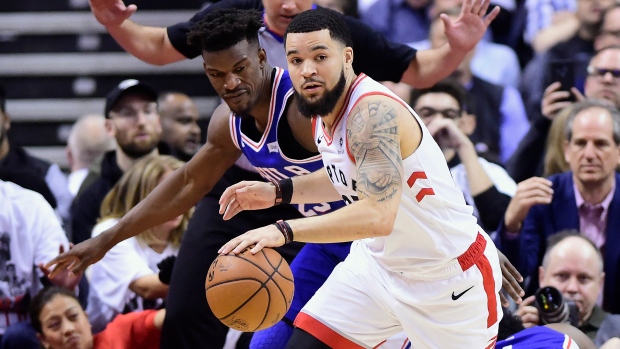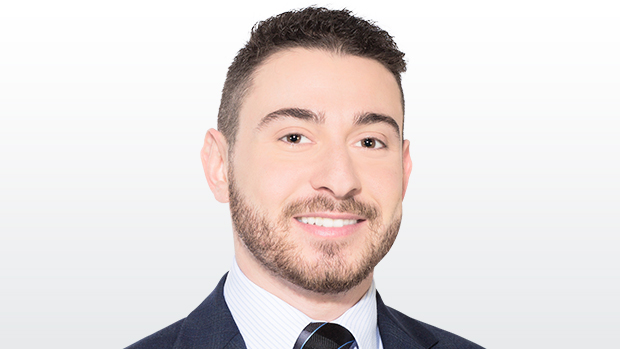 TORONTO – The Raptors' depth – a defining quality of last season's team – isn't what it used to be.
Backup centre Jakob Poeltl is in San Antonio, traded with DeMar DeRozan for a pair of starters, Kawhi Leonard and Danny Green, over the summer.
Delon Wright and C.J. Miles – both key contributors off the bench – were shipped to Memphis with Jonas Valanciunas in the deadline deal that brought starting centre Marc Gasol north.
Pascal Siakam is now starting, deservedly so, making Fred VanVleet the lone holdover with the second unit.
Toronto's vaunted "bench mob" is a thing of the past and it's not coming back, but that's okay.
Even if you gave team president Masai Ujiri the option of a do-over it's hard to imagine him hitting the reset button on the last nine months.
Depth is a nice luxury to have over the course of a long 82-game season. In 2017-18, Dwane Casey's Raptors team would confidently turn to a reliable five-man bench unit that wouldn't just hold serve for the starters, they would often take over games. It allowed them to manage minutes, keep everybody healthy and fresh, and win a franchise-record 59 games.
In the playoffs it meant very little, though. Few teams use 10 guys in their postseason rotation and even fewer do it successfully. This is the time of the year when you want your best players playing the most, and the team with the better best players will win out more often than not.
The highly anticipated second-round series between the Raptors and Philadelphia 76ers is a matchup of a couple teams that wisely consolidated their depth to build two of the league's best starting lineups. They both feature superstars, all-stars, former all-stars and future all-stars. And, as you can imagine, they're both leaning heavily on those players.
Through two games, both team's starters have played 75 per cent of all available minutes. Neither club is asking much of its bench. Still, they do need something from their reserves in those remaining minutes.
That seemed like an advantage the Raptors would have going into the series, even if it were only a marginal one. So far, it hasn't played out that way.
In roughly the same amount of playing time, Philly's bench has outscored Toronto's 45-15 overall and 26-5 in the Sixers' series-tying win on Monday.
Given the talent that both teams start the game with, the benches have already had a bigger impact in this series than most anticipated. It was the difference in Game 2.
On a night in which the Sixers got just 18 points from their all-stars – Joel Embiid and Ben Simmons – and Tobias Harris only scored nine, they got unlikely contributions from journeyman forward James Ennis III (13 points) and Greg Monroe (10 points), who the Raptors traded in a salary dump at the deadline.
Meanwhile, Kawhi Leonard was typically great for the Raptors, following up his 45-point Game 1 performance with 35 points, and Pascal Siakam and Kyle Lowry each scored 20, but Toronto got next to nothing from its supporting cast.
Serge Ibaka made just one of his five shots and had twice as many fouls (four) as points (two) in 13 minutes. The Raptors were outscored by 17 in Norman Powell's 16 minutes. VanVleet was held scoreless and was a minus-18 in 18 minutes. He didn't have an assist.
"We've got to find an opportunity to be better," VanVleet said on Tuesday. "We know that and we'll look to do that in the next game. But it's something that we've been trying to figure out for a few games now. Starting the playoffs it's kind of the first time that we've had these types of lineups. But us three coming off the bench definitely have to find a way to be impactful and just be better than we've been. It'll happen."
The Raptors bench has had a rough season, to be sure. The team ranked 21st in bench scoring (35.1 points per game) and 24th in point differential (-107), down from fifth (41.2) and first (+296) respectively last year. It's not for a lack of talent, necessarily, but likely a product of constant turnover.
Unlike the "bench mob" from last season, this group hasn't had the benefit of continuity and, clearly, they haven't built the same kind of chemistry. With injuries, load management nights, the big mid-season trade and general tinkering, coach Nick Nurse's rotations have been a revolving door.
At least partially, that's been by design. All season, Nurse has preached experimentation and improvisation in the hopes of becoming a more flexible team than they've been the last few postseasons. However, when faced with a familiar dilemma in Game 2 – stick with what's been working or matchup with the other team – Nurse made the same decision that Casey would routinely get criticized for.
Nurse has been using a strict eight-man rotation, with the starters getting the bulk of the minutes and a ninth man (Jodie Meeks) buying him some time here and there. For the most part it's been successful – after losing Game 1 of their first-round series to Orlando, the Raptors had won five straight contests. However, Brett Brown and the Sixers had game planned for that rotation, and on Monday they exposed it.
Philadelphia does some unique things with its rotation. Embiid – who has been battling a knee injury and also had the stomach flu on Monday – checks in and out, playing short spurts. Brown has timed Embiid's substation pattern to coincide with Ibaka's minutes and avoid Gasol, who has defended him well, as much as possible. Nurse has opted not to counter by matching Gasol's minutes to Embiid's.
"For me it was trying to stick to our guns a little bit," Nurse said. "And our rotations felt really good for five straight games. Like, really really good, not just okay, like, really really good. And again, don't think that I'm not tinkering with those in my head all game long. Then of course when it's over some of the suggestions and some of the things I was thinking about doing I wish I would have done. You always do that, right? I think the thinking was, again, I really liked the way Serge played Embiid in the regular season. He had some really good moments against him there so I wanted to continue to explore and take a look at that a little bit."
The Sixers are also one of very few teams that open the second and fourth quarters with their starters on the floor. The Raptors are still opening those quarters with their three reserves and, to little surprise, have been outplayed in those minutes. The Sixers played just one minute without at least three starters on the court in Game 1. The Raptors played 14.
Separating the three primary reserves – VanVleet, Ibaka and Powell –​ as much as possible and sprinkling them in with starter-heavy units could negate the advantage the Sixers have created for themselves. Patrick McCaw has been sparingly used since his return from a thumb injury – giving him a shot in the Meeks role or eliminating those ninth-man minutes altogether are also options to consider. Unfortunately, OG Anunoby is still out after undergoing an emergency appendectomy three weeks ago and without a timetable for his return. He's expected to miss the rest of this series, at minimum. The Raptors could certainly use him, but with Philadelphia also missing one of its top reserves in Mike Scott, Anunoby's absence shouldn't excuse Toronto's poor bench play so far.
It's not just that the Raptors' primary bench players need to play better, and they do, but they could also be deployed better. As we know, the playoffs are chess match. Brown and the Sixers made their move, now it's Nurse's turn to answer. How he and the Raptors adjust in Thursday's Game 3, and for the rest of this series, will be telling.
"It didn't go quite well [in Game 2]," Nurse said. "I'm not sure I'd blame it on our rotation [Monday] night. But there are a number of things. You've always got to examine anything you think it can be and that's one of them. We'll continue to examine it and think about it and maybe I'll pull the trigger in a different direction next game."