Rask's dominance puts Bruins on brink of Stanley Cup Final
The brilliant play of Boston goalie Tuukka Rask has downgraded the Hurricanes to a tropical storm, handing Carolina its first loss on home ice (5-1) this spring and pushing the Bruins to within one win of their first trip to the Stanley Cup Final since 2013, Frank Seravalli writes.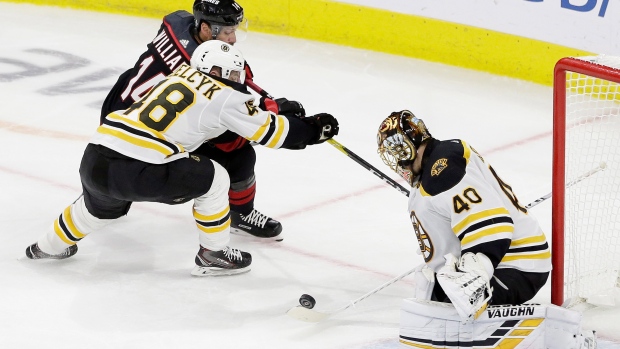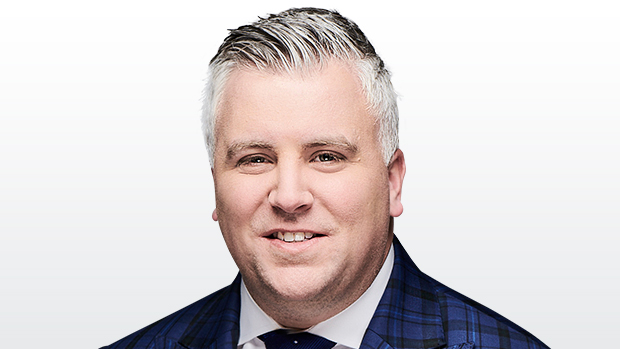 RALEIGH, N.C. — You can just feel it, Rod Brind'Amour was saying.
You could feel it in the first period on Tuesday night, the wind sucked out of the Hurricanes. They threw the kitchen sink at Tuukka Rask and the Boston Bruins' stone cold killer didn't blink.
Two U's. Two K's. Too good.
"He's definitely the difference-maker, you can feel it," Brind'Amour said. "He makes the save that maybe should go in. There were a couple point-blankers. When you make them over and over, on some real good Grade A [chances], that's how you win."
The message was clear: If the Hurricanes couldn't win that period, with 20 shots on net and three power plays including a two-man advantage, they don't have a prayer to win this Eastern Conference final.
There may be a Game 4 on Thursday night, but it felt like Rask delivered the knockout blow to the Bunch of Jerks' dream season already.
"It's tough right now," Brind'Amour said. "I told the guys, this sucks. There's no way around it. I'm not going to sugarcoat it. We got kicked in the you-know-where, and it's going to hurt for a while. We'll come here tomorrow, pick up the pieces, and see what happens."
Rask was unconscious in Game 3 in a raucous PNC Arena environment, stopping 35 of 36 shots in a 2-1 win to put the Bruins on the brink of their first trip to the Stanley Cup Final since 2013. Instead of a Storm Surge, Rask downgraded the Hurricanes to a tropical storm, handing Carolina its first loss on home ice (5-1) this spring.
"He's been dialed in since April [11th], since whenever we started," Bruins coach Bruce Cassidy said. "He hasn't really had a poor night. He's had a couple that have been above average, the rest have been very good. Tonight, his first period was excellent."
The Bruins can punch their ticket with a win on Thursday night by doing to Carolina what the Hurricanes just did to the New York Islanders, sweeping a team that swept their opponent in the previous round.
"Good spot to be in, but far from being over," Brad Marchand said. "It's all about the next one. They get it, they get life."
It's hard to envision that happening now, not with how invincible Rask looks. There wasn't a single moment – from start to finish in Game 3 – that he didn't seem in complete and total control. Rebounds were minimal and controlled. He read the play well through traffic. He has allowed two goals or fewer in 11 of his 16 starts in these Stanley Cup playoffs.
Both Cassidy and Patrice Bergeron said this is the best they've seen Rask play, but even that might not be fair to Rask. The son of Savonlinna, Finland, pushed his save percentage to a sterling .939 these playoffs.
Rask is the first goaltender to play at least three rounds with a save percentage that high since … himself in 2013 when the Bruins advanced to the Cup Final and he led the playoffs with a .940 mark.
That's Conn Smythe material. The last two netminders with numbers in that stratosphere, Jonathan Quick (.946 in 2012) and Tim Thomas (.940 in 2011), were both named the playoffs' MVP. (Matt Murray posted a .937 in 2017 but only played in 11 of Pittsburgh's 25 games.)
Remember when Bruins fans chided Rask called for Jaroslav Halak to start? Me neither.
"He's always good," Marchand said. "People give him heat, but a lot of that's on the team. There are big expectations because he's an incredible goalie. But he's playing phenomenal hockey right now."
Rask is like a pitcher on track for a no-hitter. Marchand said he's just trying to "stay out of his way" and "let him do his thing."
"He's just in the zone right now," Marchand said.
What exactly does it feel like to be Rask, man on fire?
"It's just the way you're seeing the puck, you feel comfortable," Rask said. "And it's about timing, patience, all of that. Experience helps that. You try not to get rattled by anything.
"Being in the zone? Nobody knows what that means. I want to play calm, make myself look big, and maybe even on tough chances, try and make it look easy. If that's in the zone, then so be it."
Rask has made it look so easy that it demoralized the Hurricanes. They sagged in the second period of Game 3, trying to muster a response, before finally clawing their way back into the contest. Rask outduelled Maple Leafs waiver wire casualty Curtis McElhinney, who allowed just two in his third career playoff start in place of Petr Mrazek.
"At least it looked like a team that had a chance to win, versus the other two games – which didn't really sit right," Brind'Amour said.
Now, Brind'Amour said the Hurricanes will attempt to "pick up the pieces" and "see what happens." Toppling Rask in four straight will be a monumental task.
"He's been by far our best player," Bergeron said. "He's been amazing. He's the reason why we are where we are right now."
Contact Frank Seravalli on Twitter: @frank_seravalli​