Reactionary spending has created cap issue in Columbus
How exactly does a 76-point team find itself in a bad cap situation? They slightly overpay a bunch of players, Travis Yost writes.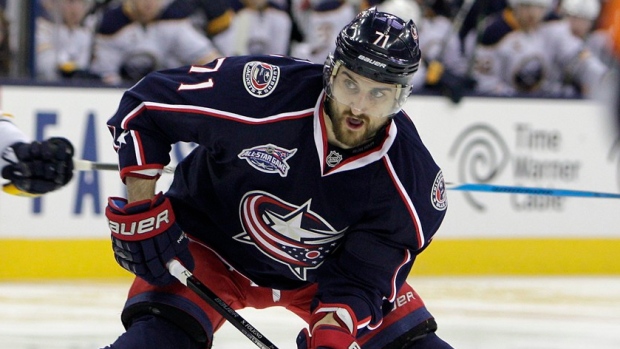 NHL teams can breathe just a bit more comfortably after Tuesday afternoon's announcement of a salary cap ceiling of approximately $73 million for the 2016-17 season. The increase was driven by the NHLPA's decision to trigger the full 5 per cent escalator. The choice to use the escalator added an incremental $3 million in cap space for teams to utilize this summer.
This, of course, is welcome news for some of the teams pushing up against the cap ceiling. The list of teams potentially in cap trouble is comprised of two groups: Ultra-talented teams who have maxed out spending for deep playoff pushes, and poorly managed teams that expect to use the summer to clear contracts.
There are, I figure, seven teams who are really toeing the NHL's hard cap. But some of the teams in the high-spender group are actually in the clear – Montreal has a full roster, while Toronto has a bunch of young restricted free agents on expired deals who won't command significant raises. It's a fluid list that is subject to change. For example, if the Rangers decide to re-sign Eric Staal they'd likely find themselves right near the top of this group.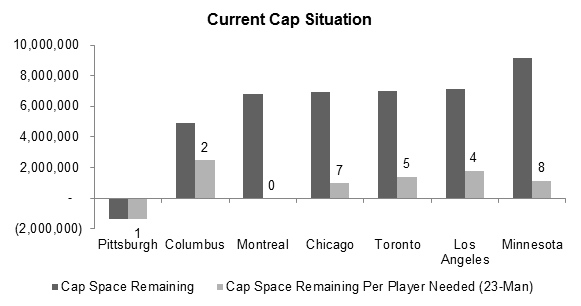 There's no doubt Pittsburgh is going to have to get a bit creative this off-season. They need to squeeze one more body into the roster, and RFAs Beau Bennett and Justin Schultz both need deals (to say nothing of the few players heading to UFA). It's not the easiest position to work around, but plenty of words have already been spilled on the cap situations in Pittsburgh (and Los Angeles and Chicago, for that matter).
The team I really find curious here is Columbus. Maybe one of the league's best kept secrets is how this roster – which played to a 76-point total last year and an 83-point pace in the last three years – has been assembled. They have a shade under $5 million in cap space, but they still have to sign prized RFA defenceman Seth Jones, who expects to command a significant pay raise. Centre William Karlsson is also on an expired RFA deal and will require an extension.
So, yes, they're going to run right up against the cap limit. How exactly does a 76-point team find itself in such a cap situation? There are a lot of factors at play here, but one of the big drivers is what I'd call reactionary spending.
How would I define reactionary spending? Well, Nick Foligno – who earned himself a six-year, $33 million contract extension during the 2014-15 season – is a good example.
Here's a rolling average of Foligno's career individual shooting percentage and on-ice shooting percentage since coming into the league. You can see that he always been a decent shooter. You can also see that Columbus decided to extend him in the midst of a white-hot shooting run that predictably regressed in rapid fashion.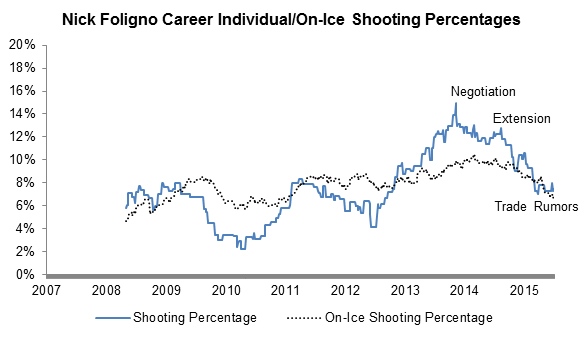 This timeline isn't in dispute. TSN colleague Bob McKenzie reported that Columbus started negotiating with Foligno in early December. Foligno was extended on Dec. 31, 2014. The Ottawa Sun's Bruce Garrioch reported last week that the Blue Jackets are now "listening" on trade offers for Foligno.
Whether or not Foligno is moved isn't consequential here. What matters more to me is the decision making and process behind such a move. A little over a year ago, the team essentially handed over the keys to the team to Foligno, giving him a huge deal and awarding him the captaincy. He was in the midst of shooting 15 per cent at even strength at the time.
Fast forward to today: Foligno's shooting percentage has slid below 8 per cent and he's become available via trade. It's the classic buy high, sell low strategy that's killed many teams in the past.
One thing must be said: Foligno is a fine player. He absolutely can add value for Columbus going forward. But value is relative – it must be observed in relation to what the player costs. I'm guessing the temperature for his deal in that front office has cooled substantially.
Foligno isn't the only player that Columbus has handled like this. Let's take a look at centre Brandon Dubinsky next.
Dubinsky has been relied upon as a true two-way centre – a guy who is as committed to play in the defensive zone as he is in the offensive zone. These players are immensely valuable, but discerning between actual defensive impact and random defensive impact is critical.
For example, if a player consistently suppresses shots and scoring chances against (and subsequently goals against), then it's very likely he will continue to do so in future years. If a player rides random and unsustainable on-ice save percentage, then it's much more likely he'll see his performance regress to the mean.
So, what do you think happened? Do you think Columbus paid Dubinsky after he exhibited himself as a true shutdown pivot (a real skill), or do you think Columbus paid Dubinsky after a wild on-ice save percentage bender (randomness)?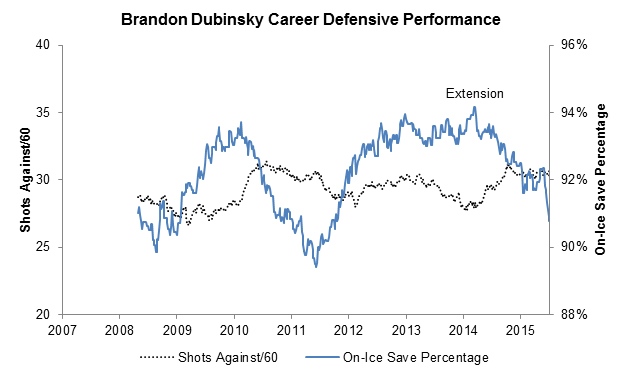 What you see there is Dubinsky's mega-extension coming off of a run where he was running unbelievably lucky in terms of preventing 5-on-5 goals. I know this because his shots against rates (while pretty good) have remained relatively static since about 2010. The only material change in the last six years came last season, where teams actually started to generate a higher clip of opportunities against Dubinsky than what we've grown accustomed to. Since the time of his extension, Dubinsky's on-ice save percentage has wildly regressed.
Good player? Absolutely. Overpaid? Absolutely.
Speaking of save percentages, let's talk about Columbus' goaltender for a moment. Sergei Bobrovsky is another fine player who could play for just about any team in the league. But any guesses where his four-year, $29 million contract extension kicked in?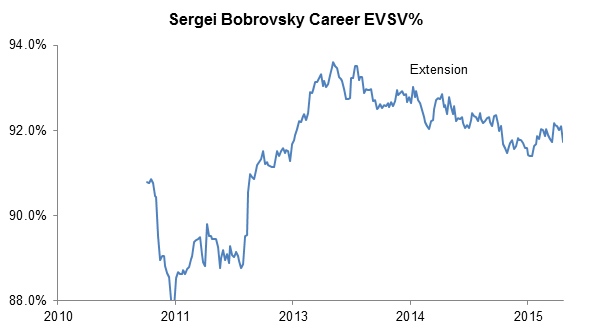 The good: Columbus clearly beat the curve when acquiring Bobrovsky from Philadelphia back in the summer of 2012, though it did cost them three draft picks in the process. The bad: Bobrovsky was extended in the midst of the hottest of white-hot runs.
It's not the worst deal in the world. Bobrovsky can clearly play and, in terms of sheer liabilities, Columbus mitigated some of the risk by working towards a shorter-term deal. But the offset there is they now have a $7.4 million hit eating into their cap space through 2019.
We could pretty much go player by player through the Columbus roster to understand how these deals have been formulated, but generally speaking, reactionary spending is omnipresent in the Blue Jackets organization. Their cap troubles, by and large, aren't driven by a single heinous deal. Instead it's a combination of slight overpays across the roster – overpays that could've been avoided had the team timed their moves more accurately.