Reaves: Signed Wilson hit photos destroyed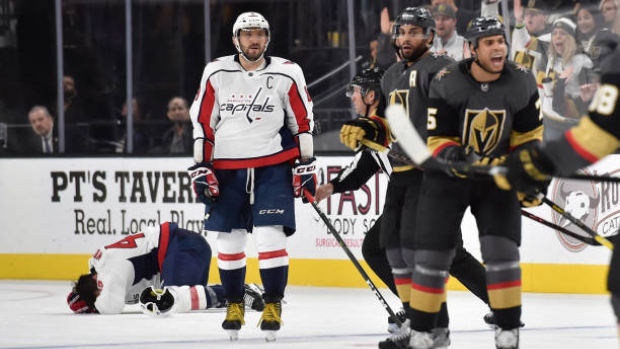 Photos signed by Vegas Golden Knights forward Ryan Reaves as he looked down at Washington Capitals winger Tom Wilson who remained on the ice after a blindside hit delivered by Reaves on Tuesday night have been "destroyed," according to the team and Reaves.
Las Vegas-based memorabilia company Inscriptagraphs began selling the photos signed by Reaves with the inscription, "He ran into a lion in the jungle" on Tuesday night.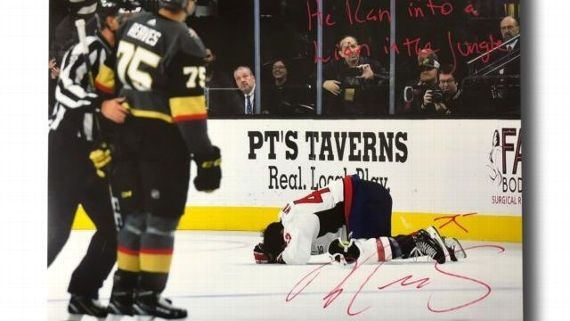 Inscriptagraphs removed the photo from their website on Thursday, while a copy was also removed from eBay.
Golden Knights vice-president of communications and content Eric Tosi told ESPN that "the photos were not distributed and they have been destroyed," while Reaves told The Athletic on Thursday night that he did sign the photos, but realized after they were in poor taste and had asked for them to be destroyed. Reaves added that no copies had been sold.
Reaves was ejected from Tuesday's contest against the Capitals after catching Wilson with a late hit while he looked up ice. The two had traded hits throughout the first two periods of the game, but both their nights came to an end when Reaves hit Wilson as he was watching his pass up the ice with five minutes left in the second period. Wilson, who had skated back into the Capitals zone, tapped the puck past the blueline with a backhand and while watching the puck was hit in the shoulder by Reaves. Wilson's helmet came off and he appeared to hit his bare head on the ice. He has not played since.
The 31-year-old Reaves did not face supplemental discipline for the hit and argued Tuesday night he didn't believe he should have been ejected.
"That was a man's game out there...I thought he was just looking at his pass, and he ran into a lion in the jungle," said Reaves. "If he sees me, I know he's gonna try and lay me out and I'm not gonna let that happen. I thought it was shoulder to shoulder and I didn't think it was that late."
Wilson, who missed the first 16 games of the season due to suspension, has been listed as day-to-day by the Captials with an upper-body injury.