Rebuilt Broncos one of the best stories in hockey
Barely eight months after the tragic bus crash that claimed the lives of 10 players and two coaches, the Humboldt Broncos are the No. 1 team in the Saskatchewan Junior Hockey League, Frank Seravalli writes.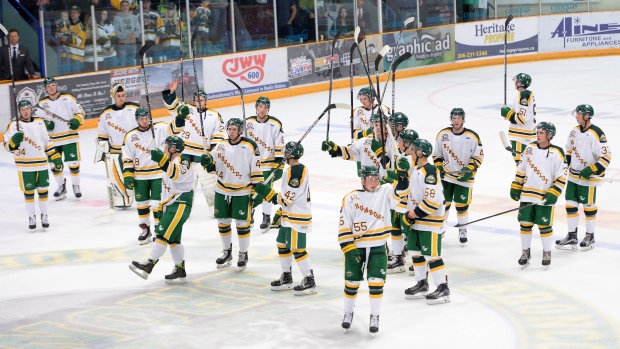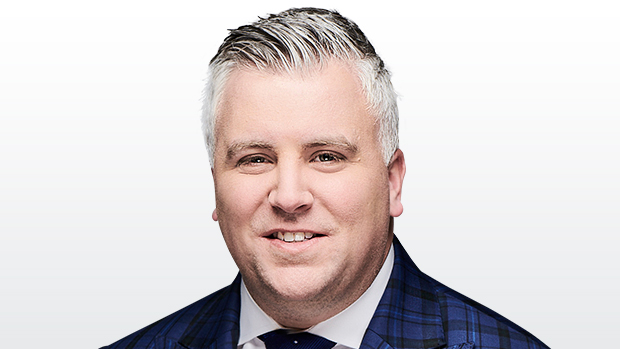 As Jason Neville slogged through hours of video last summer to rebuild the Humboldt Broncos player by player, his vision was clear but his goal wasn't lofty. And he was short on time.

"I was motivated mostly by the three returning players, Brayden Camrud, Derek Patter and Tyler Smith," said Neville, the assistant GM to late coach Darcy Haugan last season. "I just wanted to put a competitive team together, to make sure they had a place to play and be proud."

His hope for the Broncos was just to make it to the Saskatchewan Junior Hockey League's 2018-19 playoff play-in round for the ninth and 10th-place teams in the 12-team league.

"I told everyone we're not going to be doormats," Neville said, "but we're not going to be running away with the league, either."

Neville was right on the former. He may turn out to be wrong on the latter.

The Humboldt Broncos are writing one of the best stories in hockey. Barely eight months after the crash that claimed the lives of 10 players, two coaches, the team athletic therapist, statistician, broadcaster and bus driver, the rebuilt Broncos (18-6-2) are the No. 1 team in the SJHL as the season nears the midway point.

Humboldt has built a sizeable lead in its division, won six straight games and is an impressive 10-3-0 on home ice at Elgar Petersen Arena, where support has remained strong since a sold-out return to the ice on Sept. 12. Attendance is up more than 50 per cent from last season to an average of nearly 900 fans per home game.
Humboldt wouldn't have nearly as competitive a team to watch without the countless hours quietly put in by Neville, head scout Luke Strueby and assistant coach Chris Beaudry, which started in May after the community announced the team would return for the 2018-19 season.

They did it against all odds.

"The toughest part was the timeline we had," Neville said. "It was all a blur."

By May, most players had already committed to a team with a letter of intent for the season. New head coach and general manager Nathan Oystrick wasn't hired until July 3. And the SJHL didn't do the Broncos many favours in the June 11 dispersal draft, allowing each team to protect their nine best returning players.

In other words, SJHL teams could only lose their 10th best player. Players who already committed to colleges were exempt, as were bantam draft picks.

As a result, the 2018-19 Humboldt Broncos are a hodgepodge, starting with the three returning players. Two came from the dispersal draft, three arrived from the bantam draft, two were previously 'listed' as Broncos property, three were recruited in tryout camps and five were acquired via trade.

With the help of donations, the Broncos were able to spend money on trades that come with a "player development fee," which is a trade for a player without giving up anything but cash.

To spend as much as $5,000 to acquire a player is a luxury most SJHL teams don't have. But the Broncos didn't have a choice.

"We had to do that because we didn't have any assets to trade," Neville said.

Those players the Broncos traded for have made a huge difference, including leading scorer Michael Clarke, centre Owen Guenter, starting goalie Dane Dow and rising prospect Chase Felgueiras. They were all on the waiver wire first, which Neville prowled daily.

Of course, the three returnees have played a key role in keeping the Broncos on course, playing for their fallen teammates and honoring the traditions passed on by Haugan.
Camrud, 20, is tied for the team lead in goals (14) and tied for second in points (26) with Guenter as he hunts for a scholarship in his final year of junior eligibility. Patter, 20, has netted three game-winning goals. Smith, also 20, recently returned to the lineup after missing the start of the season with nerve damage in his arm as a result of the crash.

Three days after the Broncos played their first game of the season, Neville resigned from his post as assistant GM. He did his job – and then some. He picked up the pieces and put the Broncos back together as best he could, then passed the baton to Oystrick.

For Neville, 44, it was personal. The North Battleford, Sask., native grew close with Haugan in his three years living in Humboldt and it just wasn't going to be the same without his mentor and friend.

"I put so much time and energy into this that I never really focused on what I needed," Neville said. "This was hard. I rode the bus about six to eight times a year, on the close trips. That one was a trip I normally would have taken, but for whatever reason, I wasn't on the bus. I stepped away once I knew things were going in the right direction."

Oystrick thanked Neville in a statement upon his resignation.

"Even though I was a stranger in the midst of an extraordinarily painful circumstance, Jason never hesitated to share with me his extensive knowledge of the team, league and community he loves so much," Oystrick wrote. "Thank you for having my back Jason, and know that the Humboldt Broncos will always have yours."

Neville has since focused on his day job as the supervisor of student services for the Horizon School District and he recently accepted a part-time scouting role with the Western Hockey League's Swift Current Broncos, who are coached and managed by Humboldt legend Dean Brockman.

Like a proud parent, Neville has watched with pride as the Broncos have become the surprise of Saskatchewan.

"Nathan has taken it and run with it," Neville said. "I've been so impressed. I've had so many different emotions watching this team. You never know what you have until you start playing. For a while, like anyone else, I was waiting for the bubble to burst. I think they're well past that now. They're just a good team."

Contact Frank Seravalli on Twitter: @frank_seravalli