Red-hot Hadwin in the hunt at Bay Hill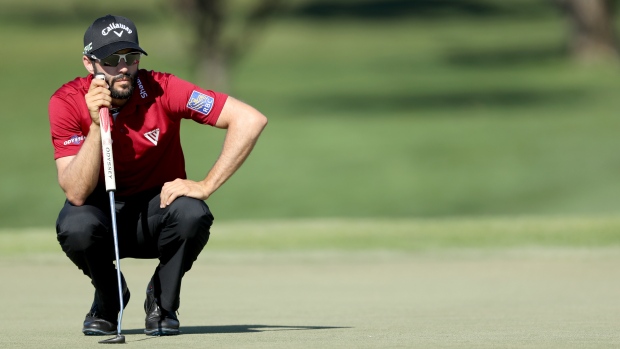 It's not quite like last Saturday night, but once again, Adam Hadwin is very much in the hunt heading into the final round of a PGA Tour event. The Abbotsford, B.C., product sits at seven under, four back of leader Kevin Kisner in a tie for sixth place at the Arnold Palmer Invitational. It's the third time in his last seven starts that he heads to Sunday with a good chance to win.
"Every round I play, every tournament I play, each year, I'm starting to feel more comfortable out here, so that certainly helps," Hadwin told reporters after a third-round 69. "But [I'm] still kind of rolling from last week, still on a bit of a high, and obviously it's kind of showing through the game. I'm playing extremely good golf right now, so just need to keep it going for one more week or sorry, one more day."
Perhaps the only difference between this week and last is that the putter that worked some magic at Valspar where he notched his first win, has been quieter, especially on Saturday. Hadwin is sitting 58th in putting through three rounds while last week – to be sure, a miraculous one on the greens – he was fourth.
He's made up for that shortfall off the tee, where he has hit 12 of 14 fairways in each of the first three rounds. That's a very important statistic this week, with long, punishing rough lining the fairways at Bay Hill.
It also shows just how well-balanced his game has become. While he is one of the PGA Tour's top putters, when that part of his game is off, as it has been this week, he's able to use the other elements to keep things on the rails.
Hadwin started quickly on Saturday with birdies on four of his first six holes. However he stumbled with bogeys on the eighth and ninth. He made another birdie on the 10th hole before closing with eight pars.
"I hit it well all day. I hit a lot of good putts today as well, they just didn't seem to go in," said the 29-year-old. "Even on the three-putts I hit good second putts, I really hit them where I wanted to. And it's not often you misread a four-footer. I haven't done that in a long time. But I walked off the ninth and I was two-under and, yeah, I might have been a little disappointed, but I'm still two-under, I'm moving up the leaderboard, I'm playing well, so focus on the back nine, maybe see if I can get a couple and I was only able to get one."
The fact that Hadwin is within shouting distance of the leaders is remarkable considering all the extra requests he's fulfilled this week. He's done a truckload of media interviews, signed more autographs and posed for more pictures than he usually would in a month, and he even taped an opening for Hockey Night In Canada.
While he was ahead by four heading into the last 18 a week ago, this week, he trails. But that won't alter his approach to Sunday.
"Honestly, I don't think it's going to change a thing," said Hadwin. "We have had such a good game plan and been able to stick to it now for seven rounds in a row, I just don't think it would matter what position I'm in, whether I'm five up or five back."
Despite qualifying for next week's World Golf Championship – Dell Match Play, Hadwin won't be playing – he'll be busy getting married, with the nuptials set for this Friday. He has managed to postpone his honeymoon for a trip to the Masters, though.
On Sunday he'll hope to become just the second Canadian to win consecutive starts on the tour, joining George Knudson who won back-to-back tournaments in 1968. Even if that doesn't happen, Hadwin has enjoyed a great run of golf this year and it's easy to think there's more to come.
Updated Sunday, March 19 at 9:00am ET