Red Sox stay on top of the MLB Power Rankings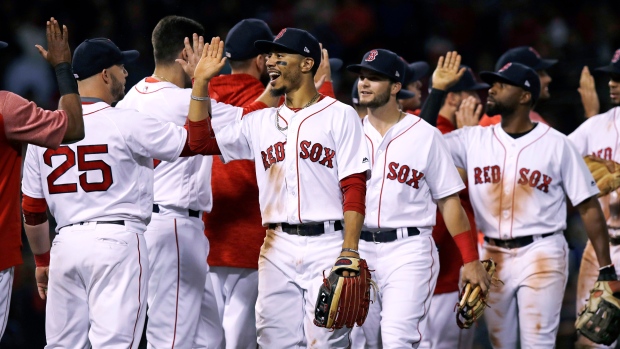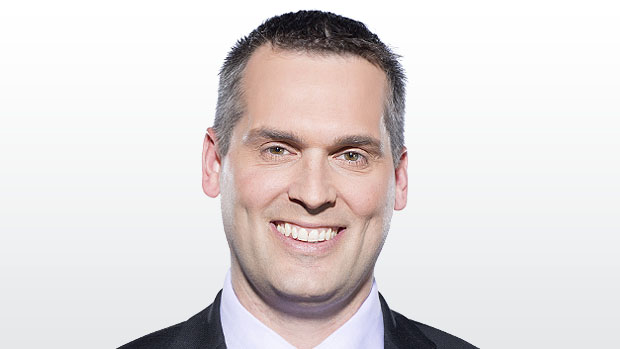 The Boston Red Sox continue to rule the TSN.ca MLB Power Rankings, ahead of the Houston Astros, Cleveland Indians and New York Yankees.
The Los Angeles Dodgers and Tampa Bay Rays are rising at this late stage of the season, while the Arizona Diamondbacks are fading late in the year.
BOSTON RED SOX
RECORD: 104-49 THIS WEEK: 1 LAST WEEK: 1
The Red Sox have reached 104 wins for the first time since 1946 and are assured of setting a franchise record for wins (105 in 1921 is the standard).
Key Injuries: 2B Dustin Pedroia (knee).
HOUSTON ASTROS
RECORD: 95-57 THIS WEEK: 2 LAST WEEK: 2
After winning the World Series last year, the Astros are championship contenders again. They have a shot at a franchise-record for wins (102 in 1998) and have the best run differential in the league (+241).
Key Injuries: RHP Lance McCullers Jr. (elbow).
CLEVELAND INDIANS
RECORD: 85-67 THIS WEEK: 3 LAST WEEK: 3
Bringing in 3B Josh Donaldson hasn't paid immediate dividends, but the Tribe have a chance to be contenders if they can get Trevor Bauer back in the rotation for the postseason.
Key Injuries: RHP Cody Anderson (elbow), RHP Danny Salazar (shoulder), RF Lonnie Chisenhall (calf), CF Leonys Martin (infection), RHP Trevor Bauer (fibula).
NEW YORK YANKEES
RECORD: 93-59 THIS WEEK: 4 LAST WEEK: 5
They are getting healthy and there's no doubt that a healthy Yankees lineup is formidable, and the bullpen is great, but can they do it with mediocre starting pitching?
Key Injuries: LHP Jordan Motgomery (elbow).
OAKLAND ATHLETICS
RECORD: 92-61 THIS WEEK: 5 LAST WEEK: 4
An underrated star, 3B Matt Chapman ranks sixth among position players in fWAR (6.7) this season.
Key Injuries: RHP Andrew Triggs (arm), RHP Sean Manaea (shoulder), RHP Kendall Graveman (elbow).
ATLANTA BRAVES
RECORD: 85-68 THIS WEEK: 6 LAST WEEK: 7
Pulling away in the National League East, the Braves hold a 6.5-game lead and appear to have arrived maybe a year sooner than expected.
Key Injuries: RHP Mike Soroka (shoulder), RHP Brandon McCarthy (knee).
LOS ANGELES DODGERS
RECORD: 85-68 THIS WEEK: 7 LAST WEEK: 13
It's been an uneven season for the Dodgers, but winning seven of the past eight games has lifted the Dodgers into the NL West lead.
Key Injuries: SS Corey Seager (elbow).
MILWAUKEE BREWERS
RECORD: 87-66 THIS WEEK: 8 LAST WEEK: 8
Since the All-Star break RF Christian Yelich may be the best hitter in baseball, hitting .356 with 20 home runs and a 1.140 OPS.
Key Injuries: RHP Jimmy Nelson (shoulder), LHP Brent Suter (elbow).
SEATTLE MARINERS
RECORD: 84-68 THIS WEEK: 9 LAST WEEK: 11
It's been a strong season for the Mariners, but they haven't been able to keep the playoff pace. To be fair, they've been outscored by 35 runs, which makes it already unlikely that they could win as much as they have already.
Key Injuries: None.
CHICAGO CUBS
RECORD: 89-63 THIS WEEK: 10 LAST WEEK: 10
They lead the NL Central, but most of their stars have been underwhelming. Javier Baez is the one who has taken off and exceeded expectations with 33 homers and a 5.3 fWAR.
Key Injuries: LHP Drew Smyly (elbow), RHP Yu Darvish (virus), RHP Brandon Morrow (biceps), SS Addison Russell (personal).
ST. LOUIS CARDINALS
RECORD: 84-69 THIS WEEK: 11 LAST WEEK: 9
The Cardinals are clinging to a playoff spot, and their staff ace has been Miles Mikolas, a 30-year-old who hadn't piched in the league in the previous three seasons.
Key Injuries: RHP Anthony Reyes (lat), RHP Michael Wacha (oblique).
TAMPA BAY RAYS
RECORD: 85-67 THIS WEEK: 12 LAST WEEK: 15
They're not making the playoffs, but a 23-6 record in the past 29 games does suggest that the Rays may be on to something with their more modern use of the pitching staff.
Key Injuries: 2B Daniel Robertson (thumb).
COLORADO ROCKIES
RECORD: 82-70 THIS WEEK: 13 LAST WEEK: 14
The Rockies have lost five of six and are hoping that SS Trevor Story can get back from an elbow injury. They're 1.5-games out of a wildcard spot, and could use their star shortstop to make up that deficit.
Key Injuries: None.
PHILADELPHIA PHILLIES
RECORD: 78-74 THIS WEEK: 14 LAST WEEK: 12
A late-season swoon, going 10-20 over the past 30 games, is going to cost the Phillies a playoff spot; still, a pretty big jump forward from a 66-win season in 2017.
Key Injuries: None.
ARIZONA DIAMONDBACKS
RECORD: 79-74 THIS WEEK: 15 LAST WEEK: 6
After a strong start to the season, the Diamondbacks have gone 8-18 in the past 26 games, falling out of playoff position.
Key Injuries: RHP Taijuan Walker (elbow), RHP Shelby Miller (elbow), 3B Jake Lamb (shoulder), RHP Clay Buchholz (elbow).
WASHINGTON NATIONALS
RECORD: 77-76 THIS WEEK: 16 LAST WEEK: 16
In an otherwise mediocre season for the Nats, closer Sean Doolittle has been exceptional when healthy, allowing 25 baserunners in 43 1/3 innings (0.58 WHIP).
Key Injuries: RHP Jeremy Hellickson (wrist).
L.A. ANGELS OF ANAHEIM
RECORD: 75-78 THIS WEEK: 17 LAST WEEK: 19
He may be facing Tommy John surgery, but P/DH Shohei Ohtani has a bat that can play every day. As a rookie, he's hit 20 homers while posting a .953 OPS in 290 at-bats.
Key Injuries: RHP Alex Meyer (shoulder), RHP Keynan Middleton (elbow), RHP Garrett Richards (hamstring), 3B Zack Cozart (shoulder), RHP Nick Tropeano (shoulder), LF Justin Upton (finger), 1B Albert Pujols (knee).
PITTSBURGH PIRATES
RECORD: 77-74 THIS WEEK: 18 LAST WEEK: 17
It's been a roller-coaster season for the Pirates, but they're on a good run right now, winning 11 of the past 14 games.
Key Injuries: RHP Chad Kuhl (forearm).
NEW YORK METS
RECORD: 71-82 THIS WEEK: 19 LAST WEEK: 21
The Mets are 12-7 in September, and may still have 3B David Wright making a late-season appearance.
Key Injuries: C Travis d'Arnaud (elbow), LF Yoenis Cespedes (heel), CF Juan Lagares (toe).
SAN FRANCISCO GIANTS
RECORD: 72-81 THIS WEEK: 20 LAST WEEK: 18
Four wins in 17 games this month has the Giants limping towards the finish line.
Key Injuries: RHP Jeff Samardzija (shoulder), RHP Johnny Cueto (elbow), C Buster Posey (hip).
MINNESOTA TWINS
RECORD: 71-81 THIS WEEK: 21 LAST WEEK: 20
Former Yankee 1B/DH Tyler Austin has been a nice addition, hitting eight home runs and posting a .837 OPS in 26 games for the Twins.
Key Injuries: RHP Michael Pineda (elbow), C Jason Castro (knee), DH Logan Morrison (hip), RHP Ervin Santana (finger).
TORONTO BLUE JAYS
RECORD: 70-83 THIS WEEK: 22 LAST WEEK: 24
Some of Toronto's late-season auditions – 1B/DH Rowdy Tellez (10 XBH, 1.144 OPS, 14 GP), OF Billy McKinney (5 HR, .845 OPS, 28 GP), C Danny Jansen (3 HR, .806 OPS, 25 GP) – have been showing some promise, so that's something.
Key Injuries: SS Troy Tulowitzki (heel), 3B Brandon Drury (hand).
CINCINNATI REDS
RECORD: 66-88 THIS WEEK: 23 LAST WEEK: 23
Left-handed reliever Michael Lorenzen has been quite a productive bat, hitting four home runs in 30 plate appearances. For his career, he has a .790 OPS with six home runs in 88 plate appearances, so maybe he's a poor man's Ohtani.
Key Injuries: RF Jesse Winker (shoulder).
TEXAS RANGERS
RECORD: 64-88 THIS WEEK: 24 LAST WEEK: 22
Manager Jeff Banister has been fired, as though he should have been able to get a winning record out of a starting rotation that included Mike Minor, Bartolo Colon, Cole Hamels, Yovani Gallardo, Martin Perez, Matt Moore and Doug Fister each making at least a dozen starts.
Key Injuries: RHP Doug Fister (knee).
CHICAGO WHITE SOX
RECORD: 60-92 THIS WEEK: 25 LAST WEEK: 25
LHP Carlos Rodon has quietly had a nice season for a losing team, with a 3.22 ERA and a dramatically-improved 1.13 WHIP in 18 starts.
Key Injuries: None.
KANSAS CITY ROYALS
RECORD: 52-101 THIS WEEK: 26 LAST WEEK: 29
The Royals have lost five straight, but had shockingly won 12 of the previous 17 games.
Key Injuries: RF Jorge Soler (toe).
SAN DIEGO PADRES
RECORD: 61-92 THIS WEEK: 27 LAST WEEK: 26
In the past 20 games, the Padres are 11-9, not bad for a team lacking top-end talent on both sides of the ball.
Key Injuries: RHP Dinelson Lamet (elbow), 3B Christian Villanueva (finger), LHP Clayton Richard (knee).
MIAMI MARLINS
RECORD: 59-93 THIS WEEK: 28 LAST WEEK: 27
C J.T. Realmuto has been very good, hitting 21 home runs and posting a .847 OPS – the only Marlin with an OPS over .760.
Key Injuries: 3B Martin Prado (quad).
DETROIT TIGERS
RECORD: 62-91 THIS WEEK: 29 LAST WEEK: 28
The Tigers have lost eight of the past 11 games, but one bright spot has been LHP Matt Boyd, who has a 3.29 ERA and 1.00 WHIP, striking out 69 in 68 1/3 innings over his past dozen starts.
Key Injuries: 1B Miguel Cabrera (biceps), RHP Michael Fulmer (oblique), 1B John Hicks (groin).
BALTIMORE ORIOLES
RECORD: 44-108 THIS WEEK: 30 LAST WEEK: 30
It's been a spectacularly terrible season for the Orioles, though veteran RHP Alex Cobb has been effective in the second half of the season, posting a 2.56 ER and 1.16 WHIP in 10 starts.
Key Injuries: DH Mark Trumbo (knee).
Scott Cullen can be reached at scott.cullen@bellmedia.ca