Lions make splash with Reilly, Chungh, Durant
One of the biggest prizes of the CFL free agent market is off the board. Quarterback Mike Reilly signed a four-year, $2.9 million contract with the BC Lions on Tuesday. The deal is worth $725,000 per season.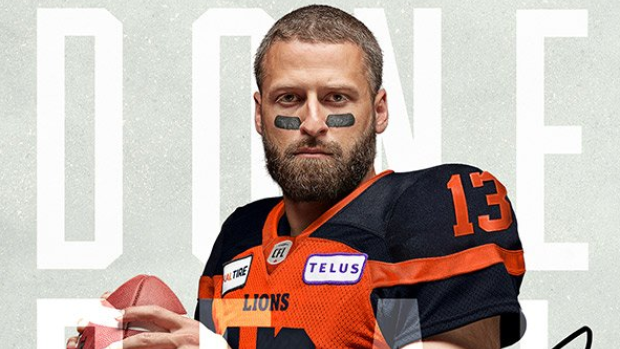 Two of the biggest prizes of the CFL free agent market are heading west.
Quarterback Mike Reilly has signed a four-year, $2.9 million contract with the BC Lions on Tuesday. The deal is worth $725,000 per season.
TSN's Farhan Lalji reported the Lions have also agreed to terms with offensive lineman Sukh Chungh.
"This is a historic day for our organization and for fans of the BC Lions," Lions general manager Ed Hervey said in a statement. "Acquiring one of the CFL's elite quarterbacks is an extremely rare opportunity and we're thrilled to welcome Mike home to the Lions."
Reilly, who spent the past six seasons with the Edmonton Eskimos, is returning to BC, where he started his career as a back-up. The 34-year-old came to an agreement with the Lions after the Eskimos allowed him to speak with other teams ahead of free agency. Rishaug adds that sources told him the Eskimos were willing to match BC's offer for the star pivot.
"It's an amazing feeling for me, my wife and our extended families to know I am back with the Lions," said Reilly. "I am grateful for my time in Edmonton and it will always hold a very special place in my heart, but the opportunity to rejoin Ed and return to Vancouver to be part of what he is building was too good to pass up at this point in my career."
Reilly is TSN's second-ranked free agent quarterback, behind only Calgary Stampeders QB Bo Levi Mitchell, after he led the league in passing yards (5,562) and finishing second in passing touchdowns (30) last season. Reilly added another 595 yards and 13 touchdowns on the ground.
The Central Washington product led the Eskimos to a Grey Cup victory in 2015 and was named the league's Most Outstanding Player in 2017.
In 103 regular-season games in the CFL, Reilly has 27,625 passing yards and 148 touchdowns to 84 interceptions.
The signing reunites Reilly with Lions GM Ed Hervey, who was in charge of the Eskimos in 2013 when Edmonton traded for Reilly's rights.
Chungh was TSN's top rated national free agent.
The 26-year-old Chungh, who was named a West Division All-Star last season, comes to the Lions after four seasons with the Winnipeg Blue Bombers.
The Blue Bombers selected Chungh second overall in the 2016 CFL Draft.
Later on Tuesday, the club came to terms with wide receiver Lemar Durant on a one-year deal.
Durant spent the past four seasons with the Calgary Stampeders and finished last year with 33 receptions for 395 yards and two touchdowns.
For his career, the 26-year-old Durant has 102 receptions for 1,280 yards and eight touchdowns in 51 regular season games.
The Lions are also closing in on a deal with former Edmonton Eskimos defensive back Aaron Grymes, according to Farhan Lalji.
The 27-year-old Grymes spent the past two seasons with the Edmonton Eskimos, and also started his CFL career with three years in Edmonton before taking a shot in the NFL in 2016.
Grymes finished last season with 58 tackles and three interceptions in 17 games.
For his CFL career, the Idaho product had 181 tackles and 11 interceptions in 66 career regular season games.
Prior to the news of them losing Reilly, Edmonton announced that they have re-signed Colin Kelly, Ryan King, Forrest Hightower, Calvin McCarty and Kenny Stafford.