Reinhart: Goalie comment 'lost in translation'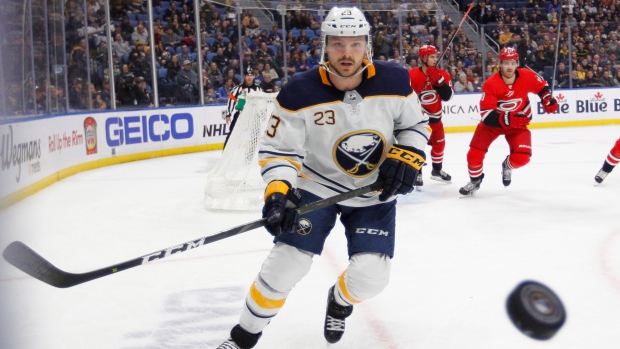 Sam Reinhart said Friday that his comments in the wake of his team's 6-5 overtime loss to the Carolina Hurricanes on Thursday night were not indicative of he feels about the team's goaltending.
Reinhart appeared to call out the team's goaltending after the Sabres erased a two-goal deficit in the final five minutes of Thursday's game to force overtime before Teuvo Teravainen scored on Linus Ullmark to hand the Sabres their seventh loss in the past 10 games.
"Too many mistakes," the Buffalo Sabres centre said. "We can't expect to win hockey games, 6-5, 7-6," Reinhart said. "We need more from our goalies and we need it from the start of hockey games. It's frustrating."
He said Friday that he chose the wrong words in attempting to call out the team for better defensive play.
"At first I was rattled thinking that something I said was kind of taken the wrong way. Then I watched it again and it came off the wrong way, so that's on me. That's not what I meant at all," Reinhart said, per the Buffalo News. "I think if you follow through the interview a little bit and - obviously, I was frustrated - but I think if you follow around in the interview near the end, I'm saying we all need to come back and defend more. I was trying to say we need more for our goalies. It doesn't take a hockey genius to know those have been our two best guys all year.
"So I think that's on me. It was lost in translation. I wasn't trying to be hard on them at all. I was trying to be harder on the guys skating around the ice to come back and defend more. I mean, if you guys look at the way I handle myself in the media, I'm probably the most boring guy ever that you guys have come across in your how many years here. That's on me, and that's not what I meant at all. But we're already joking around today, so we're all good.
"Like I said, it was lost in translation, and that's on me. That's not what I meant at all. I sent them a text last night just to warn them of what might be coming out today. That's not what was meant at all. You look at Linus [Ullmark], and in my opinion he's already one of the best in the world and sky's still the limit for him - I'm excited to see what he does. I think we've set a record on backdoor saves this year already. And [Carter Hutton] I see him all day standing next to him, so I'll say it to his face if I need to."
Ullmark gave up six goals on 30 shots on Thursday and the Sabres have conceded 17 goals over their past three games. The team has given up at least four goals in eight of the last 10 outings.
Reinhart's comments on Friday fell in line with those of winger Evan Rodrigues from after the loss.
"It's unacceptable," Rodrigues said. "You're not going to win games playing defence like that. We're scoring enough goals to win games but we're not defending. It's 50 games in. The learning is over. We just have to defend. You're not going to win giving up six goals. It's a valuable point but we should win that game. We gave them five easy ones."
Head coach Phil Housley also pointed out Thursday night that five of the Hurricanes goals on Thursday came from in tight.
"It's a choice you've got to make, protecting your own net and having respect for it," Housley said. "You look at the game and five of the six goals come right in front of our net. That's an area that players from the opposition should be very wary of going into. We've got to be tougher to play against. We've got to start pushing guys out."
When asked if his defensive corps in its current form was sufficient, Housley kicked the question upstairs.
"That's [general manager] Jason [Botterill]'s job," Housley said. "Obviously, we're going to take a hard look at this game tonight and evaluate that tomorrow, but we're going to show it to them again and review it."
After a red-hot start, the Sabres now sit on 59 points through 53 games and are fifth in the Atlantic Division. The team sits four points back of the Pittsburgh Penguins for the second Eastern Conference wild-card spot. The Sabres host the Detroit Red Wings on Saturday in a matinee at the KeyBank Center.