Report: Gasol to opt out, but stay with Spurs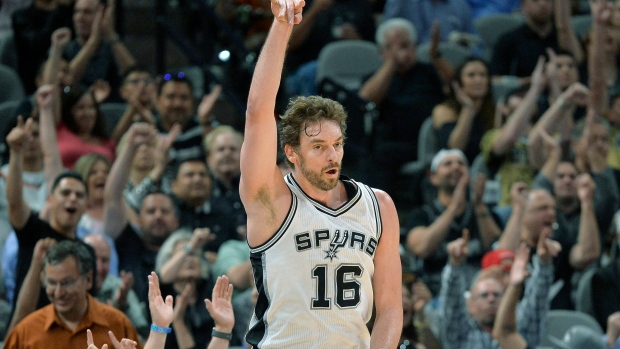 Veteran centre Pau Gasol will decline his player option for the 2017-18 season with the San Antonio Spurs, but plans to work on a new deal with the team to stay long term, according to The Vertical's Adrian Wojnarowski.
Wojnarowski says that the move will likely provide salary cap relief for the Spurs as Gasol will come back on a smaller annual salary.
The 36-year-old was slated to make $16.2 million next season.
Gasol averaged 12.4 points, 7.8 rebounds and 1.1 assists over 64 games with the Spurs in 2016-17, his very first with the club. He put up 7.7 points and 7.1 rebounds over 16 postseason games as the Spurs were eliminated in the Western Conference Final by the eventual champion Golden State Warriors.
San Antonio signed the seven-footer last summer to a two-year, $31.697 million contract with the second year being a player option.
The native of Spain has played 1119 career games in the NBA with the Memphis Grizzlies, Los Angeles Lakers, Chicago Bulls and Spurs.
Gasol is a six-time All-Star and a two-time NBA champion.