Report: Giannis meets with Budenholzer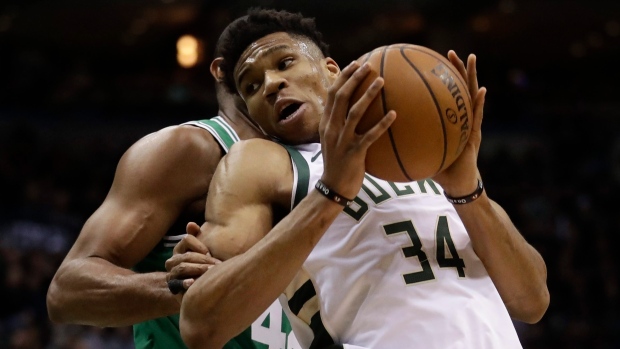 The Toronto Raptors are reportedly very interested in free agent head coach Mike Budenholzer to replace Dwane Casey, but it appears the former Atlanta Hawks bench boss is getting substantial interest from another Eastern Conference club.
According to ESPN's Zach Lowe, Budenholzer had breakfast with Bucks superstar Giannis Antetokounmpo Wednesday morning in Milwaukee.
For the second straight season, Antetokounmpo, 23, put up terrific numbers, averaging 26.9 points, 10 rebounds and 1.4 blocks per game. The two-time All-Star will enter the second year of a four-year, $100 million deal next season.
The Bucks cut ties with head coach Jason Kidd in January. Joe Prunty coached the rest of the season on an interim basis as they team made the playoffs but were ousted by the Boston Celtics in the opening round.
For the third consecutive year, the Raptors were eliminated from the playoffs by LeBron James and the Cleveland Cavaliers, forcing president Masai Ujiri to fire longtime coach Casey.
Budenholzer parted ways with the Hawks after five seasons in April, after posting a 213-197 regular-season record in charge of the team.
The Hawks made the postseason four of the five seasons under Budenholzer, going 17-22 in the playoffs, but were last in the East in 2017-18, after a 24-58 season.
Prior to being named head coach with the Hawks, the 48-year-old captured four NBA championships as an assistant coach under Gregg Popovich with the San Antonio Spurs.
Budenholzer won the 2014-15 Coach of the Year award.