Report: Jays among teams scouting Otani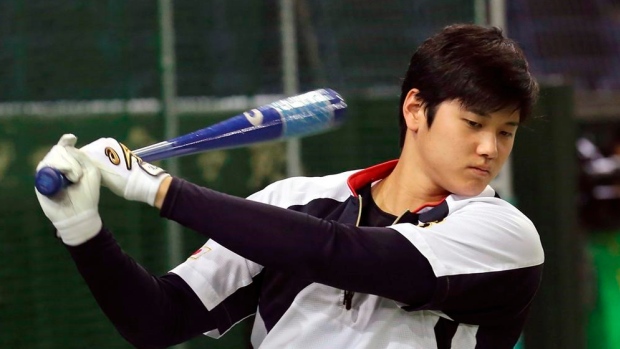 Japanese two-way star Shohei Otani pitched for just the second time this season on Thursday, and did so in front of large group of MLB scouts.
According to Fox Sports' Ken Rosenthal, the Toronto Blue Jays were among the 15 teams that requested seats to scout the 23-year-old.
Otani, who is both a pitcher and right fielder, may make a move to North America this winter and is drawing plenty of interest around the MLB.
He pitched 3 1/3 innings on Thursday, allowing four earned runs on three hits over 64 pitches. He struck out four and walked three.
The 6-foot-3 star had remained off the mound since his first start of the season due to injuries. He has, however, hit .342 with five home runs and 22 RBI in 45 games as an outfielder.
Otani posted a 1.86 ERA over 140 innings last season with the Hokkaido Nippon Ham Fighters. In 104 games, he hit .322 with 22 home runs and 67 RBI - all while making 20 starts on the mound.
Rosenthal reports the entire AL East was represented as the Baltimore Orioles, Boston Red Sox, New York Yankees and Tampa Bay Rays all also had scouts in attendance.