Report: Jets plan to protect G Hellebuyck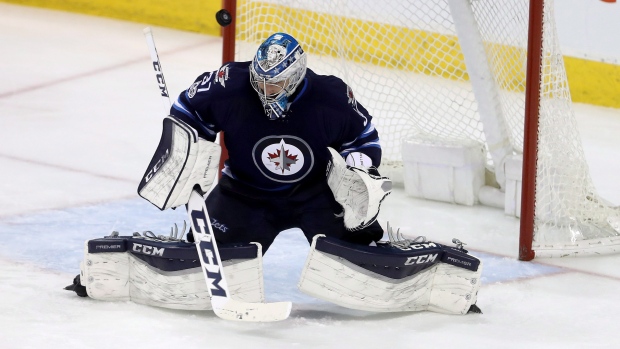 While the Winnipeg Jets are considered to be in the market for a goaltender this offseason, a move sounds unlikely until after the Vegas expansion draft.
Ken Wiebe of the Winnipeg Sun writes that though Connor Hellebuyck had mixed results as a starter this season, the Jets have no plans to expose him to the Golden Knights.
Therefore, the Jets will not be acquiring a goaltender before the draft, since they can only protect one. Restricted free agent Michael Hutchinson will be exposed in the expansion draft, and Vegas could also select pending unrestricted free agent Ondrej Pavelec.
Hellebuyck posted a 26-19-4 record this season in his second year with the NHL club. He finished the season with a .907 save percentage and a 2.89 goals against average with four shutouts. Hutchinson finished with a 9-12-3 record with a .903 save percentage and a 2.92 goals against average.
In 26 games as a rookie in 2015-16, Hellebuyck posted a 13-11-1 record with a .918 save percentage and a 2.34 goals against average. The 2012 fifth-round pick will turn 24 on Friday.
Wiebe reports the Jets still believe in Hellebuyck as their long-term goaltender and therefore the team is unlikely bring in any goaltender long-term, since he and prospect Eric Comrie will be waiver eligible in 2018-19.
Comrie, 21, was a second-round pick in 2013. He appeared in one game this season, picking a up a win after stopping 35 of 39 shots faced against the Columbus Blue Jackets in April.
Wiebe still expects the Jets to upgrade the position after the draft, with veterans Brian Elliott and Jonathan Bernier serving as possible options.